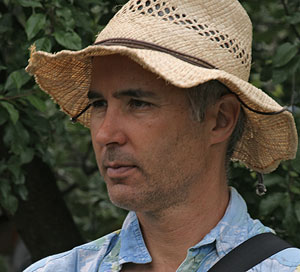 When David Tracey was a Tokyo-based journalist 15 years ago, he'd visit Vancouver and marvel at all the empty, unused space. In Tokyo, the largest city in the world amidst the most concretized of countries, people would put step ladders on sidewalks and stack potted plants on them just to introduce a bit of green that also might be nutritious.
But in Vancouver, greening the city just seemed to mean growing a lawn, what Tracey calls "that little strip of turf, with no meaning whatever, that is a throwback to an English notion of nobility that nobody gets anymore."
"Asia gave me an idea of how city living could be done differently," Tracey says. He moved back to Vancouver and in 2001 enrolled at UBC for a master's degree in landscape architecture, making urban ecology his special focus.
Tracey became convinced that rising oil prices, growing populations, and mass migration into cities make urban farming the wave of the future. He works now as an environmental designer and the coordinator of the Vancouver Community Agriculture Network (VCAN), which helps residents in low-income neighbourhoods create their own urban agriculture projects.
His six-part series on how agriculture is taking root in British Columbia's cities begins today, funded by readers who generously gave to the Tyee Solutions-Focused Fellowship Fund.
A fertile patch of hope
Tracey lives off of Commercial Drive in Vancouver with his wife and two children. When we spoke on Friday, he had harvested his share of the nearby community garden, and had just finished canning 20 pounds of "fiery dill pickles" from a local organic farm.
Tracey said last year's headlines about an impending global food crisis caused him to feel a sense of urgency to write this series. Those headlines offered us a good warning about what lies ahead, and a prompt to get busy strengthening our local food production, he said. Instead, news of another crisis, the financial meltdown, swept the grim food prognostications off the front page. And when the cost of oil dropped and speculators were reined in, "we all went back to our benign state of ignorance. We sense that a crisis is out there but it isn't affecting us today," Tracey said.
Tracey's journey to find out if urban gardening could make us more resilient took him to Cuba, a nation that responded to an oil shortage two decades ago by weaving urban farms into its social fabric.
He also compared the level of urban gardening going on in Montreal (a lot more than here) to the potential B.C. holds. Where has he found the most hopeful landscape? On a patch of ground in Canada's poorest neighbourhood, Vancouver's Downtown Eastside.
The Hastings Folk Garden is two doors down from the Insite safe injection clinic for needle drug users. It occupies a roomy lot that is owned by the Concord development corporation, but for the unforeseen future is where a lot of fresh food is grown by and for locals.
"It's one of the VCAN pilot projects," said Tracey, "but that just means we can help with funding for supplies. The real work is done by the locals, guys like James Oickle. James just moved into the neighbourhood and found the garden. Here's a guy in his 50s who happens to have experience in helping to build these things, so he decided to take it on. Now he's there almost every day, and says it's like an oasis for people who need to come in off the street for just a few minutes of peace.
"James will give out food to people who may never have had the chance to try fresh organic produce. To see people who could really use a healthy meal get involved, well, it's not really solving hunger or poverty issues. But it's a chance to see the future we'd like to think we can create. People growing food where they live."
Beyond the Green Revolution
While the social side of urban gardening is a huge benefit, Tracey emphasized that the primary goal is feeding people. And that there is nothing romantic about the idea of farming in the cities, even though much of Western society depends on massive, mechanized, globalized food production.
"I don't think it's being romantic to promote the idea of urban farming. When I see people eating food grown in our cities, I see it can be done. But there has to be an efficiency to it. Not just on a feel-good level, but a feed-people level. I don't see that we are going to grow our way out of this with city lots. We'll still need big areas with big farms devoted to food.
"But big is not the only way to grow food. One thing we've learned is that monocrops don't work. The so-called Green Revolution has given us a world in which we still have famine, up to a billion people without food. Green revolution technology has fed a lot more people, yes, but not in the way it was supposed to.
"In the course of reporting my series, I met Harold Steves, a stalwart advocate for local agriculture. He calls the Green Revolution the Grey Revolution, because it turned rich fertile living zones into gray zones of monocultures and depleted soils."
Tracey poured extra effort into reporting this series, he said, because of who was paying for it -- you who gave to the Tyee Fellowship Fund that granted him $5,000 to carry out his reporting and writing. "Knowing that people had actually ponied up to pay for the thing, I felt an extra level of responsibility. I kept thinking, 'Damn. I have to do a good job on this one.' I wanted to make sure I didn't leave anything behind."
The result is six articles that show us a way to reconnect to how our food is produced, and enjoy not only the nutrition but the sense of self-sufficiency that affords.
As he rattled around his kitchen the day we spoke, Tracey spoke of the feeling he gets when he sees all those recently filled jars of spicy pickles lined up on his shelf. "I get as much enjoyment from looking at those jars as I do from eating the pickles themselves. Eventually, we'll eat them all. But until then, every day, I get this little sense of accomplishment looking at what a grand thing I've done."
Making more good journalism happen
David Tracey is the latest to receive a Tyee Fellowship for Investigative or Solutions-oriented Journalism, funded by you, our readers. The $5,000 fellowships have supported other in-depth series with real impact, including the prescient and much cited series "Rough Weather Ahead: How Global Warming Will Hit BC", written by Chris Wood; "Reconciling with First Nations: How the 'New Relationship' is faring in the Fraser Valley" by Sandra Shields; "No Fares: The Case for Giving People a Free Ride on Public Transit" by David Olsen; "Teaching that Inspires" by Nick Smith and "Toxics: Your Right to Know" by Amanda Euringer.
More reader-funded investigative and solution-focused series are slated to appear in the near future, and journalists will be invited to submit new proposals in the months ahead. If you are interested in making a tax-deductible donation to The Tyee's Fellowship Funds, please read this.