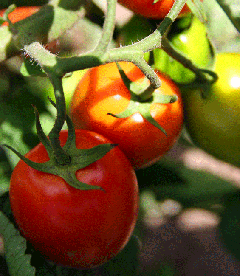 For Wally Satzewich, the kick of urban gardening is making fat money and sticking it to the Man. Thing is, he's doing it growing leafy greens in people's back yards.
He's one of many urbanites who like to get dirty. Which is ironic, because for generations, waves of migrants left the ragged toil of the country behind to slip into the tidy cubicles of the Information Age. And yet city slickers of all stripes are now down in the soil, sowing veggies like their country forebears did. Besides some kind of West Coast leguminous nirvana, you have to ask what compels them. In Vancouver at least, it seems they're greening up the city for everything from money, to posh ingredients, to urban renewal, to muscle tone.
Satzewich's brand of urban gardening is called SPIN -- "small-plot intensive farming" -- and it means renting the back forty from residential homeowners, ploughing their lawns under and then turning tens of thousands of dollars in profits selling the high-end produce cultivated by hand.
Satzewich and his wife Gail Vandersteen have always been city dwellers who wanted to grow their own grub -- so they took what they imagined was the logical step of getting 20 acres of land about 40 minutes north of Saskatoon.
Leafy niche
But from day one, their dream withered on the vine. They couldn't afford the high start-up costs, and they couldn't compete with the industrial-scale operations around them. No sooner did their crops appear, than they were mauled by voracious deer and life-sucking bugs. The two were well on their way to becoming dirt farmers when they realized their little plots back in Saskatoon proper were faring surprisingly well. Their urban harvests were picked even before the farmer's market opened, which meant they could deliver the crispest produce.
So they started sowing niche-market crops -- spinach, radishes, lettuce, carrots -- in yards ranging from 500 to 3000 thousand square feet. After paying rents ranging from $100 to $200 per yard per summer, the two were able to make up to a few thousand dollars per plot. In their first year, Satzewich and Vandersteen stopped telling the homeowners just how much they were making off their property.
Money isn't the whole picture, though. In fact Satzewich labels himself and his wife as urban peasants who cook simple meals that suit their hectic summer schedule. A favourite is golden beets steamed with vinegar, eaten with a light sprinkle of olive oil. But the biggest perk for them is independence: since SPIN took off they've become their own bosses, doing precisely what they love to do.
Posh dirt
A perk for other urban gardeners, however, is providing gourmet fare that is grown, prepared and served in the same spot.
Clientele love the allure of having garnishes, entrées and desserts grown on location, says Shannon Wrightson. He's the new head chef at Vancouver's Fairmont Waterfront Hotel, and the new keeper of the hotel's legendary third-storey rooftop garden. "There's a personal connection to it," he explains in his Kiwi accent.
With the onset of warmer weather, Wrightson and his team of 35 chefs are sharpening their knives for this summer's haul of fresh herbs and vegetables. In addition to the old standby herbs (savory, sage, basil, oregano, lovage), Wrightson is adding rhubarb, Mission Hill grapevines, espalier apple trees, blueberries and strawberries. And edible decorations like nasturtiums, violas, irises, day lilies, marigold. Last but not least, there's a bevy of veggies. Wrightson says he's most looking forward to plucking plump, ripe tomatoes for making tomato tureen, a favourite dish.
Wrightson is more than a little chuffed to lead guests on a visit to the garden after dinner. "They like to know that the food didn't arrive in a truck from 300 miles away," he relates. "This is about as local as you can get, really."
Green guerrillas
Across the city, removed from the Fairmont's opulence, David Goodyke advocates a more plebeian approach to urban gardening. He argues that the best reason to garden in the city is pure recreation. But he gets his green-thumb kicks in ways some might consider transgressive. That's because Goodyke is the ringleader of a "guerrilla gardening" group, meaning he digs first and asks questions later.
But to see him in person is to banish the fiction of an agrarian radical. He's sporting smart, green-rimmed glasses and crisp slacks, and he espouses no manifesto other than a deep obsession with mucking about in the garden on weekends. Also, he's a professional landscape architect.
By all accounts, guerrilla gardening has been catching on across Vancouver in recent years. According to Goodyke, it's a direct response to how hard it is to get a plot in established community gardens, some of which have waiting lists of two years or even longer.
He met other people that were fed up with the hold-up, and they decided to lay claim to an unused strip of the old CPR line between Pine and Fir streets in Vancouver's Kitsilano neighbourhood.
"Everyone was a little hesitant to actually take that first step. But my wife and I went down there and just started digging," shrugs Goodyke. Other banditos sprang from their hideouts and followed suit; these days there are dozens of plots at the newly christened Pine Community Garden.
How did the city respond to this flagrant contravention of property law?
"They were pretty excited about it actually," says Goodyke. Under Vancouver's Food Policy Council, the Pine Community Garden (PCG) will likely become a permanent fixture in the area.
Surprisingly, Goodyke is indifferent about whether or not PCG does become permanent. He says he's "poured his heart" into creating many a garden during his student years, just to see each effort lost to weeds once he'd moved away. He says guerrilla gardeners only cry slicing onions; they understand the temporality of their efforts -- it comes with the (expropriated) territory.
Urban renewal
Others, however, see a potential for permanent social change. Urban agriculture is synonymous with urban renewal, to Jason O'Brien's mind. O'Brien is currently transforming a scrappy abandoned lot in Vancouver -- right behind the SkyTrain station at 11th and Broadway -- into a community garden. The project is called MOBY.
Balding, clad in a tight black muscle shirt, blue jeans and snakeskin boots is O'Brien's gardening colleague, Shawn Kelly. Kelly is candid about past addictions and says he's quit using ever since he chanced upon a sign recruiting volunteers for MOBY, whose moniker is a clever pot-shot at nimbyism and stands for "My Own Back Yard."
"It just makes me feel good, you know, it's a good workout," says Kelly, and flexes his pipes to make the point.
"It keeps me clean and sober. I know how good I feel when I leave here, and I know how bad I feel when I use. And I won't use because I want to show up and work here."
This is the 18th day in a row he's turned up, landscaping 18 truckloads of fill that will level the site for the dozens of planting beds arriving this month.
According to O'Brien, people of all ages have been turning out in droves for recent Saturday afternoon work bees. He points to a growing coterie of young, carbon- and earth-conscious Vancouverites who are excited about cultivating the city.
"Gardens are the new black!" he proclaims, laughing.
Still, he insists gardens build community. O'Brien lived in this area for six years without meeting many people, but through MOBY he's been socializing non-stop with newly discovered neighbours, whom he says have been drawn "just like gravity" to the project.
Nowadays, city councillors from places like Surrey are approaching him trying to find out how they can mimic his east-end yield. O'Brien says the recipe is simple: "If you walk into a neighbourhood that is nurturing, that's being nurtured, that's being respected, people have an inclination to respect it more as well." It's the broken window theory of community building.
Parsley, sage, rosemary and time
The various efforts in Vancouver are what make the city feature prominently on the international urban gardening stage, says Michael Levenston. "We're it: Vancouver, Canada," he argues. Levenston is the seasoned guru behind the local fixture City Farmer, and he's witnessed his life-long obsession go from the fringe to the mainstream since he started out in 1978.
"It's becoming fashionable, for all sorts of reasons," explains Levenston. "As long as people, in my view, stay real about the potential, and not go off [and think] that it's going to completely save the planet. It's only as real as you have the hours to put in to do it and make it work."
He illustrates his point with the story of Chinese immigrants who grew gardens of astounding density out in Burnaby at the end of the 70s. He says they were feeding a lot of markets and folk in Vancouver back then already.
"It's new and it's not new," he says.
Still, today's epicurean efforts of people who get off on the idea of growing their own chow are drawing a lot of attention from the international community. The UN, for example, is mighty interested in the practical applications of city farming because they look at it as a low-cost and viable way of dealing with a tidal wave of urbanization in poorer nations.
While he's thrilled to see urban farming take off, Levenston is content to engage in the central tenet of his horticultural credo at the local level.
"We celebrate the urban farmer. That's it," he concludes. "Get people excited about it and make it something that they want to do, and then you're going to get a committed city farmer or organic gardener."
This is the thesis of 28 years of food growing in the city? What about ploughing under every available inch of land, or turning a profit from people's back yards?
"We have met these [old Italian couples where] the wife stands on the porch and says 'Get me the radicchio!' and she makes up a fabulous lunch. And he's the producer; he'll do it from six in the morning and he'll do it till ten at night, [even though] he might be 79 years of age. And that's a real city farmer in Vancouver. It's been here from day one."
Bryan Zandberg was the features editor at The Ubyssey and is now a freelance writer based in Sechelt.