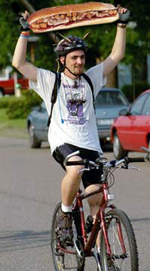 Despite the moat created by Canada Line construction on Cambie at 41st, Omnitsky Kosher Deli is doing bang-up business on this Vancouver Sunday morning, due in part to the half-dozen cyclists who have made it their last stop on the Tour de Blintz.
Forget the steroid-driven Tour de France exertions; these cyclists have enjoyed a leisurely 15-kilometre pedal, punctuated by visits to Jewish eateries. The tour, which runs Sundays until Aug. 26, has left them just enough room for a lunch of kosher hot dogs and potato salad, and they're already discussing what kind of food should be on the next itinerary. Italian? Indian?
But they're getting ahead of themselves. It's not surprising that in a city known for fitness and foodies, a buffet on wheels would be a hit, but this is the first event in organizer Greg Robinson's three-Sunday sampling of Jewish cuisine, and he considers it an experiment. As the Jewish Museum's education co-ordinator, he runs cultural events, but he's also an avid cyclist, and is one of the instructors in the Vancouver Area Cycling Coalition's free day-long Commuter Cycling Skills course. He put the Tour de Blintz together as a reflection of his deeply held belief that cycling and eating should always be done in tandem.
"I don't know if I'd call myself a foodie," Robinson, 43, says in a telephone interview before the event. "But I like combining my two great loves -- food and cycling -- which go beautifully together."
The food cycle
Not only does the riding take the guilt out of eating all that sour cream, Robinson claims that most cyclists will confirm that there are few pleasures as great as eating, then cycling, then eating, then cycling....
"And doing it over and over again. Eating and cycling are both sensual experiences. With food there's the taste and the texture and the satisfaction of eating. And cycling is all about the wind on your face and the sense of the elements. Together they give you a feeling of balance and well-being."
The Toronto native grew up in a home where Jewish deli foods were a Sunday staple, and he waxes on about the wonders of everything from chopped liver and gefilte fish to potato knishes.
"For me, Jewish cuisine really is the ultimate comfort food," he says.
For each menu, Robinson organized a mix of sweets and savouries -- much like a travelling dinner party, there's a course at each restaurant -- and guests are introduced to three or four of the 10 restaurants on the roster. Some of the rides offer kosher menus. The program includes Sabra Kosher Bakery, Shawarma Plus, Solly's Bagelry, Garden City Bakery, Kaplan's Star Deli, Mount Royal Bagel Factory, Nava Creative Kosher Cuisine, Pini's Kosher Pizza, Pretty Hot and Tasty (PHAT), and Omnitsky.
'Working through the stomach'
VACC secretary Jack Becker, who joined the first ride, says they thought the food tour was a fine way of luring more cyclists onto the road, and they would consider co-sponsoring another one.
"We're always trying to induce people to try cycling, and we thought working through the stomach was a good attraction," Becker says with a chuckle.
For the riders accustomed to using their bikes as transportation, the morning was a leisurely treat.
"I find that when we get on our bikes, it's usually go, go, go," says Kellie Haines, who cycles instead of driving. "This is one of the few times we haven't gone hard. We could have a conversation -- it was really social -- and it was just fun. Trying the food. Not pushing too hard."
Haines says that although the pace is perfect for inexperienced riders, she thinks it might be even more appealing to solo peddlers who are looking to meet other cyclists.
Jean Chong, another bicycle commuter, agreed that the gentle pace would be good for newbies, but she admitted she was hooked by the food. Although she's been in Vancouver five years, she still misses Toronto delis and hadn't found anything comparable, until today.
"I hadn't seen some of the parts of Shaughnessy that we rode through, and I wouldn't have found some of the delis without a guide -- I usually just go whizzing by," she says.
Roll on
As lunch ends, the riders are busy discussing with Robinson what the next food-themed tour -- which they all seem certain is in the works -- should be called.
"If we do Italian, it could be the Giro d'Pasta," someone volunteers, while someone else is wondering about where to find a really good Greek restaurant.
Robinson glances my way with an "I told you so" look on his face.
"Riding and eating -- they go beautifully together."
To register for the Tour de Blintz call the museum at 604-257-5199 or e-mail grobinson@jewishmuseum.ca. Each guided tour can accommodate 16 cyclists and there is an easy ride option: 15 kilometres and three restaurants for $25; a medium ride: 20 kilometres and four restaurants for $30, and the Aug. 26 day-long ride, featuring seven restaurants over seven hours and 75 kilometres.
Until Aug. 31, cyclists who want to sample the restaurants on their own can register at the Jewish Museum (in the Jewish Community Centre), where they can pick up a card that includes discounts for all the participating restaurants, as well as a copy of the Greater Vancouver Cycling Guide & Map, which TransLink donated to the program.
Related Tyee stories:
© Shannon Rupp. For permission to reprint this article please contact the author: shannon(at)shannonrupp.com.