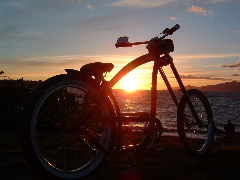 [Editor's note: This is the first in a new Tyee series called The Guilt-Free Hedonist. We're on a quest for ethical indulgences, and are looking for examples of food, shelter, clothing and transportation.
Fun is the key to each item's enjoyment. And for many, ethics enhances this pleasure. For some, ethics about environmental standards, for others its social or about human rights. For some, it's about being a die-hard guilt-free pilgrim, and for others it's about dipping a toe in. Got a topic you'd like to explore? Email it to [email protected].
Several of the Guilt-Free Hedonist topics will be broadcast on CBC Radio One's Freestyle Catch this one on Thursday, March 9 just after the 2:00 news.]
"I love my bike. I love it. It's just so pretty," says Vancouverite Emily McWalter. She's got a baby blue number with a white banana seat and she's added a wicker basket and hundreds of silk flowers. McWalter is one of the many "cruisers" who's customized her bike.
Donovan Matthews knows plenty more. "Last week, a motorcycle rode up alongside this guy's customized cruiser and he was totally intimidated." The bike in question was a "chopper" that was 12 feet long with huge "ape hanger" handlebars. Matthews is the mechanic and manager of the Denman Bike Shop, one of the centers of the Vancouver "cruiser" sub-culture. The store has photo albums full of people smiling with their cruisers: locals, tourists and several pages of celebrities.
There are some with ape hangers and others with half moons, some banana seats and others with suicide shifters (more about these later). Some are a couple of hundred bucks and some can run over $60,000 US. But all of them are close to their riders' hearts.
Sure, the left coast has an advantage over the rest of the country when it comes to winter biking conditions, but cruiser culture is heating up in all of the nation's streets. For some cruisers, it's the style of the bike that matters: finding or creating bikes with details understood only by those in the know. For others, it's about the anti-granola fashion riders can wear while on them. But for all, it's about choosing a cooler way to pedal on two wheels and associating with others on the same quest.
There's no doubt about it, cruisers are hot. What's weird about the trend is that it seems to appeal to almost everyone. Young, old, urban and granola, cruiser culture encompasses the masses. And while each convert has a unique reason for getting on board, bizarrely, these reasons are often pretty contradictory. Steve Machahler, McWalter's boyfriend and a fellow cruiser, says his bike "is not a big, red flaming sign that I'm not a hippie." But for McWalter, she says part of the reason she bought her bike is that it sets her apart from the granola-munching masses.
New Generation
"Let's put it this way," she says, "I'm just not one of those BC biking people. I've never had any desire to go to Mountain Equipment Co-op to buy wind-resistant rain gear. I don't want to have to shower when I get to work. I don't want to hunch over the handlebars in the rain and eat granola out of my pocket. But I do want to bike. With a cruiser, you get to sit up straight. You don't have to worry about your pant leg getting greasy or caught in the chain. You don't have to be one of those typical BC bikers you see all over the city. Have you seen the kind of stuff they wear? I'm sorry, but no. That's not me."
McWalter is part of the new generation of cruisers. She likes that it means she gets to leave her car at home, but she's far from fanatical, and also isn't at all embarrassed that her bike is factory fresh (as opposed to truly classic). Cruiser culture isn't a new thing, though it's only recently hit the mainstream. According to Niko Diamesis, the current leader of Vancouver Cruisers, the official group that sponsors rides, maintains online bulletin boards and welcomes converts, the city's cruiser community has been around for years and is the largest in North America.
'Tricked-out bikes'
Tricked-out bikes are common among veteran and newbie riders. Mike Pacholuk, 50, a.k.a. "Patch," (another official group member) explains that the uniqueness of a vamped-up cruiser accounts for a lot of the appeal. "A lot of the bikes look the same, but it's how you dress it up and accessorize it that allows your personality to flow through," he says. "It's rolling art."
"You can get a good bike for less than $500. So it's customizing that people spend money on," says Matthews. "You can get specific parts - like motorcycle handlebars called ape hangers - you kind of look like a monkey with your arms in the air. Some add flowers or tassels or LED lights to the spokes." Some install suicide shifters - that's when the gear shift is under the seat to conceal it. You have to take your hands off the bars to shift, that's where the name comes from.
"But some get even more into it. One guy started with a frame and a fork called American Legend. That alone was $1500. Then he had a custom paint job that was $5000 - the paint actually changes from black to mahogany in the sunlight. He spent $400 on the chain, put a seven speed internal hub and had another paint shop put flames on one of his bikes and skulls on the other. With the two bikes and the trailer, he spent close to $15,000. People just stop and stare," says Donovan Matthews. He adds that the bike is large and very heavy. "You have to be a big guy to ride this bike."
And then there's Jesse James who usually details motorcycles and cars, but will do bikes. He requires a $60,000 US deposit to get started building a customized cruiser for a client.
Little kid fun
But regardless of customizing "for us, loving our cruisers is all about being a kid again," says Diamesis. "For a lot of people, these are the bikes that we grew up with or always wanted. When you ride your cruiser, all worries go away. You can definitely recapture the same feeling of freedom you had as a kid on your bike. It's got to do with the bike's character, and in a sense, returning to a simpler time."
Patch agrees. "The first bike I owned was a 24" Monarch balloon tire bike," he says. "My dad was a long-haul truck driver and I remember the day he opened up the back of the truck and pulled it out. This was back in the early 60's. We didn't have much money and I knew that it must have cost him about a week's wages. He bought me this bike at a time when balloon tire style bikes had already faded in popularity, so it stood out from the rest, which always stuck with me." Patch's reminisces come from the end of the first boom in cruiser culture. According to Pedaling History, the cruiser was first introduced as "The Kid's Bike" just after the First World War. The site's bicycle timeline explains that manufacturers like Mead, Sears Roebuck, Montgomery Ward and Schwinn rolled out cruisers to revitalize the bike industry, hoping that wheels that featured automobile and motorcycle elements would appeal to kids who'd rather have motors, but couldn't manage them. The bikes remained relatively popular well into the '60s.
Relaxing in accelerated era
Newbie riders like McWalter aren't attached to the history, not having grown up with cruisers the first time around, but most admit that the retro appeal was still a selling point. Machtaler says that the throwback nature of cruiser culture is part of the reason he signed on.
"I fell in love with cruisers because I was looking for a fun way to ride to work," Machtaler explains. "I used to be into downhill mountain biking and road cycling and everything began to get too serious and expensive (faster bikes, steeper slopes and bigger jumps). It's relaxing to have a bike with one gear, pedal brakes and a big seat that doesn't insert itself into your ass. My cruiser made cycling fun again."
Old cruisers were made of solid steel, but that didn't necessarily make commuting difficult. "The idea was that the weight gives you momentum," says Matthews. Now, many are called "new old school" which means they look retro but have up-to-the-minute technology and materials.
But for many cruisers, efficiency is not the point. "We live in such an accelerated world nowadays," adds Patch. "Life's too short, you got to kick back and relax once in awhile."
The desire to relax, simplify and have fun is one of the sentiments repeated again and again by cruisers, even when they disagree about the trend in other respects. Alana Murray, 40, a film industry professional who works in Burnaby, says she doesn't think of her bikes as works of art, and says her interest in cruising isn't about fashion. With that said, she agrees that cruiser culture does "hearken back to when things were simpler, which is a kind of charm."
"The groups of people that I usually ride with are from all walks of life, from single moms to millionaires," says Patch. "We all just want an afternoon off where we can get away from our everyday routines and just be a part of a group of people with a common interest. There's nothing better than a parade of two hundred plus cruisers going thru Gastown, smiling and waving at everyone. That's what it's about. Positive, fun stuff."
Speaking of fun, the quirkiness of cruising is also at the heart of the trend. In addition to his day job in the Vancouver film industry, Diamesis is a non-denominational reverend. He was ordained so he would be able to marry people on cruisers and host cruiser weddings. Another cruiser, Beverly Penney, is using her cruiser to start her own "mobile hair service" business in Yaletown. She's calling it DIAL-A-DOO and plans to use her pink and white Electra Betty Cruiser, along with a trolley trailer or a pair of pink vinyl saddle bags to cart around her rollers.
"The thing about cruisers and their bikes is they both have character," says Diamesis. "Cruiser bikes are a pleasure to ride, they're very comfy and stylish, and nothing looks better than a bunch of them riding together in a group. Being part of the community has nothing to do with being part of any stereotype."
Jennifer Selk is a Vancouver-based writer, a television addict, and the Arts and Culture Editor of ION Magazine.