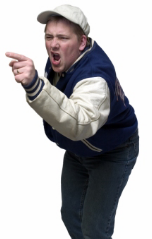 I am crap at sports.
As a professional writer, I am aware that it is something of a prerequisite to be klutzy and sedentary, but still, it irks me to no end that, even when I'm in tip-top shape, I can't shoot a slap shot, return a serve, reliably throw a baseball or, for that matter, touch my toes. I am the girl whose at-bat brings the outfield in, whose skis never go out of "snowplow" formation, whose body has borne countless bruises from failed attempts at athleticism.
But, like a snaggle-toothed Spice Girl, I know that I should be sporty in some way. Inertia isn't good for my shape and makes me miss out on large swaths of social activity. But let me make it clear -- I don't want to be one of those people who give up real physical activity and starts considering polluting activities, like riding ski-dos or sea-dos, to be legit. I also don't want to become the kind of woman who thought it was brilliant that Madonna "rapped" about "soya lattes" and "Pilates".
So I've been on a quest, of late, to find my inner jock.
Dodgeball madness
There had been other attempts in previous years. A snowboarding lesson with a Whistler-dwelling friend resulted in not one, but two Nelson Muntz-style "Ha-Ha's" as I lay like some sort of snow walrus on the hill. Similarly, a stab at surfing rendered me unable to listen to the Beach Boys for a whole year. I've suffered through everything from the hell of hockey to the indignity of dodgeball without ever feeling like a star on the proverbial Wheaties box. Every sport seemed to replay the playground nightmares of my childhood; a sense of inferiority, coupled with frustrating inability to play by the rules.
I heard a similar complaint from my friends. Given the choice between ultra-competitive team sports, long-distance running or the special hell that is known as a gym membership, most would rather stay home and collect fat cells. Furthermore, nearly everyone I asked had a story about some homunculus team coach screaming "HUSTLE!" at them or a spandex-wrapped fitness instructor's techno-sound tracked perkiness.
It is no accident that the army uses vigorous exercise as a means of indoctrination. On some level, organized sport equals conforming to societal norms; whether wearing whites for cricket or swathing yourself in Lululemon for yoga. In short, there is little room for letting one's freak flag fly. Maybe this is why about two-thirds of Canadians are inactive and overweight.
Maybe this is why, after once quitting sports for good, I am now dabbling in fringier fitness like…
Radminton
It was shortly after I gave up on sports that radminton was born. It started with a $20 net-and-racket set from the local store and, unsurprisingly, a case of beer. Under the original rules, it started as a cross between regular badminton and the college drinking game "I Never", which sees participants trying to get their more adventurous friends drunk by making them do a shot for every wild thing they've done. In the first draft of Radminton, players had to shout out their "I nevers" before returning a serve. It then devolved into further silliness, with players having to shout out kinds of wood, names of heavy metal bands and other nonsense before hitting the birdie. It should be noted that my suggestion of a round featuring "metaphysical poets" resulted in a racquet to the head. It was the most exercise I'd had in months.
Radminton, or far more accurately, the gist of radminton, is a growing trend. In a society that prizes individualism more and more, many are opting out of conventional and competitive sport and choosing to get active in ways that focus on fun rather than physicality. And while it the Health Canada guide may not have had radminton in mind for their recommended 60 minutes of daily activity, it counts nonetheless.
Nifty swimming
N.I.F.T.Y. (or Naked Iconoclasts Fighting the Yoke) is another example of Canadians getting active in ways that let them stay true to themselves. Every month, the group rents out a Vancouver public pool, leaving their swimsuits at home and putting the breast in breaststroke. In a decision that is either Hunter S. Thompson-esque gonzo journalism, or Paris-and-Nicole stunt work, I decided to join them for a dip recently.
First, let me be clear: my family is British. Prudishness is in my blood. I am so, so white. It is winter. But it still sounded better than step class.
Elianna Lev, a journalist with the Canadian Press and, it should be said, an extraordinarily good friend, agreed to join me. The week prior to our swim, she attended an adult gymnastics night in South Delta, and after some free-form bouncing on a super trampoline, she was game for more time in the uncharted territory of hedonist exercise.
On the night of the swim, we talk on the phone: Do you shave your legs for nudist swimming? Is it very cold out?? Do we have to go???
When she shows up at my door, I commend us both for being brave and she confesses to hoping to get hit by a bus on the way over.
We arrive at East Vancouver's Templeton Pool and the scene is very much as we expected: older hippies, kids, people who are unnervingly at ease with themselves. After paying our $5 admission (plus a $3 donation to support the nudist cause), we enter the women's change room and stop dead in our tracks when we hear a man's voice coming from inside. Oh right, it doesn't matter where you change, we're all gonna be naked out there. While we get ready, a friendly and earnest woman (it's hard not to be earnest when you're nude in public) tells us that the swimming helps her back pain and is one of the few activities she feels comfortable with. I am glad someone's comfortable.
Once we're in, it's pretty much as normal as a nudist swim can be. In fact, there is much, much less perviness that a regular swim at a public pool (I am looking at you, creepy hot tub lurkers). Elianna will not be cajoled into a leap off the diving board or a go on the slide, but everyone else is going happily about their business, doing laps and cannonballs (ha!) and, yes, getting their heart rate up.
Indie rocker soccer
Later that night at a party, I boast to amazed friends that I swam with the nude hippies. We get to talking about fun in sport. Several of the attendees are regulars at what I call "indie rocker soccer," a defiantly casual pick-up game that happens in Strathcona on Sundays. While some of the players are serious enthusiasts, equally as many are gangly musicians and artists whose talent lies outside of sport. The mood at these games is reassuringly tolerant and even the most inept player is welcome with open arms. The only hard-and-fast rule seems to be that you have to play with a drink in your hand. Similarly, another group of friends meets for casual games of softball, played so unskillfully that you can't help but join. As one player puts it, it's basically beer-drinking where a game might happen to break out.
In some ways, beer and silliness seem to be the quickest gateway drug to ease with sports. Many feel uncomfortable gathering with hardcore enthusiasts, but who wouldn't want to join the Margaret Charles Chopper Collective for their monthly ride, which features crazy modified bikes and ample appreciation for the fine art of riding while intoxicated (this can lead to some perilous bruises, wear a helmet and expect to fall). As organizer Jim Holne noted, it's an event designed to be accessible to all skill levels, slow and easy and based on fun and sociability. So casual is the MC3's attitude, that their website advertises their monthly ride thusly: "our chopper ride is the second friday of each month. meet at the world of science gazebo, ready to ride fer 18:30…but our lazy asses probably won't leave till 19:00 or so." Choosing to opt out of "sport" and into "fun" was the best health decision I ever made. I am a first-rate beer biker. I strike out regularly at softball, but round the bases anyways. I am the reigning radminton champion of the 2005 summer season.
Whether it's male-only naked yoga (Skyclad Yoga), Alice in Wonderland-themed croquet, living room dance parties, or just silly games you've made up on the spot (radminton season is just weeks away!), there's no rule that says you have to be good at things to be active and no rule that says you have to play by the rules to play.
Ever since I gave up sports, I've never felt more sporting.
Elaine Corden is a Vancouver writer. She writes the Trifective blog.