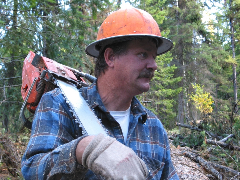 Suddenly, we have a softwood lumber deal.
A few days ago, Canada was on track; still steaming steadily onward toward an inevitable legal win before North American Free Trade tribunals and at the World Trade Organization. The US was already reduced to appeals of decisions in "extraordinary appeal" processes, an avenue which pointed glaringly toward defeat. Another 18 months and we would win a clear, resounding victory over the obnoxious US coalition.
The Byrd amendment, which gave US producers a reward for launching trade disputes, was shot out of the sky.
The US case for injury was already wrecked, most recently by a WTO ruling of April 13. The case for subsidy, similarly, was done in by a March 17 NAFTA ruling. Soon, the level of alleged subsidy would likely be set at a de minimus level, that is, so low as to be pegged at zero. A de minimus ruling would mean the countervailing duty, already down to a manageable 8.7 percent, could no longer be imposed.
Then, the only fight left was over the roughly $5 billion US held by the US administration in countervailing duties and anti-dumping tariffs. The Canadian industry was salivating for it, of course, panting to use it for more mergers, foreign acquisitions and payouts to shareholders.
In recent years, indeed, Canadian firms have already used a disturbing proportion of their profits to buy one another out, buy assets in the US or abroad and invest outside the forest sector. That's why the Steelworkers urged the federal and provincial governments to make their support at NAFTA and the WTO contingent on investments in job creation, industrial diversification, upgrading, training and communities here in Canada.
Now that's all gone.
US back in driver's seat
The deal hatched by Canadian and US and negotiators this week might do much to ease the concerns of Canadian and US governments and corporations, although many observers agree that they might just as likely hate it once they fall under it. But it does nearly nothing for workers or their communities.
Politically, the deal indicates how eager Stephen Harper's likely short-lived federal government is to please US President George Bush. Instead of being reduced to such desperate measures as almost-hopeless appeals of its failed "extraordinary challenges" of past NAFTA panel rulings, the US and its lumber coalition are back in the driver's seat.
The nearly-defeated US companies get a $500 million reward, half the 22 percent of the duties and tariffs the Americans now get to keep a lovely, Byrd-quality nest egg with which the coalition can kick start a new round of challenges in seven years when this deal dies.
Canadian firms, meanwhile, are saddled with another sodden half a loaf. Prime Minister Stephan Harper crowed al a Brian Mulroney that we got "stable and predictable access to the US market" with "unrestricted access under current market conditions." In fact, it is merely another quota deal, similar in some respects to the horrible Canada-US Softwood Lumber Agreement of 1996 to 2002.
Canada's total exports will be capped at 34 percent of the total US lumber market. Firms will pay a 5 percent border tax, collected by the Canadian government, every time the price of lumber falls under $355 US per thousand board feet. This seems like a high threshold now, given that lumber prices fell below that for only six weeks in 2004 and four weeks last year. But remember, they stayed under that rate all but six weeks of 2003. If lumber prices fall, the border tax is here to stay.
In addition, firms face a "surge mechanism" penalizing them every time shipments from their region rise above 110 percent of their share of the 34 percent for two quarters in a row. Mills in Atlantic Canada are exempt because most of their timber comes from private lands -- they conform comfortably to the US lumber lobby's prejudices.
Why retreat now?
All this might represent an acceptable, though hardly attractive deal, had the federal government insisted on measures to ensure that a share of the $4 billion US coming back to Canada goes toward much-needed investment in job creation, training and communities. But there was absolutely none of that stuff.
Instead, we get the usual, lame assurances that what's good for corporations must be good for workers, communities or Canadians in general. We know it's not. Companies have used their profits in recent years to merge - think Canfor-Slocan; West Fraser-Riverside-Lignum; Cascadia-Western - buy foreign assets, such as the mills Canfor bought in South Carolina; the particle-board plants Ainsworth bought in Minnesota; the US assets purchased by Domtar or Interfor's Pacific Northwest sawmills. Without direction from government, the companies will simply use their cash-back from the US Commerce Department to buy even more foreign firms.
Harper's weasel words aside, the industry has also gone into full spin mode. Executives who only a few days ago raged against all the elements of the current compromise now say it is the only possible deal, way better than two more - BC Premier Gordon Campbell topped that at five more - years of uncertain litigation. The BC Lumber Trade Council's John Allan, hitherto Canada's litigation hawk and our chief legal optimist, now warns that you never know what will happen in court.
In fact, the litigation is almost done and Canada would certainly have won. Why retreat now? The truth is this deal represents a sordid sell out. For Harper, at least, it paid, though, when Bush praised his "leadership in resolving this issue." You know: "Yer doin' a helluva job, Stevie." One BC forest company rep was more honest. He said the Harper government would probably have been uninterested in pursuing the legal fight any longer in the face of pressure from the White House.
For companies, it's clearly about the money. Instead of fighting or negotiating, they get $4 billion right now, no strings attached. No job creation targets, no share for workers or communities. It's pathetic.
In the end though, we should remember the words of former BC chief bureaucrat Doug McArthur. After about a year, he said, especially if the price of lumber falls, Canadian firms will be screaming to get out of it. Then what?
Kim Pollock is a Canadian Research Representative for the United Steelworkers, based in Burnaby, BC. For 12 years he was a senior staff rep for the Industrial, Wood and Allied Workers of Canada.