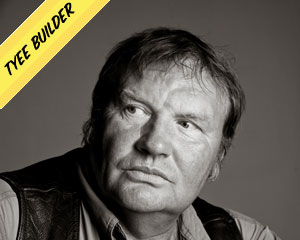 "I support The Tyee because it's real news. In this age of corporate media, only independent media like The Tyee can truly protect our culture and our communities." -- Brian Brett
Long before Trauma Farm hit the shelves, Brian Brett worked as a freelance journalist for The Globe and Mail, The Vancouver Sun, The Victoria Times-Colonist, The Toronto Star, and other major newspapers and magazines across Canada. He's been on both sides of the news, reading it and writing it.
That's one of the reasons why he's supporting us as a Tyee Builder -- he knows good journalism. Brian also knows the value of hard work (he runs a farm, for goodness sake). While it isn't quite like tilling fields or harvesting crops, Tyee reporters work hard every day to bring you the news that matters in your life, and to do so independently of any large media organization. That means that when it comes to budget, The Tyee has to make a lot out of very little. The Builders program is an attempt to remedy that.
If you'd like to join Brian and the other Canadian icons that support The Tyee, click on the yellow button to sign up now.

Signing up to support The Tyee is your decision. However, we really want you on our Builders team, so we've come up with a few ways to sweeten the deal. If you support us with $15 a month or more, we'll send you a signed book by one of the literary legends that love The Tyee. You can view that whole list here. Sign up quick, though: we have limited numbers of the books, and Brett's Trauma Farm is going fast!
About this Tyee Builder: Born in Vancouver, B.C., Brian Brett has published books of nearly every genre. He is a poet, an anthologist, and a master of memoir. He has written novels, short stories, critical works, and has even recorded a CD. He has won awards for this formidable body of work, including The Writers' Trust of Canada Prize for Nonfiction for Trauma Farm, and has been nominated for many others. You'll have to visit his website if you want more information. We simply don't have space for it all here. You can read our review of his memoir, Trauma Farm: A Rebel History of Rural Life, published back in 2009.
About the Tyee Builder Program: Want to give independent Canadian journalism a boost? You've come to the right place. The Tyee is trying to become fully sustainable. In order to do so, we've launched the Tyee Builders program to allows readers who love The Tyee's work to help fund more of it. Every penny you support us with will go directly to pay Tyee writers and editors. And besides the warm, fuzzy feelings you'll get knowing you're helping dial up the volume on an independent voice in Canadian media, we've come up with a few other ways to thank you. Click on "Hammertime" above to learn more and start Building!