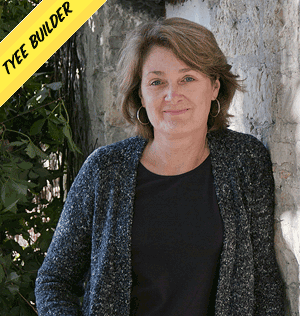 "What hooks me, after a day of writing, is skiing down the back yard onto a wordless frozen river, and spying cedar waxwings in the willows on the bank." -- Joan Thomas
What else can't Joan do without? The thoughtful, feisty reporting that The Tyee publishes every day of the week. Click on the big yellow button below to learn more about how to join Joan and the rest of the Builders who support The Tyee.

Having Joan on the Tyee's team means a lot to us: besides being an award-winning author, she is also an accomplished journalist. Prior to Joan's success as a novelist, Joan worked as a freelance reporter and book reviewer and, in 1996, won a National Magazine Award for her journalism. Joan understands the importance of independent media, and we think you do too. Please, follow Joan's lead and become a Tyee Builder today, and help make sure that Canadian independents keep up with the mainstream players in our country's media scene.
About this Tyee Builder: Joan Thomas is a Canadian novelist and short story writer based in Winnipeg, MB. Her first novel, Reading by Lightning, won the 2009 Commonwealth Prize for Best First Book and the Amazon.ca First Book Award. Her second novel, Curiosity, was nominated for several awards, including the Scotiabank Giller Prize. You can see The Tyee's take on Curiosity here.
About the Tyee Builder Program: Want to give independent Canadian journalism a boost? You've come to the right place. The Tyee is trying to become fully sustainable. In order to do so, we've launched the Tyee Builders program to allow readers who love The Tyee's work to help fund more of it.
Every penny you support us with will go directly to pay Tyee writers and editors. And besides the warm, fuzzy feelings you'll get knowing you're helping dial up the volume on an independent voice in Canadian media, we've come up with a few other ways to thank you. Click on "Hammertime" above to learn more and start Building!