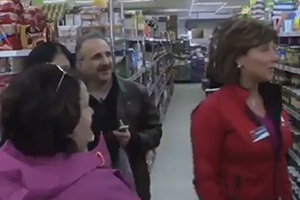 "If someone's mask slips, they do something that suddenly shows their real character, when they have been pretending to be a different, usually nicer, type of person." — Cambridge Dictionary
Premier Christy Clark's mask slipped last week, and the nastiness revealed shows the true face of the BC Liberal government — and what is at stake in the May 9 election.
When Linda Higgins unexpectedly encountered Clark in a North Vancouver grocery store during a BC Liberal Party campaign stop, she tried to tell the premier why she wouldn't vote for her — but Clark quickly cut her off. And it was all caught on television.
"I would never vote for you because of what..." Higgins started to say, but Clark interrupted to brush her off.
"You don't have to — that's why we live in a democracy," Clark rudely declared, turning on her heel away from the retired social worker assistant.
The BC Liberal machine — including Clark's ex-husband Mark Marissen and campaign director Laura Miller — jumped onto Twitter to attack Higgins as "an NDP plant." That is totally untrue and malicious.
Clark herself further unfairly and wrongly trashed Higgins later, falsely claiming Higgins told her she had never voted BC Liberal and never will. "I said no such thing to her," a shocked Higgins replied.
But it shows Clark's true nature — and what's at stake in the May 9 election.
No chance for exchange on house prices
Higgins rightly wanted to tell Clark that housing unaffordability in Metro Vancouver has priced her adult children out of the market, and that the BC Liberals did nothing till it was too late.
"I was also upset about those health-care workers who were fired, including a man who committed suicide. I wanted to tell her my concerns and I genuinely thought she would listen," Higgins told The Province's Mike Smyth.
Wrong. Christy Clark is not interested in listening to or explaining her mistakes.
I know exactly what Higgins experienced — because Christy Clark tried to shut me up years ago — but in private.
After Clark started hosting a show at CKNW Radio in Vancouver and I was a regular guest on other shows, we ran into each other in the hallway, just the two of us.
"You should stop attacking me," Clark said, clearly not pleased with my ongoing coverage of her ties to the B.C. Legislature raid or BC Railgate scandal legal case. That's the one where former BC Liberal ministerial aides Dave Basi and Bob Virk were charged with breach of trust for leaking confidential government bidding documents in the privatization of BC Rail to lobbyists for bidder OmniTRAX.
"We're working on the same team now," Clark said to me, flashing her trademark smile to no avail.
"No, we're not," I responded, stunned at her blatant attempt to get me to back off. And subsequently the only time I ever appeared on her show was when Province columnist Mike Smyth was a guest host.
It's a view of Clark that rarely appears in public. But Linda Higgins got it for a brief moment. And it's the true face of the premier.
Hinting at a twin of the HST
There are many more reasons to want to see Clark's smile disappear along with her government.
Pay for play politics is perhaps the most outrageous. The BC Liberals rake in more corporate donations than any party in Canada while refusing to do what the federal government and most provinces have already done — end corporate and union donations to political parties.
Christy Clark's party has rejected multiple attempts by the NDP over several years to reform political financing. That's because it gives them a massive advantage to collect money not just from big business in BC but across Canada and around the world, and then use that funding for advertising, polling, research, staff and more to win elections.
Add that to shortchanging students for 15 years until the Supreme Court of Canada ordered more funding. An entire generation has been deprived of appropriate teaching levels, librarians, programs and more. Meanwhile, emergency rooms are overflowing and surgical wait lists are long. There's been no increase in social assistance or disability benefits for a decade. We're paying huge BC Hydro, MSP and ICBC rate hikes. There's been no action on climate change... and much more.
And last week Clark raised the spectre of re-imposing a new version of the hated HST or Harmonized Sales Tax. I worked with my former opponent Bill Vander Zalm — the former right-wing Social Credit premier — in a left-right coalition that forced the only successful Citizens' Initiative petition to force a vote on the surprise implementation of the HST after the 2009 election.
Clark said she would talk to "the business community and British Columbians about different ways we can reach tax competitiveness" with a Value Added Tax — which is common in Europe and is in all but name an HST.
The premier rushed to add that: "I, we will never, we will not consider an HST as long as I am premier of British Columbia. We're not bringing it back. And, the, so, no way under no circumstances, never HST is coming back, while I am Premier."
Right. Clark defended the HST vigorously in the binding referendum of 2011 and with massive expenditure of taxpayer dollars on ridiculous and misleading "stick men" ads ad nauseam against a grassroots campaign where I was strategist for Vander Zalm. Still, despite being outspent by between 40 and 100 to one, the HST was voted down by a strong 55 per cent to 45 per cent margin.
Out of touch, out of time
I could go on for thousands more words on all the other reason why an arrogant, out of touch government led by a premier who was paid over $300,000 by her BC Liberal Party for unbelievable corporate fundraising should be thrown out of office. But fortunately The Tyee has documented this despicable record in detail already.
The BC Liberals have been in power for 16 years and Clark for six, plus four years as a cabinet minister — and their arrogance and sense of entitlement are out of control.
BC NDP leader John Horgan is my choice. I've previously worked with him in government and I know he will stand up for the ordinary people who have been neglected and abused by the BC Liberals.
Andrew Weaver and the BC Green Party are getting attention this election but with just one seat now, they can't form a government. The Greens can only help re-elect Christy Clark by splitting off votes from NDP candidates in most ridings, where a few hundred ballots will decide who wins or loses. And I've already detailed Weaver's contradictions and hypocrisy on several key issues — mostly unreported elsewhere.
This election is a referendum on Christy Clark's leadership. Do British Columbians want another four years of her Cheshire cat smile and the nastiness that lies behind it, as Linda Higgins briefly saw? Choose well and vote May 9.
NOTE: I will be on CBC TV, Radio and Facebook Live on election night — tune in. And read my election results analysis on Thursday May 11 rather than my regular Tuesday spot.