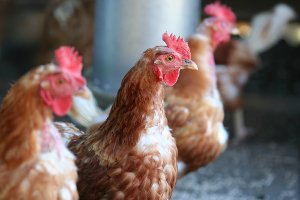 Between Jan. 9 and 15, five people in Cambodia contracted bird flu, and four died of it within a few days -- four young girls and a 35-year-old man. Only the first case, an eight-month-old boy, survived.
This might seem like a minor event, but the World Health Organization sent rapid response teams into the country to help the Cambodian ministry of health. They've been looking for more cases and educating local residents about how to avoid the disease -- even though it's one of the hardest diseases to catch.
"Bird flu" is a vague term: all influenzas come from birds, especially domestic poultry, though they sometimes reach us through pigs and other mammals. The Cambodians had H5N1 flu, which first got our attention when it broke out among chickens and humans in Hong Kong in 1997. That outbreak was stopped by killing every chicken and duck in the region, and banning further imports from the mainland.
Six years later human H5N1 returned, in Vietnam, and since then has sputtered away from Indonesia and South Korea to Egypt and Nigeria.
Between 2003 and the end of 2012, the WHO confirmed no more than 610 human H5N1 cases, most of them in Vietnam, Indonesia and Egypt. This, out of a population of over seven billion, makes it one of the world's rarest diseases.
Rare and dangerous
Its rarity is precisely what makes it so dangerous. Because it evolved to infect birds, H5N1 isn't designed to infect mammals. Humans, therefore, are a "naive" population with almost no immunity to it. That was what scared the health authorities in Hong Kong, and it's what scares the WHO today.
Out of those 610 cases, 360 people died. That means the "case fatality rate" (CFR) was 59 per cent. The CFR varies by country -- it's 35 per cent in Egypt, and 83 per cent in Indonesia. But globally, three out of five people who catch H5N1 will die of it within a very few days.
Cambodia has been reporting H5N1 since 2004. Out of 21 cumulative cases by the end of 2012, 19 died -- a 90 per cent CFR. Last year, though, the country had just two cases and one death.
The five new cases, then, are alarming because they've happened so suddenly and so close together. One was in Phnom Penh, Cambodia's capital. The others were in suburbs and nearby villages. And they continue to be fatal.
The virus is endemic in countries like Vietnam, Indonesia and Bangladesh, where outbreaks have cost local poultry industries billions of dollars in the last decade. But despite millions of daily human-poultry contacts, we've been saved by H5N1's "stupidity": the virus can't figure out how to jump efficiently to humans. Nor can it figure out how to jump from one human to another, the way other influenzas do.
H1N1: Smart and (almost) harmless
One of those influenzas is H1N1, which most of us remember vaguely as "swine flu." In the spring of 2009 it came out of nowhere, spreading from the southwestern U.S. and northwestern Mexico into every corner of the world. People got sick, but the vast majority recovered. Since then, the pandemic strain of H1N1 influenza has faded into the background. People still catch it, and some die of it, but this winter the major flu strain is H3N2 -- and some die of it as well.
The WHO came in for a lot of criticism simply because it declared an H1N1 pandemic. The public defined "pandemic" as people dropping dead in the streets and being bulldozed into mass graves. A pandemic that didn't kill most of its victims didn't even count.
Actually, we have several worldwide pandemics going on at the moment: the HIV/AIDS pandemic and the cholera pandemic, to name just two. These are horrible, but also routine: cholera, for example, kills about one per cent of those it infects in any country with even basic health resources.
Even the 1918-19 pandemic, the Spanish flu, killed only about two to five per cent of those it infected. The 103 million people then alive in the U.S. suffered a 28 per cent "attack rate," meaning almost 30 million had symptoms of the disease. About 675,000 died, for a case fatality rate of about two per cent. Worldwide, estimated deaths run from 20 million to 100 million.
H1N1, by comparison, barely registered. A recent study estimates that the people who caught H1N1 in 2009-10 suffered a CFR of 0.02 per cent -- about two deaths for every 10,000 who contracted the disease.
But H1N1 was "smart" -- it didn't kill many people, but it knew how to infect them. The same study found that 24 per cent of the people in 19 countries (including Canada) contracted H1N1 during the pandemic.
Not all showed symptoms. But post-pandemic blood-test surveys found that one in four of us are now carrying antibodies to pandemic H1N1. Among toddlers up to four years old, up to 43 per cent had caught it; among young people aged five to 19, about half had caught it.
Assuming those 19 nations were typical of the whole world, a quarter of the planet's seven billion people contracted H1N1, whether they knew it or not. That's 1,680,000,000 people infected in a matter of months -- almost as many as the total world population back in 1918.
So H1N1 was almost as contagious as Spanish flu, though mercifully nowhere near as lethal. With so many of us now carrying antibodies to it, other flu strains like H3N2 are the problem this year.
The 2009 pandemic, take two
We might get a sense of why scientists fear H5N1 by combining its case fatality rate with the attack rate of the contagious but feeble H1N1. Let's imagine that back in the spring of 2009, it was H5N1 that learned how to infect 24 per cent of the people exposed to it.
Let's also imagine that, like H1N1, this contagious form of H5N1 hit half of those under the age of 20. And let's imagine H5N1's case fatality rate stayed at 59 per cent.
B.C. Statistics says our province had 4,459,000 people in 2009. Of those, 973,000 were 19 or younger. So roughly 485,000 of our kids would have contracted H5N1, most of them before Christmas. And at a 59 per cent case fatality rate, about 285,000 of them would have died by August 2010, when the WHO declared the pandemic over.
At the same time, about 836,000 adult British Columbians would also have contracted H5N1 and 493,000 of us would have died. That would be a total of 778,000 British Columbians dead in 16 months -- 17 per cent of us, or almost one in six.
Proportionally, the same thing would have happened across Canada, the U.S., Europe, Latin America, Asia and Africa. In poorer countries, both attack rates and CFRs would probably have been higher, as they were in 1918-19.
We might have reduced the cases and deaths by simply shutting down our countries: No travel, no school, no work except to keep the lights on and the water running, while everyone else self-quarantined at home for weeks.
Worldwide, 1.68 billion infected people and a CFR of 59 per cent would have meant 991 million -- almost a billion human beings -- dead by the summer of 2010. The financial crash of 2008 would have turned into something exponentially worse. Survivors would have been psychologically devastated by the loss of their loved ones.
It's hard to imagine how governments could have responded effectively with both their legislatures and their bureaucracies decimated -- not to mention their healthcare systems. Would we have even seen a U.S. congressional election in 2010, or a Canadian federal election in 2011? Would anyone today care about Iran or Mali or the Liberal leadership race?
Looking on the bright side
But let's look at this more optimistically: Three out of four of us would not have caught H5N1. After all, we got through the Spanish flu pandemic quite nicely. The new Soviet government in Russia fought civil wars to maintain itself, the U.S. elected Warren G. Harding in 1920, and Charlie Chaplin made funny movies that people crowded into theatres to see. People shrugged off the impact of the pandemic. My own parents were babies then, but neither they nor their parents ever mentioned it to me as an historic (or personally threatening) event.
That was with a two per cent case fatality rate. A 2009 H5N1 pandemic would have been an order of magnitude greater. Forget cancer and heart disease. The survivors would be dealing with post-pandemic illnesses -- waterborne diseases like typhoid and cholera, for example, and the severe diarrhea that routinely kills 800,000 kids a year. Meanwhile our healthcare system would have lost many of its doctors, nurses and support staff.
The developed countries would likely have done better than the poor countries, and we might have managed to develop and distribute an effective vaccine to keep the death rates relatively low. Even so, it would have been small consolation for our losses.
Maybe H5N1 will learn to be contagious only by becoming as mild as H1N1 and the other human influenzas. But we have no assurance of that. All we know is that every human case, like those in Cambodia, means the virus has learned how to jump to us.
So we have to maintain effective epidemic intelligence to spot every case, a robust global health system to help clean up the outbreak zones, and a strong research system to study the virus.
If H5N1 learns about us before we learn about it, it will teach us a very, very hard lesson.