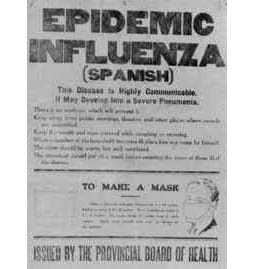 Oct. 5, 2004: Vancouver reports its first case of New Flu, already labelled a pandemic by the World Health Organization. The virus has moved around the world with frightening speed from Europe, where it was first identified just a few weeks earlier.
Oct. 11: Three hundred cases of New Flu have been confirmed in Vancouver.
Oct. 20: Vancouver has 3,000 cases of New Flu, 1,000 reported in the past 24 hours. The pandemic has swamped the city's health system.
This is the spike of the first wave. By the end of the year Vancouver's total cases number about 28,000 and 3,700 of them have been fatal. Two smaller waves hit, one in mid-January 2005 and the last in February and March. By mid-2005, New Flu has vanished. Vancouver's total cases have numbered 170,000; 5,000 have died.
Vancouver is not alone. A quarter of the province's 4,000,000 people have fallen ill, and 37,000 are dead. Most of the deaths are among those aged 20 to 40. B.C. First Nations fatalities total almost 10,000, including many children and elderly. Nine and a half million Canadians have suffered New Flu, and 285,000 are dead.
This science-fiction scenario assumes only that New Flu is just as deadly as Spanish flu was between October 1918 and March 1919; I have simply scaled up the numbers to reflect our much larger population. In 1918, for example, an estimated 30,000 of Vancouver's 100,000 residents caught the flu, and 900 died. Of the 4,000 provincewide deaths in 1918-19, over 1,000 were of First Nations. The city now holds almost 600,000; we could therefore expect a sixfold increase in cases and fatalities.
According to the new Canadian Pandemic Influenza Plan, a flu pandemic could kill between 11,000 and 58,000 Canadians while making 2.1 million to 5 million ill. No doubt we could fight flu more effectively than our great-grandparents did. But it's instructive to see how they coped 85 years ago.
A forgotten disaster
Surprisingly, very little has been written about the impact of the Spanish flu in B.C. Local historian Margaret Andrews published an account of Vancouver's response in BC Studies in 1977. In 1999, also in BC Studies, Mary-Ellen Klem described the devastation inflicted by the flu on B.C.'s First Nations. Elsewhere it receives only passing mention, a mere footnote to the end of the war. It was almost as if the experience had been blanked from our collective memory.
Vancouver had seen it coming. The first flu cases had appeared in Europe in June 1918, and returning soldiers that summer and fall had carried it to towns and cities across the country. Like other Canadian communities, Vancouver couldn't cope.
Many doctors and nurses were still serving in Europe, and only about 200 nurses were available in Vancouver. Almost half of them were unavailable for duty when the second wave of flu hit in January 1919; they were either ill themselves or caring for their own families. Vancouver's patient-doctor ratio was the highest it had been in a decade — 680 to one. The city's medical health officer, Dr. Frederick Underhill, had to find the resources both to limit the spread of the disease and to treat those who fell ill.
Prevention amounted to basic hygiene: avoiding crowds, covering coughs, plenty of fresh air. The city government, however, wanted more drastic steps. "Town closure" meant a ban on public gatherings, and the shutting down of schools, churches, and recreational facilities. Many flu-stricken North American cities had shut themselves down in this way, but Underhill didn't see the point. Closing schools would only put kids out on the street, exposed to infection without even a careful teacher's observation of possible symptoms
As well, Underhill pointed out, no one was ready to shut down business and industry. People would still be exposed to infection. (He was vindicated by the SARS outbreak in Singapore last year. Freed from school, kids wandered cheerfully through the downtown crowds of workers and shoppers.)
Vancouver shuts down
But within 10 days of the first flu case, political pressure forced the closure of Vancouver schools — which in any case were half-empty thanks to parental fear. A few days later, Underhill called for banning all public assemblies except in factories, stores and businesses.
The health-care system was also facing patients from outside the city, including many being brought in from smaller communities and even logging camps. Vancouver's hospitals (St. Paul's and Vancouver General) couldn't handle all the cases, so closed schools became impromptu wards. King Edward School, next to VGH at 12th and Oak, was equipped to handle 1,000 cases, staffed by school-board doctors and nurses. Strathcona School, on the east side, became a hospital for the Japanese community.
By the time the second wave hit, town closure was over, schools were open again, and authorities had to find new facilities. A 150-bed temporary hospital was built on the grounds of VGH.
Meanwhile, Andrews notes, it was business as usual. Car dealers were urging Vancouverites to buy their own "comfy and speedy Ford Car" rather than risk infection on crowded streetcars. Companies cranked out flu masks and veils, and druggists raised the price of camphor from 40 cents a pound to $6.50 in one week.
In an unlikely alliance, union members in the Metal Trades Council and Boiler Makers' Union joined with the Employers' Association to help create a central organization to fight the flu. Class conflict soon returned, however, with the Civic Employees' Union threatening to strike. Since they represented employees in the water works, hospitals, health department, and cemetery, they got most of what they demanded.
Fear and denial
Meanwhile, the public ignored bans on public gatherings. The same parents who kept their kids out of school would then drag them to Victory Loan rallies, or to welcome the troops returning home. Vancouver even enjoyed two wild Armistice Nights: a false alarm on Nov. 7, and the real thing four days later, with huge crowds celebrating in the streets. But movie attendance dropped, newspapers were smaller, and many offices were closed.
If Vancouver was good at ignoring its own pandemic, it was even better at ignoring the catastrophe afflicting BC's First Nations. Mary-Ellen Klem's article describes a disaster far worse than that afflicting white and Asian Canadians. Whole villages were infected; whole families were struck at once, with the living unable even to get up to bury their dead.
Klem says the B.C. native death rate from flu was nine times higher than for non-natives. While non-natives tended to die in their 20s and 30s, First Nations young people and elders were among the flu's victims. This seems at least partly the result of widespread TB and other respiratory diseases, often contracted in residential schools. In 1907, a study had shown that 70 per cent of young people who had graduated from such schools on the Prairies were dead within 15 years, mostly from TB.
The First Nations also felt betrayed by their white administrators, who had discouraged their former culture and assured them that life would be much better if only they would live like whites. In the event, even the white doctors assigned to First Nations reserves did little or nothing to ease the suffering.
Public health advances
A pandemic now would, we can hope, inflict much less damage on B.C. As with SARS, we could isolate early cases, master the virus's genome, and perhaps find a vaccine within a few months. Sanitation would reduce the rate of transmission. Medical technology would save people who in 1918 would have been beyond help.
Yet we could still succumb to panic and denial, especially with modern media playing to our fears. Class and ethnic divisions could appear, just as SARS triggered some irrational avoidance of Chinese persons and businesses. Our health-care system, already stretched as it is, might not respond as powerfully as it would need to — especially when it still had to care for large numbers of regular patients.
The new Influenza Pandemic Plan is clearly a step in the right direction. But the next pandemic could well test our character far more harshly than our medical resources.