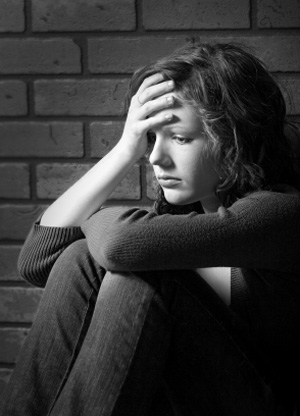 "When left untreated, mental illness can lead to devastating consequences. These include drug and alcohol abuse, violence, school failure, involvement in the criminal justice system, and the loss of critical developmental years that can never be recaptured." (Teen Screen pamphlet.)
Most parents believe that they'd be the first to know if their child was depressed or at risk for suicide. Yet according to a group promoting teen mental illness screening, such as the Teen Screen National Centre for Mental Health Checkups at Columbia University, "80 per cent of mentally ill youth are not identified and do not receive services."
Could it really be so? These advocates are pushing to get every teenager in the U.S. screened for mental health problems, contending that "screening can help find those youth who are suffering from undiagnosed mental illness or are at risk for suicide, make their parents aware of their children's difficulties, and help connect them with mental health services that can save their lives."
Like all medical screening, this one sounds reasonable on the surface. Teen suicide and depression are well known, and prevalent. If teenagers have undiagnosed and untreated mental health problems, and if we could do something to screen teenagers for mental illness -- and help divert them from a path of destruction -- why wouldn't we do it?
Unfortunately, when it come to types of medical screening that look good in theory but are largely unworkable in practice, mental health screening is probably the archetype. The mental health "Teen Screen" program is riven with gross conflicts of interest and inappropriate political influence, all which has led to the rapid uptake and prescribing of some of the most dangerous drugs on the planet.
Preschoolers as 'consumers'
Back in 2002 under George Bush, the president's New Freedom Commission on Mental Health was formed and it recommended, among other things, mental health screenings for "consumers of all ages," including preschool children. The Commission cited Teen Screen as a "model program."
From early on, this screening program always smacked of a way to deliver millions of teenage children into the waiting arms of pharmaceutical marketers. The Commission recommended that mental illness treatments should follow a certain standard medication protocol and chose the now infamous Texas Medication Algorithm Project (TMAP) as its model.
If the model acted like it was set up by the pharmaceutical industry, it's because it basically was, requiring, among other things, that physicians treat patients with the newest, most expensive brand-name antidepressants and antipsychotics over older, cheaper, some might say "proven" drugs.
The adoption of the Texas Medication Algorithm Project was a boon for the pharmaceutical industry, causing the cost of psychotropic medication for Medicaid -- the U.S. federal healthcare program for people on low incomes -- to increase sharply. The Lone Star State spent millions on developing and promoting the guidelines, supported by funding that came partly from the Robert Wood Johnson Foundation, which has half its assets invested in the drug giant Johnson and Johnson.
Labels and false positives
If you could get beyond the involvement of drug companies in designing guidelines to push for mental health screening, you might reasonably ask: Should we do it anyways?
There are certainly no easy answers, despite many organizations who are pushing for more mental health screening. One of the problems is the screening tool itself. In the case of Teen Screen, it famously employed vague questions which anyone feeling even mildly blue would answer "yes" to.
"Has there been a time when you had less energy than you usually do?"
"Has there been a time when you couldn't think as clearly or as fast as usual?"
Start with questions of this level of ambiguity, and it's not hard to imagine a teenager who is having a bad week give answers that end up plunging the poor pimpled soul into the maw of the mental health system. Like an indiscriminate tuna fisherman, this net inadvertently catches a lot of dolphins: the creators of Teen Screen found that it has a false positive rate of 82 per cent while other researchers have acknowledged that the false positive rate of early screening for psychiatric disorders "may exceed 50-60 per cent".
A big risk posed by programs like Teen Screen is the psychological harm that a label of "depressive" might inflict on a young individual, possibly for the rest of his or her life.
Some experts have acknowledged that screening for mental illness is only one part of the puzzle, and have stressed that screening to determine if someone is at "high risk" for suicide or depression is futile unless you follow up with appropriate, community-based help.
And let's face it, while most medical systems are very efficient at handing out pharmaceuticals -- drugs like Ativan, Paxil or Seroquel to deal with anxiety, depression and psychosis -- they're a lot less efficient at providing counselling and community supports to children at risk. There is evidence as well that anti-depressants widely given to children may actually lead to an increase in suicides. Screening which results in increases in the use of antidepressants among the young, can be like pouring kerosene on a fire.
The advice coming from an expert panel on teenage mental health screening said that screening was particularly helpful at identifying kids in trouble but recommended routine depression testing only occur if psychotherapy was available.
Canada's approach
In Canada, we seemed to have taken a much more cautious approach to child mental health screening. A few years ago, a Senate committee looked at mental health and addiction services in Canada and their report entitled Out of the Shadows at Last came down somewhat against screening for pragmatic reasons, citing the lack of appropriate staff to do follow-up and the impracticality of delivering a screening program across Canada's many differing provincial health systems.
The report acknowledged the constant problem that teachers and guidance counsellors face: having a proper strategy to help students with depression or suicidal thoughts. What good would it do if we screen for more depressed students if we already cannot deal adequately with the ones who already filter themselves through the system? While seeming to push the 'early intervention' bandwagon, the reports' authors say this about a national screening strategy: "It seems unlikely that there would be a sufficient number of mental health professionals available in the near term to assist these children and youth. Given this situation, nothing would be accomplished by the screening; indeed, more harm could be done."
There is no doubt that Canada's mental health system requires serious reform, and needs improvements in capacity and efficiency. But it is unlikely that screening programs would improve things.
Among all the talk of screening there is one almost religiously-held belief: that early intervention and action is vital when it comes to mental health. The Senate standing committee said that all kinds of mental illnesses and people from all age groups benefit from early screening. And that you must discover childhood mental illness early and treat it early. If not, warns the committee, "childhood disorders are likely to persist and lead to a downward spiral of school failure, poor employment opportunities, and poverty in adulthood. No other set of illnesses damage so many children so seriously."
'Little or no impact'
And yet, one has to ask, what does the evidence say about adolescent mental health screening programs? The answer is, not much. The closest thing to a systematic review of the evidence of depression screening was research carried out by the Cochrane Collaboration looking at the use of depression screening or what they call "case finding" instruments. Their review of twelve studies showed that the screening, in terms of the type carried out by a doctor's office or in a general hospital "has little or no impact on the recognition, management or outcome of depression."
The conservative U.S. Preventative Services Task Force, an independent panel of experts organized by the U.S. federal government to guide all kinds of health treatments, tend to agree that the evidence is paltry. They write that there is "insufficient evidence to recommend for or against screening children for major depressive disorder or MDD."
Despite this lack of evidence, do they recommend screening of adolescents (12-18 years of age) for major depressive disorder (MDD)? Yes they do, but with a caveat: only "when systems are in place to ensure accurate diagnosis, psychotherapy (cognitive-behavioural or interpersonal), and follow-up."
All signs indicate that screening is a major and growing program for most of the high profile mental health public outreach initiatives across Canada. Earlier this month, the journal Nature published a survey of 420 international mental health professionals who were asked to list those initiatives they felt would do the most good for people with mental illnesses. Better and more mental health screening programs made the top five "most important" list.
Undoubtedly, mental health problems around the world cause immense human suffering and misery, and there are few jurisdictions anywhere in the world where there is adequate support for and treatment of people with mental illness. But with mental screening programs and all their attendant problems, one is left wondering if identifying more and more people as mentally sick is really the way to go to reduce the level of human misery.