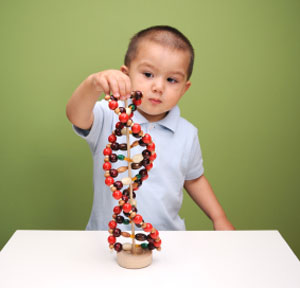 In the middle of last month an event of huge scientific importance was announced, vital to the world of medical screening, but barely producing a blip in the media.
On June 15, 2011, the personal genetics company 23andMe announced that it had the DNA of more than 100,000 people in its database, what is most likely the world's largest collection of individual genetic information. This information will be used to research the connections between a person's DNA and his or her risks of developing certain diseases.
Where did the company get this personal genetic information, you might ask? After all, wouldn't it be hugely expensive -- not to mention difficult to protect peoples' genetic privacy -- when creating such a database? Au contraire: the data were given to 23andme by people who mostly paid for the privilege of giving it to them.
With the exponential growth in sophistication of DNA analyses and the promise of unlocking genetic secrets many people are using sites like 23andme to learn about their risks for developing certain types of diseases, or to dig into their family ancestry.
People who send in a spit sample, plunk down $9 per month and commit to a one year agreement with 23andMe's Personal Genome Service® become willing contributors to 23andme's massive DNA database.
Gene guilt by association
How well can services like 23andme trawl through your genetic pool to discover secrets of your ancestry or your risk of future disease? Not very. In fact at least a decade's worth of analyses of genetic screening services have shown they almost always promise more than they deliver and have serious limitations.
For one thing, the genetic variations known as SNPs or single nucleotide polymorphisms they find in your spit may be "associated" with disease, but there is no certainty around that association. Then there is the perennial problem with the benefits being grossly exaggerated and the potential harms not discussed in any meaningful way.
One of the main problems is not the test itself but the predilections of humans who naturally mistake association with causation.
Which is to say, just because a genetic test says your genes might mean a "higher than normal" chance of developing Alzheimer's or Type 2 diabetes, that doesn't mean you will get it.
How much do you change your life if a test tells you your specific gene variations means your risk of developing diabetes in the future goes from 8 per cent to 30 per cent? Both nature and nurture are involved in determining whether or not any of us will develop a disease in the future, and society's understanding of the interplay between those two factors is still in its infancy.
Marketing your worst fears
Definitive answers obtained through personal genetic decoding are rare, but what isn't rare is the extent to which those decoding services are being grossly overmarketed, often using misleading direct-to-consumer (DTC) advertising. In 2002 the authors of a study of DTC advertising of genetic tests pointed to several print ads that exaggerated the need for genetic testing and misled the consumer using inaccurate and hyperbolic slogans.
Have things gotten any better in the last 10 years? Not really. A recent European report said that "aggressive marketing strategies and slogans for DTC genetic testing might overstate the potential for predictive information of such tests and overrate its future health implications."
Governments have generally stayed out of the way -- and there are no laws banning the DTC advertising of genetic tests in Canada.
The U.S. government is only marginally more involved. A few years ago the Government Accountability Office conducted a review of online stores selling genetic testing and offering lifestyle counselling. They tested a number of companies' products and found that companies were trying to flog expensive vitamins and nutritional supplements based on a person's results. Their conclusion? "The results we received from all the tests we purchased mislead the consumer by making health-related predictions that are medically unproven and so ambiguous that they do not provide meaningful information to consumers."
One of the main concerns around completing genetic tests online is the absence of follow up. Most services offer very little genetic counselling to help patients interpret the results and understand their risk. Take the results to your own family doctor and you're unlikely to get meaningful help there either. Above all, there seems to be no coherent way to ensure someone taking the test knows what they are getting into. Despite the promise of a genetic crystal ball, there is little hope the patient who sent in his DNA sample did so with a reasonable level of "informed consent."
There is also the fact that genetic testing as related to diseases is still very much in its infancy. Most diseases do not have a solid level of predictability in terms of how they show up in your genes. Most of the connections are 'associations' between a certain genetic anomaly and the risk of future disease.
Having said that, currently there are really only two tests, one for a certain type of gene-specific breast cancer, called BRCA and one for Huntington disease.
Preparing for the Hell of Huntington's
Huntington's disease (HD) is an inherited brain disorder that causes cells in specific parts of the brain to die and affects between one in 6,000 and one in 10,000 Canadians. The HD gene is dominant, which means that each child born to a parent with Huntington's disease has a 50-50 chance of developing the disease. That puts it in a whole different class when it comes to genetic determinism around disease.
It sounds like a dreadful disease.
"It's like having Alzheimer's, Parkinson's or ALS and schizophrenia, all in one disease. It's emotional trauma and behavioural instability. It's cognitive decline and physical decline," according to Bev Heim-Myers, the CEO of the Huntington Society of Canada.
Up to now there are no treatments that will slow down or stop the disease, and while the Huntington Society focuses primarily on advocacy and support of people with the disease, they have been front and centre on the debates around genetic discrimination in Canada.
Heim-Myers would be the first to admit that getting any kind of screening test for a disease could substantially alter your life in ways that are entirely unexpected. It can leave people with dilemmas they've never considered before, and produce more questions than answers. As she quips: "People go into it with curiosity and come out distraught."
Worse yet, it may set you up for discrimination. Unlike other modern developed countries, Canada has no legislation that protects people from genetic discrimination. And of course, you only know if you've got the gene if you agree to be screened for it.
That poses practical dilemmas, Heim-Myers tells me. She says "If you are from a Huntington family, the insurance companies won't cover you." In fact, "there are many examples of people with Huntington's disease who could not get life insurance or disability insurance because of their family history."
This sense of serious discrimination is backed up by research. A published Canadian survey found that nearly 40 per cent of respondents reported discrimination because of family history or genetic test results. The survey noted that it wasn't the genetic testing as much as it was just having a family history of Huntington's disease that made many people feel they were experiencing genetic discrimination.
So what does one do if there is confirmed Huntington disease in your family tree? Do you get screened for it or not? While most Huntington groups would recommend the test for people with a family history of the disease, the bottom line for Heim-Myers is that "people need to make an informed choice."
There's that medical screening refrain again: "Informed choice."
Heim-Meyers says informed choice is about looking at how the test can serve you. If you're facing a potential genetic disease, getting tested "depends on the time of your life. Are you at a crossroads?" In other words, if you want to have children, "having a better picture of your genetic history might lead you to make the better reproductive decisions."
So, it can be useful to know when there is a strong likelihood that you've got a disease like Huntington's in your family as it could allow you time to prepare yourself for an inevitable decline, or to help you decide whether you'd rather adopt children than risk passing on the Huntington gene.
Unfortunately, as I noted earlier, for most other genetic screening tests the science is still miles behind the marketing.
And the direct promotion of direct-to-consumer genetic tests of questionable accuracy and inflated claims is a recipe for disaster for many people. After all, once you've had the test you can't un-know what you know. Will the test change your life? Highly likely. Will that change only be positive? The jury is still out on that one.
Some would argue that a personalized genetic test not only allows you glimpses into the depths of your own genetic makeup, but gives you an altruistic way for you to contribute your DNA to a worthy cause. Some day human DNA databases like 23andme might be hundreds of times more powerful than they are now, producing genetic discoveries that may help many of us live better lives. That's the hope. But we're far from there today.