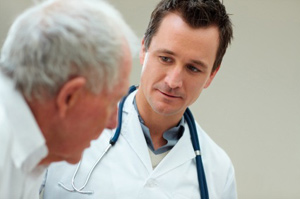 "Traditionally, doctors have focused on the one out of 1,000 we might help by looking for early forms of disease. But we haven't really asked the question, what happens to the other 999? And this problem was really demonstrated to us in prostate cancer screening, which is really a poster child for the problem of overdiagnosis." -- Dr. Gilbert Welch, author of Overdiagnosed: Making People Sick in the Pursuit of Health
In a very frank statement to the New York Times in Oct. 2009, Dr. Otis Brawley, the chief medical officer of the American Cancer Society, said "we don't want people to panic but I'm admitting that American medicine has overpromised when it comes to screening."
This is a remarkable statement coming from an organization that is among the world's biggest promoters of medical screening. Their pleas for everyone to become active participants in cancer prevention -- telling us to get screened early and often -- have been drilled into us for decades. In fact the "Test Early Test Often" is axiomatic in the cancer world, where we are repeatedly told that early detection is the key to survival. Our doctors largely follow that mantra, ordering annual tests of our prostates, our breasts, our colons and our cervixes according to screening guidelines. The logic of cancer screening is reinforced through a very simple message: find disease early before it gets you.
One of the problems about the overpromises of cancer screening referred to by Dr. Brawley is that while we are getting very good -- some might say too good -- at finding hidden cancers using modern technology, we're not always so good about doing the right thing when we find it. In fact, cancer screening, once accepted as a given, almost a motherhood issue, is starting to be more and more questioned. Experts are not the only ones becoming more and more vocal in asking hard questions around screening, and prospective patients too are weighing in with such questions as: Are the tests specific enough in finding only those cancers that will go on to hurt us? Is it possible that cancer screening can adversely affect the quality and length of my life? If I go to the trouble to be screened will this ultimately lead to my life being saved?
The last two years have seen a spike in interest in these kinds of questions, because as more research comes in it is increasingly clear that the evidence isn't keeping up with the hype. If cancer screening was living up to its billing we would be finding earlier cancers -- the ones that in the past were usually found too late -- and saving lives that would otherwise be lost. This might be the case with colon and cervical cancer screening, but it isn't with probably the two most controversial cancer screening programs around, those for prostate cancer or breast cancer (topic of the next story in this series).
While screening for these two types of cancer may find deadly tumours, what seems to be downplayed in much of the literature is the fact that screening can cause considerable collateral damage, including invasive biopsies, surgery, hospitalizations, infections and even deaths. Again, we're not talking about sick people here; we're talking about people who are well, have no symptoms, who are screened and told they have tumours within their organs. And in many cases, those tumours may never have been a problem. A study published a few years ago in the Journal of the American Medical Association found that society's aggressive promotion of prostate cancer and breast cancer screening was resulting in a massive increase in the numbers of low-risk cancers found but not reducing the number of aggressively growing cancers found.
The results: lots more cancer diagnoses, but no additional lives being saved.
Sold as a life saver
Prostate screening typically involves both a digital rectal exam and a PSA test, a blood test that measures a protein produced by the prostate, a walnut-sized gland which surrounds the uretha. If you have a "high" PSA reading it could mean a lot of things, such as inflammation or infection of the prostate. Or it could mean cancer.
The first thing a man might be told regarding PSA testing is that it will save his life, thus creating a pretty strong motivation to submit to a test. The evidence behind PSA testing, however, shows it to be much less than a slam dunk. Two recently published studies, one in the U.S. and one in Europe added even more uncertainty to the equation by producing contradictory results.
The U.S. study showed that there were no additional lives saved by carrying out PSA screening following men 55 and over after seven to 10 years of follow up. PSA screening essentially did not change the death rate.
The study from Europe showed some decline in death rates in men who were screened but the results are somewhat unimpressive. It found that to save one life, 1,410 men would need to be screened and 48 men would need to be treated. What happens to the other 1,409 men screened and the 47 who undergo treatment but would otherwise not have been killed by the cancer? Screening itself can cause anxiety, and begin a cascade of further interventions, like biopsies of the prostate and infections, some of which can be deadly. Many of those men who get treated with chemotherapy, surgery or both end up impotent or incontinent.
Let's be clear: PSA testing can detect prostate cancer early. Treatment for prostate cancer may be more effective when it's found early. However, prostate cancer screening can result in false positive results (the PSA test could show you have prostate cancer when in fact you do not) leading to further tests and more anxiety. Referring to the grim realilty of the unpleasant side effects of treatment, such as sexual dysfunction (impotence) or incontinence (inability to control the flow of urine) one doctor once told me: "Prostate treatment may not help you live longer, but it will make your life feel longer."
Most men over 60 have prostate cancer
What is very hard for most of us to understand is that many cancers can be so slow growing they would never spread and kill. The simple fact is that 60 per cent of men in their 60s have some form of prostate cancer; overall, we men have about a three per cent lifetime risk of dying from it. Most men, who live long enough, die with prostate cancer, but not because of it. Having said that, if you have any symptoms whatsoever, such as difficulty peeing, you should get things checked out. The hard part for most men who have been told they have prostate cancer is being offered no treatment whatsoever, a phenomenon called "watchful waiting." Just waiting and seeing what happens is a viable course of action, because most of the time nothing bad will happen. But this goes against the best instincts of many of us who would say, "I've got cancer? Okay, doc, go ahead, do whatever cutting and chemo you need to do to get rid of it."
The evidence around PSA testing has become an incredibly fast moving target and while things are confusing for men, it is doubly confusing for physicians who counsel men on it. Perhaps the current state of PSA screening is best summed up by Dr. Jeff Susman who wrote, in a recent editorial in the Journal of Family Practice, "Keeping up with this area of practice is beginning to feel like a full-time job."
Besides the potential for false positives, perhaps the most worrisome thing about PSA testing is that it creates a huge demand for biopsy tests, which use needles to pierce the prostate and are themselves capable of making perfectly healthy men sick. The biopsy carries an infection risk, because the needles used in the biopsy can sometimes take bacteria from the bowel into the prostate, bladder and bloodstream. A recent story in Bloomberg News reported that as many as five per cent of men undergoing a prostate biopsy may experience serious, life-threatening infections.
Dr. Jeff Susman, who hopes better screening techniques are coming down the road, writes, point blank, that "it is time to stop this screening nonsense." For him, the promotion of PSA screening needs to end: "it is time for urologists and primary care physicians to tell patients that PSA screening is unlikely to benefit them."
Despite all the controversies around PSA testing, between those promoting it and those trying to rein things in, there is one solid and indisputable common ground: men need to go into prostate screening with their eyes wide open -- and they need to agree to it only after a full assessment of the possible good, the bad and the ugly of PSA testing. Perhaps the best place to start is reading a reasonably good and informative factsheet, and preparing yourself for the inevitable discussion with your doctors.
Has modern medicine overpromised when it comes to saving men from prostate cancer deaths? Undoubtedly, it has. Perhaps now is the time to balance out those promises with another promise: let no man submit to a PSA test looking for prostate cancer until he is clear on what could happen as they look for it, and what could happen if they find it.