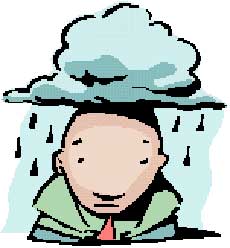 An old joke comes to mind. A despondent man decides to end it all and throws himself in front of a Subway. Several hours later, his will to live returns when he realizes he lacks the patience to wait the millions of years it will take Continental Drift to crush him under the restaurant.
A friend and I crossed a mountain torrent moving from boulder to boulder. Midstream he slipped; reflexively, I pulled him back, and my own momentum carried me into white water. Sure of my doom, I barely struggled but then hit a rock, my head popped up, and my friend screamed "Stand up!"
Although unbelievably powerful, the stream was shallow. I stood and plastered myself against the rock and let the current take me to the next one; even with sodden clothing, I made it to shore.
After a lifetime of suffering, it is hard to say a good word about depression, but like most psychological states, it serves a function. It causes negative ideation, but dulls emotions, blunting anger or grief that the psyche cannot deal with, and dissipates when it can. But for some of us, this biochemical mechanism isn't reactive, but occurs out of the blue and becomes chronic. Even then, it can serve a function by keeping one alive when life seems hopeless, as most in the grips of melancholia lack both the psychic and physical wherewithal to end their lives.
I have often bottomed out, but only contemplated suicide once; rather than despondency, passive aggression was the motivating force. I wanted to hurt someone; make her feel responsible. I made the threat; depression saved me. I lacked energy and the resolve to carry through.
Pills and suicide
An alarming trend developed with the arrival of Prozac and drugs like it. Rather than just combating depression, some used them to become better than well. They are used as a performance enhancers and as means of countering the everyday "blues" or "blahs"; allowing the user to be even braver to face this new world.
The depressed person is in greatest danger when they come out of it. As the pall lifts, almost paradoxically, they are at a greater risk of suicide. Renewed emotional and physical vigour pull away the safety net. Real emotions long blocked by torpor become overpowering and where the mystery writer's bywords, means, motive are ever present in the depths. Newfound vigour creates opportunity and viola! a nasty end becomes more likely.
Controversy rages over the use of anti-depressants by children. Adolescents often have poor impulse control, which increases the risk of suicide after "recovery", especially if the drug grants relief too quickly. It's one of those cases where the operation sometimes succeeds but the patient dies.
My own case is complicated. I am bi-polar; anti-depressants are effective, but often too much so. They end depression but can catapult me into hyper-mania. So I take anti-manic agents as prophylactics and anti-psychotics when those fail. For years I yo-yoed, as psychiatrists struggled to find just the right cocktail.
There have been breakthroughs in the treatment of affective disorders. Along with what had been a nominally successful mix of psychotropic drugs, I now take an atypical anti-psychotic, usually reserved for schizophrenia. The new mix is much more effective.
Finding Cognitive Therapy
To return to the raging stream, I have found another antidote. No longer a complete slave to synapses or on the drugs that control them, I can partially control affect by other means. Like my friend who screamed, "Stand up!" a family physician showed me, that though the waters of depression run swift, they need not be deep. She introduced me to Cognitive Therapy.
In essence, this involves changing one's mental set and replacing the negative with the positive. In my case, trust in my GP's judgment allowed me to suspend a feeling of impotence: A feeling of being damned to failure, in my own ability to make positive changes. We agreed on me reaching what now seem trivial goals. As I achieved them I felt more positive. I worked with her for years. The increments were tiny; given enough time, however, mountains are moveable.
Ten years ago, I was virtually catatonic. Even brushing my teeth proved daunting; reading, let alone writing, seemed out of the question. Years of harsh drugs and violent mood swings produced profound cognitive damage. My goal setting focused on repairing this.
I started with large print crossword books from drugstore newsstands and moved at a snail's pace. What you are reading speaks to the success of the enterprise.
I end with a caveat. Perhaps cognitive therapy has made medication unnecessary, but after 20 years struggling with a chronic illness, I am unwilling to take the risk. To be honest the times I have felt medication unnecessary are when I most needed it and if I act on the impulse generally wind up on a psych ward.
Terence Boal is a writer in the Lower Mainland of B.C.