SMITHERS — When Smithers mayor Taylor Bachrach looks around, he sees projects looming that are going to be expensive to complete.
The ice arena is a converted aircraft hangar that arrived by rail in the 1950s and it needs a new roof that could cost as much as $500,000, he said.
"Much of our community lacks proper drainage," he said, mentioning the need for storm sewers. "Like every community, and we're certainly more fortunate than some in terms of our infrastructure situation, we have outstanding infrastructure needs."
Smithers is part of the Northwest B.C. Resource Benefits Alliance, which includes 21 local governments as well as the regional districts of Bulkley-Nechako, Kitimat-Stikine and the North Coast. Together they have been pressing the provincial parties to commit to begin negotiating by September 9 an agreement to share resource revenues with them like agreements that already exist in other areas of the province.
"There are so many revenues generated in the northwest through resource development," Bachrach said. "The feeling is a fraction of those revenues come back to support our communities and we would like to see a more beneficial arrangement so communities are able to address their infrastructure deficits and ensure their long-term viability."
Local candidates agree on need
Throughout the campaign period, candidates in Skeena, Stikine, Nechako Lakes and the North Coast have voiced degrees of support for the RBA, but their parties have been slow to back them up. The NDP is so far the only party to agree to begin the negotiations on the RBA's timeline, a commitment it made on May 3.
Wanda Good, running for the BC Liberals in Stikine, said she would fight for an equitable sharing of resource revenue. "We in the north are missing out and are in need of infrastructure," she said. "I have committed to continuing to meet with the Resource Benefits Alliance."
The BC Liberal candidate in Skeena, Ellis Ross, said when asked about revenue sharing that the main thing is the parties have to support resource development. "If you have a party that doesn't support that, there's no point in revenue sharing."
And Herb Pond, a former mayor of Prince Rupert, said during an all candidates event, "I understand the challenges of funding municipalities. Lived it firsthand. Municipalities need new sources of revenue, there's no question about it."
He said, "When I was in the mayor's office we talked about the opportunity to do some sort of revenue sharing, so certainly as I move into the MLA's role I will do everything I can to facilitate the sort of discussions that the Resource Benefit Alliance is looking at."
Hondo Arendt, the Green Party candidate in the North Coast constituency, said during that same event in Prince Rupert that of course anyone running in the northwest would say they will fight strongly for revenue sharing for the region, but that it was more important to make sure big corporations pay fairly for access to publicly owned resources.
Liberals stalled saying 'LNG not imminent': NDP candidate
Bruce Bidgood, running for the NDP in Skeena, is a former chair of the RBA and has been promoting the idea of better sharing resource revenues for years.
Around 2013 Premier Christy Clark seemed interested, he said. "That was good, then she passed it off to [then community development minister] Coralee Oakes, and then they cut off talks altogether because they said the LNG wasn't imminent."
Bidgood said the RBA never wanted the revenue sharing to be limited to LNG, adding there's already a lot of development around cities in the north that isn't required to pay local property taxes. "All the demand [for services] will be experienced by the municipality and all the benefit will be gleaned by the provincial government," he said.
The comparable agreement in the northeast provides Dawson Creek with $12 million a year, Bidgood said. "Imagine what that could do for the city of Terrace, whose entire budget is only $25 million."
Terrace needs to spend about $45 million more on infrastructure, including for sewage, water and pipes, he said. "We're not asking for charity. We're asking for our fair share."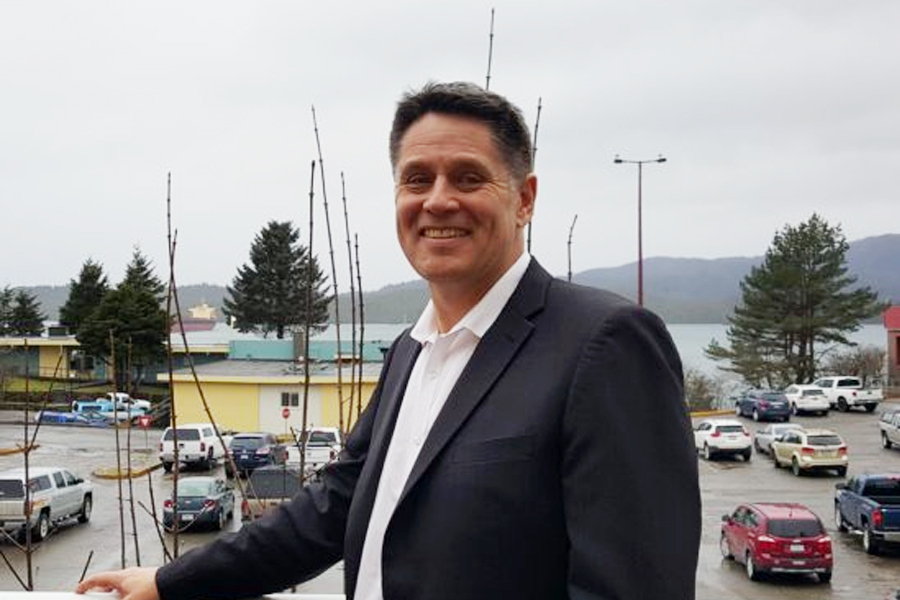 Doug Donaldson, the NDP candidate in Stikine, said leader John Horgan spoke in favour of the RBA's proposal during a visit to Terrace. "It's a total recognition that infrastructure needs in the last 16 years of municipalities have been underfunded by the BC Liberals. We're a party that understands the model of how to share benefits more resources more locally."
He noted that Mike Farnworth, the NDP incumbent in Port Coquitlam, was involved in the Fair Share Memorandum of Understanding, now known as the Peace River Agreement, as a cabinet minister in the 1990s. And Horgan was the lead negotiator for the government on the Columbia Basin Trust.
"Too much has left and not enough has come back," Donaldson said. "We're willing to sit down and talk right away with the 20 municipalities based on what's happening now."
NDP agrees to RBA timeline
That NDP support was made official on May 3, when the RBA released a statement from NDP leader John Horgan.
"I am proud to say a BC NDP government will undertake negotiations with northwest communities to ensure that benefits from future economic development stays in those communities," the RBA quoted Horgan saying. "As requested by the alliance, we will initiate those negotiations by September of 2017."
The release also quoted Bill Miller, who is the RBA chair and chair of the Regional District of Bulkley-Nechako. "It is gratifying that Mr. Horgan and the B.C. NDP have recognized the need for Northwest B.C. communities to receive a meaningful share of provincial revenues generated by economic development in the region to cover the costs imposed by those developments and provide a legacy to the region," he said.
"We are looking forward to receiving the same level of commitment from the other party leaders, who have yet to provide any response to the RBA's repeated requests."
A spokesperson at BC Liberal headquarters took questions from The Tyee by email on April 30 about whether it would meet the RBA's timeline, but did not provide a response by publication time.
And Green Party spokesperson Jillian Oliver did not directly answer a question about setting a timeline for negotiations.
"The BC Greens are very aware of the impacts of cut backs in spending by the provincial and federal governments over the past 16 years, and the stresses that downloading puts on communities," Oliver said in an email.
"Many aspects of our platform address issues of concern to the Revenue Benefits Alliance such as environmental protection, community well-being and local services," she said. "We are committed to building a more respectful relationship with communities and local governments."
The party plans to review how the province funds local governments, she said. "At this point we can commit to engaging with local governments across B.C. to establish an effective funding base for communities as soon as possible upon forming government. Whether it would include this particular revenue sharing model would need to be examined further."
Bachrach, the mayor of Smithers, said he's eager for discussions to begin. "It's a good time to start talking about what a beneficial structure would look like, so when new revenues arrive and the economy expands, we're ahead of the game."