The province's union movement has to help defeat a Liberal premier "who puts the interests of the rich and powerful first — and the needs of ordinary people last," BC Federation of Labour president Irene Lanzinger said Monday.
Lanzinger kicked off the federation's annual convention with a speech urging the 1,500 delegates to help NDP leader John Horgan win next May's election.
"We can't win everything at the bargaining table or in the streets," said the former BC Teachers' Federation head. "We have to be involved in politics."
Lanzinger said 500,000 workers in the province are earning "poverty wages" as a result of Premier Christy Clark's policies.
"She wants to be called 'Premier Jobs,'" Lanzinger said. "In reality she's Premier Precarious. Or Premier Part-Time. Or Premier Poverty — take your pick."
About 75 per cent of the jobs created in the province in the last year were "part-time, low-paying precarious jobs with no benefits," she said. "They've created an army of low-waged precarious workers desperately trying to cobble together an income to pay the bills."
Lanzinger said incomes, opportunities and job security have been eroded during 15 years of Liberal government while Clark's government "actively pursues policies to eliminate good-paying permanent jobs."
She pointed to gaps in trades training and apprenticeship programs, the loss of tens of thousands of jobs in the forest sector, employer abuse of the Temporary Foreign Worker program, and labour and employment standards laws that prevent unionization and fail to protect workers.
Lanzinger also criticized B.C.'s low minimum wage and welfare rates.
The result has been increasing inequality, particularly for women, she noted.
"Our low minimum wage leaves 300,000 women working in poverty," she said. "There's been no action on child care. There's been no action on a poverty reduction plan."
Gender equity remains an issue within the union movement, she noted. Twelve of the province's 14 largest unions are headed by men and Lanzinger is the federation's first woman president.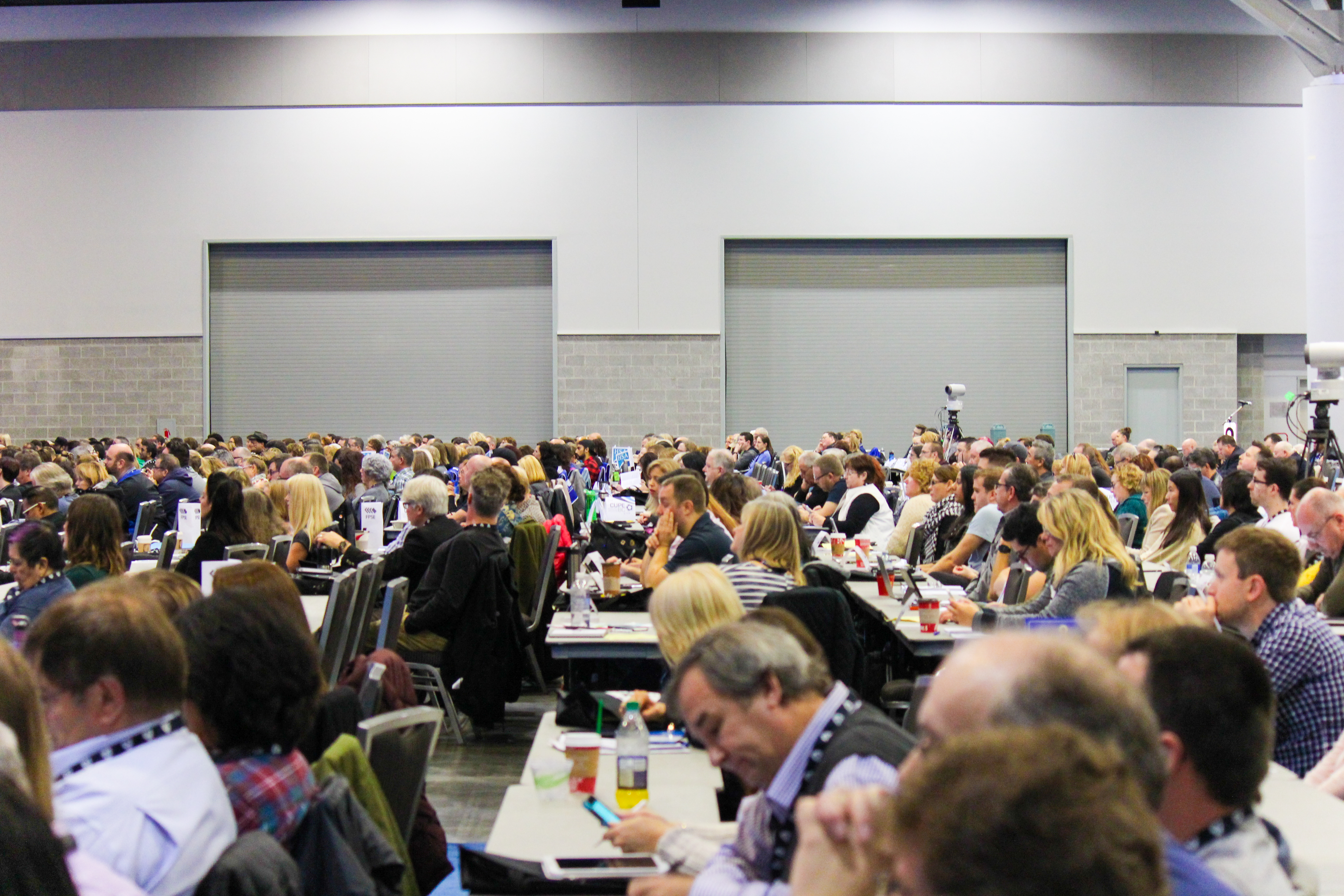 Lanzinger also urged delegates, representing about 500,000 union members, to push for measures to protect workers' "fundamental right to a safe workplace."
Workers are being severely injured or killed on the job with little consequences for employer, she said. "We say if you kill a worker, you should go to jail."
Lanzinger, who was elected federation president two years ago, pointed to successes like the campaign to raise the minimum wage to $15, a policy adopted by the provincial New Democrats.
The federation and its members also helped defeat the Stephen Harper government and pushed successfully for changes to the Canada Pension Plan, she said.
And it has pushed to ensure that the costs of dealing with climate change — "a central issue of our time" — aren't pushed on to "working women and men, our families and our communities." There are opportunities to create and protect jobs with a "just transition" to a green, low-carbon economy, she said. But Clark has "excluded labour from being at the table in addressing climate change issues."
Lanzinger said it's critical to elect an NDP government next May.
"We can't afford four more years of Christy making life easier for her powerful friends and harder for the rest of us," she said. "Because if we don't get that change, B.C. is going to be a place where only the rich can live."
Lanzinger noted the rise of Donald Trump and similar political approaches in Canada. "Our response must be to build a movement that includes and fights for every member of the working class and the poor," she told delegates.
"We have a government in B.C. that's not on our side," she said.
The labour movement has an important role to play in the election, she said.
"We will win if we pull out all the stops," she said. "If we engage like never before with our colleagues at work, with our families and community."
Horgan addresses the convention Tuesday at 1:30 p.m. and the federation unveils its political action campaign for the provincial election Wednesday at 2:30 p.m. The convention ends Friday.