One advantage Donald Trump had over Hillary Clinton that should be of interest to British Columbian politicians was his ability to attract free publicity on the way to winning the presidency of the United States.
Facing an opponent with much greater ability to solicit donations and therefore to pay for advertising, Trump dominated in what's known as "free media," combining both mentions in traditional media and a presence in social media to more than bridge any spending gap with Clinton.
"He earned it from his bombastic and insulting statements, he earned it from pulling in massive crowds to his rallies, and he earned it from winning primary after primary," Mary Harris, the COO/CMO of the consulting firm mediaQuant wrote in a blog post this week.
"Whether by design or accident, he bypassed paid advertising to bask in the attention and validation of a 24-hour news cycle," she said.
Nor did it seem to matter that much of the coverage of Trump was negative, she wrote. "The [Public Relations] adage of 'any news is good news' appeared to be the case in Donald Trump coverage."
By mediaQuant's calculation, that attention was worth $4.96 billion to the Trump campaign in the year ahead of the election. The comparable figure for Clinton was about 35 per cent lower, at $3.24 billion.
Put another way, for every $1 in free publicity the Clinton camp earned, Trump attracted $1.54.
"The 2016 election pointed to something we already knew, but needed confirmation on a national and global scale," wrote Harris. "Earned media, both social and traditional, is significantly more effective in driving market awareness than paid media (advertising)."
Lessons for BC
In British Columbia, where there's a provincial election scheduled for next May, Christy Clark's BC Liberal Party is like Clinton's party in the decisive edge it holds on fundraising and the ability to spend on advertising.
In 2015, the most recent year for which figures are available, the governing party raised three times as much money as the NDP did.
But if John Horgan and the NDP hope to use free media to make up the difference, it will take a reversal of the current trends.
In the past year, according to a search of the Proquest database, Canadian newspapers have mentioned Clark 4,591 times. That's nearly six times as often as the 804 mentions of Horgan.
Meanwhile Andrew Weaver, the leader and only MLA for the BC Green Party, a party with far less funding than the NDP, is nipping at Horgan's heels with 588 mentions in the last year.
On Twitter, as of this writing Clark has 71,200 followers, compared to 9,285 for Horgan and 7,002 for Weaver. And she has 39,072 "likes" on her Facebook page, more than seven times as many as the 5,144 likes for Horgan or the 6,941 likes on Weaver's MLA page. None of the three has a significant presence on the photo-sharing application Instagram.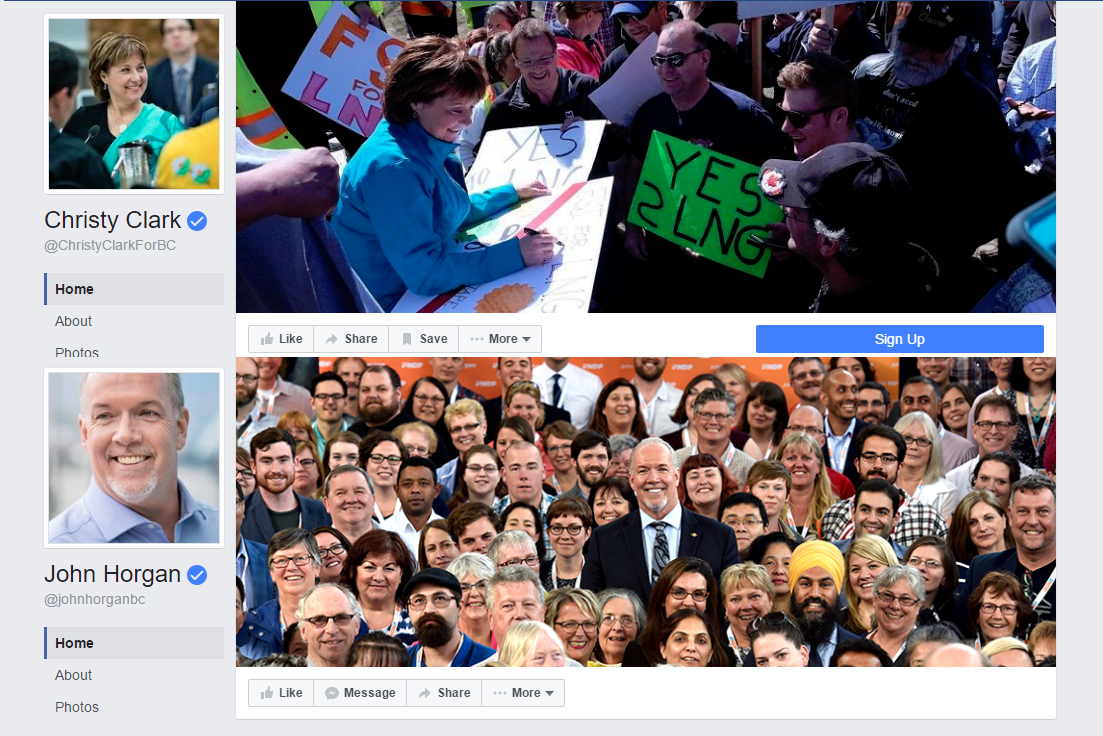 Social media has been a big factor in elections for the last decade or so, said Janni Aragon, a political science professor at the University of Victoria. "It is now part of the ether for an election campaign."
Talking to 'echo chambers'
Aragon attributed Trump's victory to a wide variety of factors that had little to do with his use of social media, and observed that he frequently seemed to attract negative attention for the things he said on it, making it more of a liability than an asset.
In that way Trump's example should be cautionary for Clark, another politician who at times seems to enjoy shooting from the hip, Aragon said. "You have to be careful. Sometimes she might try to be authentic and it comes off as not being authentic, like she's trying too hard."
Supporters will likely forgive candid tweets, but they can play badly, she said. "People want to see that in their particular politician, but they're very quick to criticize someone of a different political party affiliation."
This far ahead of the election, the politicians are all talking to "echo chambers" of people who tend to agree with them, so right now the numbers of likes and followers each has matters little, Aragon said, adding that those numbers will become more important as election day approaches.
"If political leaders are going to learn from what we saw in the States, it's not about saying terrible things, it's about authenticity," said Paul Holmes, a social media speaker based in Victoria.
In last year's federal election, Justin Trudeau seemed to have more of a role in curating his social media presence than either Stephen Harper or Thomas Mulcair did in theirs, Holmes said. Green Party leader Elizabeth May, on the other hand, carried her own phone and made her own social media posts.
"She was far more authentic than any of them," he said.
Provincially, Holmes said that while Clark and Horgan tend to use social media to push out press releases and other announcements, Weaver frequently engages with other users and comes off as authentic.
But while leaders are important, they make up a small percentage of the conversation on social media, Holmes said.
A bigger factor is that Facebook's algorithms tend to show users opinions they likely already agree with, which is the opposite of what's needed in a political discussion, he said. "In a perfect world, we all need to learn more about what our neighbours think, especially our neighbours who disagree with us."
Holmes said he also believes the Democrats failed in the U.S. election to recognize how important media outlets outside the mainstream have become. "The message is be authentic and don't ignore the alternative media," he said.