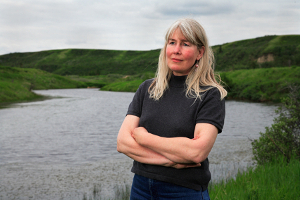 Everyone from William Gladstone to Martin Luther King Jr. has recognized that justice delayed is just another form of justice denied in a democracy.
Jessica Ernst is now feeling that sentiment, and for good reason.  
In December 2007, the oil patch scientist sued Encana, the Alberta government and the provincial energy regulator, alleging negligence in regards to the controversial hydraulic fracturing of shallow gas formations in central Alberta in 2004.
Her lawsuit contends that Encana unlawfully fracked into aquifers near her homestead in Rosebud, about 110 kilometres east of Calgary, contaminating them with methane and other hydrocarbons, and that the energy regulator and Alberta Environment failed to conduct a proper investigation.
Ernst, a patient landowner, didn't expect immediate results. But nor did she anticipate nine years of treading water.
Now her case, which seems mired in a swamp of delays and formalities, is no closer to presenting evidence on the industrial contamination of groundwater, a public resource, than it was nine years ago.
Encana, which has been at the centre of other high-profile water contamination cases, didn't file a defence until Aug. 19, 2013. The corporation says the case is without merit.   
Yet the landmark lawsuit highlights a continent-wide problem aggravated by a haphazard technology: hydraulic fracturing.
A 2014 report by the Harvard Law School on fracking in the U.S. spelled out the central issue. 
As complaints of water contamination in areas being fracked by industry (more than 1,000 water complaints alone in Pennsylvania) were rising, regulatory statutes and procedures were "often insufficient to respond adequately to landowner concerns," the Harvard Law School report found.
In addition, hydraulic fracturing has caused thousands of earthquakes in the Western Canadian sedimentary basin, with little or no monitoring on the impact on groundwater and gas migration. 
Yet come this December, Ernst's case will have languished in Canada's court system for nine years and consumed $360,000 of her savings.
To date, the case remains bogged down in preliminaries and has been dogged by persistent legal delays. Alberta's energy regulator has not yet filed a statement of defence.
At the same time, Ernst's case has been caught in a profound justice logjam in Alberta.
Thanks to the province's now deflated bitumen boom and its demographic burden, the jurisdiction has been struggling with a shortage of judges in its superior courts.
In fact, Alberta has had the fewest number of judges per capita in Canada. Alberta Chief Justice Neil Wittmann, who presides over the Ernst case, has described wait times as intolerable. Seven new federal appointments announced last week might ease the backlog.
Meanwhile Encana still has not filed in court, as ordered by Justice Wittmann with a deadline of Dec. 19, 2014, all important and relevant documents to the case, in what is known as a document exchange.
Items most notably missing are the chemicals that Encana injected into the Rosebud drinking water aquifers and the "baseline" data collected by the company.
Charter issues at stake
After Alberta's Court of Appeal ruled in 2014 that Alberta's energy regulator could not be sued by citizens due to an "immunity clause," Ernst decided that decision wasn't fair or accountable in a democracy.
Given that Ernst considers the regulator the most guilty party in her lawsuit, she instructed her lawyers to take the case to the Supreme Court of Canada.  
Two years ago, Ernst lawyers did just that on Nov. 13, 2014.
Last January, the Supreme Court heard Ernst's novel case.
The constitutional question in Ernst's lawsuit boils down to this: Is an "immunity clause" in the legislation governing Alberta energy regulator "constitutionally inapplicable or inoperable to the extent that it bars a claim against the regulator for a breach of s. 2( b) of the Canadian Charter of Rights and Freedoms and an application for a remedy under s. 24( 1) of the Canadian Charter of Rights and Freedoms?"
In other words, can a regulator prevent a citizen from suing it for damages when the evidence suggests that the agency has violated their Charter rights and abused its powers?
Legal beagles concede the answer to this question will have national consequences.
"This decision will have significant impact on the Board, the Alberta Energy Regulator, any other regulatory tribunal that has statutory protection from civil liability or actions, and any potential future claimants who may consider bringing an action against a statutory body that has legislative protection," wrote lawyers representing Canada's largest law firm, Borden Ladner Gervais. 
The Attorney Generals of British Columbia, Saskatchewan and the federal government filed notice to intervene in Supreme Court case, but then all dropped out at the last minute.
Three civil rights groups including the BC Civil Liberties Association intervened to support Jessica Ernst.
To the BCCLA, the case is a plaintive call for justice.
Imagine, asked the BCCLA in a recent blog post, that your tap water was "so contaminated with toxic chemicals that you could light it on fire." Imagine the government agency tasked with protecting public water supplies from industrial contamination then "seemed to be ignoring your repeated complaints," it wrote.
"Now imagine that after doing everything you could to get your concerns taken seriously, including speaking out publicly and engaging the media, you were told by that agency that they would not accept further correspondence from you unless you stopped speaking out publicly, and they began returning your letters unopened," it continued.
The BCCLA has long fought government agencies that increasingly seek to stifle public engagement, avoid transparency and evade accountability.
"But a government agency telling a landowner that her complaints about flammable tap water will not be addressed until she stops speaking out publicly, and then a court telling that landowner she has no way to make a legal claim for this possible breach of her Charter-protected rights is, for us, unprecedented," the BCCLA underscored.  
The Supreme Court renders its judgements on average six months after hearing a case.
Nine-and-a-half months, or 41 weeks have passed since Ernst's hearing on Jan. 12, 2016, with no decision or reasons released yet.
"I've persevered as long as I have because fracking unconventional oil and gas is harming so many water supplies and lives," said Ernst recently to a friend in an email.
"I would never suffer Canada's horrific legal system if just my water well was contaminated."
The European Commission for the Efficiency of Justice (CEPEJ) recently took a hard look at the timeliness of decisions made by the European Court On Human Rights. 
Given that "everyone is entitled to a fair and public hearing within a reasonable time," the commission found that the European Court regarded a duration of two years as reasonable in the system.
Complex cases (and the Ernst case was declared a "complex case" by Justice Wittmann in 2014) could take more time.
But the European Court has never considered nine years, the time that Ernst has now waited, as "reasonable."