"I see a screw-up coming." John Pomeroy shook his head in disbelief as the rainfall warnings arrived at his research station in southwestern Alberta. Environment Canada had predicted 100 millimetres of rain or more might fall in the Canadian Rockies. And now they were issuing a "high flow advisory, instead of the flood warning" that he fully expected. Where were the clanging alarm bells?
Pomeroy knew too well the built-up conditions that made a devastating flood so possible. A hydrologist with a special interest in climate, snowpack and precipitation patterns in the Rockies, Pomeroy had seen it coming two days before as a big low-pressure system slowly moved in from the south. It worried him that even though winter's snowfall hadn't been that heavy, the spring snowpack in the mountains was late in melting.
Fearing the worst, Pomeroy had the computers and all the fragile equipment at the research station secured well above ground the next day before sending most of his staff home. Back at his house in Canmore, he and his wife put up extra food and drinking water, and prepared for no electricity. 
And still no flood alert from Environment Canada. That's when Pomeroy typed "I see a screw-up coming" in an email to Kevin Shook, a colleague at the Centre for Hydrology at the University of Saskatchewan.
The date was June 18, 2013. "Screw-up" turned out to be an understatement.
When 200 millimetres of rain, and in some cases 350 millimetres of rain, poured down in the coming days, it fell on still frozen alpine wetlands and high meadows unable to soak up much moisture. Wet snow rapidly melted and came barrelling down the mountainsides, bulldozing swaths of forest and carving out new channels along the Ghost, Kananaskis, Elbow, Sheep, Highwood and other rivers and creeks.
In Canmore, Pomeroy watched in awe as Cougar Creek, which is normally one metre wide and sometimes dry in the spring, swelled to 100 metres in width hours before the flood alert was announced. In just a few hours, dozens of houses along its banks were damaged. CP Rails' mainline, the TransCanada Highway and Highway 1A were washed out, and campgrounds along the Bow River were submerged under water. Hundreds of basements in Canmore filled with water.
Canmore was not the only place hit hard and left unprepared for the deluge. Flooding occurred to the north and the south along the Red Deer and Oldman rivers, and to the west along the Elk River. Had it not been for dam storage and slow release at Lake Diefenbaker in Saskatchewan, says Pomeroy, the moderate flooding that occurred in that province would have been a lot worse.
By the time the rain stopped, at least a dozen communities, including the cities of Calgary and High River, declared states of emergency. Five people were dead. More than 100,000 people had to be evacuated. With an estimated $6 billion in damages, the Alberta government described the flood as the costliest natural disaster in Canadian history.
But it's only a matter of time, in this era of climate change, before a deluge does even worse damage.
Disastrous deluges
Floods are by far responsible for most of the natural disasters in Canada. Between 1900 and 2013, 289 flood disasters occurred across the country. That's more than the next three major disaster events -- hail, wildfire, and snowstorms -- combined. Many studies, including one by Natural Resources Canada, predict that this flooding is likely to get worse as the climate heats up and introduces more moisture into the atmosphere.
If the past tells us anything about this future, it's going to get ugly.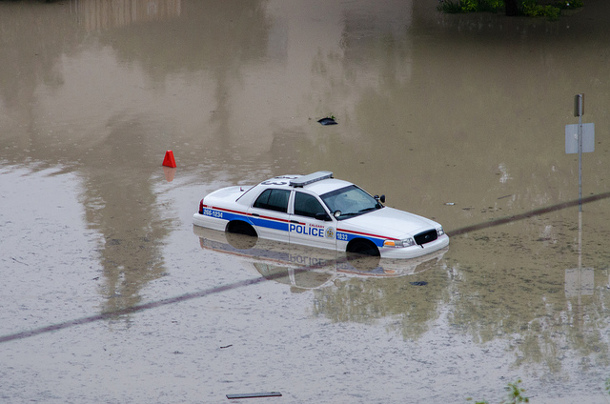 Since 1996, when the overflow of the Saguenay River in Quebec caused $700 million in damages and forced the evacuation of 16,000 people, there have been catastrophic floods along the Red River (25,000 people evacuated in 1997), in Alberta in 2005 when 13 communities declared states of emergency, along the Saint John River in New Brunswick in 2008 when 1,600 homes and properties were damaged, and along the Red River in 2011 when Manitoba called a province-wide emergency.
The record-breaking 2005 floods in Toronto paled in comparison to the July 8, 2013 flood that caused $850 million in damages in the GTA.
In many cases, the nature of the flooding was unprecedented. On August 8, 2014, the city of Burlington got two months of rain in one day. Floods that swamped large parts of Saskatchewan and Manitoba in June 2014 were also unique in that they were caused by rainfall, not the usual snow melt, and at a time of year when creeks are normally dry.
While climate models suggest that global warming will exacerbate the problem as temperatures increase and trap more moisture in the atmosphere, there is additional evidence to suggest that severe weather systems could linger longer than they have in the past. (See sidebar.)
Insurance companies have been at their wits' end thinking of ways of dealing with mounting claims, according to Blair Feltmate, head of the Intact Centre on Climate Adaptation at the University of Waterloo. Today, he says, more than 50 per cent of all the disaster-related compensation payments made by insurance companies comes from flood damage. In nine of the past 11 years, he adds, insurance companies have paid out more than they have collected in premiums.
"You hear lots of people talk about climate change, but very little on adaptation to climate change," says Feltmate who emphasizes that he has no doubt that climate change will result in an increase in flooding events. "We need to be doing that. Right now. And we need to think about where water is going to be 25 or 50 years from now."
Canada's government has heard this from scientists, insurance company executives, municipal politicians and even Public Safety Canada. In August 2013, Global News used Access to Information legislation to get access to Public Safety documents that rated natural disasters as a bigger risk to Canada than cyber threats and emerging threats to national security.
Which cities are readier than others?
Calgary Mayor Naheed Nenshi says that an enormous amount of money needs to be invested in flood mitigation. When campaigning, newly elected Prime Minister Justin Trudeau earmarked part of his 10-year, $125-billion infrastructure plan promise for flood mitigation.
For Pomeroy, the lessons of the past aren't being acted on fast enough. Talk of additional river water storage upstream of Calgary have been discussed but not implemented, he points out. More innovative solutions, such as building a tunnel from the Glenmore Reservoir to the Bow River downstream of Calgary to permit floodwaters from the Elbow River to bypass the city, have not gone anywhere either.
"In Canmore, homes along Cougar Creek were almost entirely rebuilt despite creekbed mitigations that cannot handle a debris flow from the size of the 2013 event," he wrote in a recent report.
"In Calgary very few homes were removed from the floodplain and in Kananasksis Country, $18 million was earmarked to rebuild a flood-damaged golf course in its floodplain location along Evan Thomas Creek. Only in High River were whole subdivisions in a flood plain declared untenable and slated for removal."
Feltmate says the situation is the same across the country. After recently assessing the preparedness of 15 Canadian cities to limit flood damage, he and his colleagues gave Ottawa and Winnipeg the only high grades. Halifax failed. Mississauga, Edmonton, Fredericton, Whitehorse, Charlottetown, Quebec City, Regina and Vancouver barely got a passing grade.
"Governments tend to make promises in the weeks after a flood that they don't keep because it takes time and money to deal with it," he says. "What they don't realize is that in failing to weather-harden our communities, they will end up paying more in disaster relief."
Feltmate has no doubt that the situation is going to get worse if the world continues to rely on coal, oil and natural gas as 80 per cent of the world's population currently does.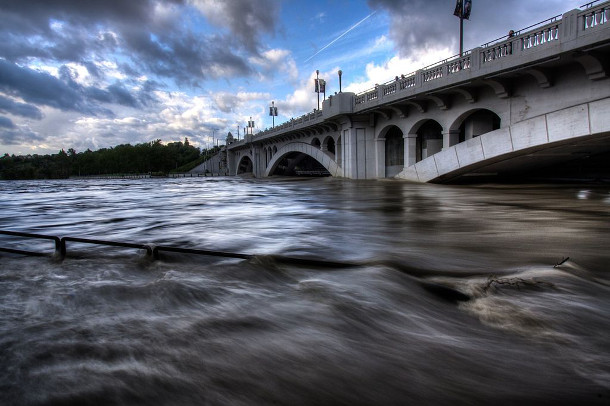 "A recent report suggests that between now and 2030, that reliance on fossil fuels isn't going to change much. But our footprint will. "Between now and 2030-35, there will be approximately 1.5 billion new people added to the current population of 7.3 billion, most of which will be drawing upon coal, oil and natural gas for energy supply," says Feltmate. "Even if we find some ways of reducing greenhouse gases, the climate is going to continue to warm for some time. What we need to do now is weather-proof our communities and our homes."
In a recently released report, Pomeroy along with scientists Ronald Stewart and Paul Whitfield say that advancing the science of predicting floods is imperative in preparing the country for future floods in a warmer world. But that, they also say, is not enough. What is needed is a national strategy that would replace the fragmented, interprovincial, under-financed and somewhat technologically challenged system that failed the people of Alberta in 2013.
"The flood of 2013 may have been the largest in 60 years, but it was not extraordinary, and it was likely neither the flood of the century, nor the flood of a lifetime for those in the region," says Pomeroy. "We need to prepare downstream communities for similar floods as well as floods that will be a lot larger."