HOUSTON, B.C. -- When the small town of Houston, B.C. loses one of its major employers, the Houston Forest Products Mill, this May, at least 225 jobs -- as many as 300 with the spin-off effect on affiliated businesses -- will go with it. It's a big blow for a community of roughly 3,000 people.
But employees aren't the only ones who'll need support when the mill shuts down. Unemployment and poverty can increase stress and the risk of mental health issues, substance abuse, and even domestic violence breaking out in the family home -- situations that children often aren't able to cope with on their own.
Thankfully, right now in Houston there are two youth programs that offer support for such kids.
"Kids need places to go that are stable. When mom and dad are facing job uncertainty, and their home life is infused with stress, to come here and have a place where that does not permeate every aspect of living is really important," said Kate Langham, director of the Dze L' K'ant Friendship Centre in Houston, which runs the Teen Empowerment through Awareness Movement (TEAM) Program for youth ages 13 to 18.
But programs like Langham's likely won't around by the time the mill shuts down in May. TEAM's funding runs out March 31, and the Youth Empowerment Program, another Houston organization, will close doors in June when its funds dry up, too. The nearest youth support available after that will be in Smithers, a 45-minute drive away.
With little funding options available in B.C. for established initiatives, the odds aren't great for the future of these programs. It's grim news for young people who, simply by virtue of living in B.C.'s northern interior, face more significant challenges than kids in the rest of the province. Northern youth are more likely to live in government care or on social assistance, deal with teen pregnancy, and fail school.
They're also more likely to be indigenous, which increases their likelihood of facing racism, poverty, substandard housing, and ending up in jail.
The two Houston programs try to provide kids with healthy, adult role models and support they might not otherwise find. The leaders of both insist they make a difference in the lives of youth involved, over half of whom are indigenous boys and young men.
"The kids connect to the workers, and through that connection they're able to feel good about who they are," said Cathryn Olmstead, executive director of the Smithers Community Services Association, which runs Youth Empowerment programs in Houston, Smithers, and Moricetown.
Having those healthy connections helps kids make positive changes in their lives, she said. "So when those attachments are gone, how do [they] change?"
'Unbelievable crisis'
Darren MacDonald is the only youth worker at the Dze L' K'ant Friendship Centre. He's paid to work 35 hours a week, he said, but on a good week he puts in "at least 55 hours."
"When we met the teens in this community, it was an unbelievable crisis," he said.
Some of the crisis stems from Houston being a traditional resource town, with traditional family values that dictate fathers as breadwinners, and resource jobs like those at Huckleberry mine, which take employees away from their families for weeks at a time.
At best, healthy male role models are absent from a child's life when dad spends weeks at a time away from home. At worst, the pressure on fathers to be the main provider can drive some to substance abuse. In single parent families, some youth spend a week or more living alone while their parent works out of a mining camp.
Some of the crisis can be attributed to substance abuse. B.C.'s north, including the interior, has the highest rate of hospitalizations and deaths in the province for alcohol and drug use, and MacDonald sees that reflected in the lives of the youth he works with. Although they're required to remain sober at the drop-in centre, he said he knows kids as young as 13 who regularly smoke pot and experiment with cocaine.
Some of the crisis is related to poverty. Despite a declining population, Houston is one of the few communities in the north, maybe even the province, where rents are low enough to be affordable for families on social assistance or disability. Even though most government services have relocated to Smithers, a 45-minute drive away, more families who depend on those services -- such as income assistance, social workers, and food banks that open more than one morning a week -- are moving into town and coming to the Friendship Centre for help.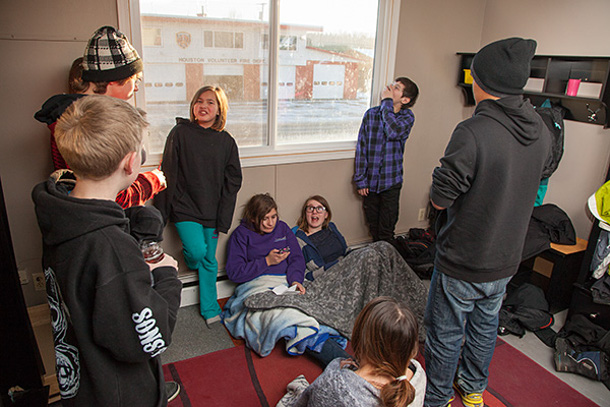 It's an issue the District of Houston is well aware of, raising it with Nechako Lakes MLA John Rustad as early as two years ago. Rustad said he's met with the ministers of social development and children and family development about the lack of services in Houston, and they're working on meeting the needs.
Asked why it's taken two years to address the issue, Rustad responded that the solution is "not really clear and cut and dry." The government is looking at different ways to structure services. "We're working through all of those things," he said.
Feeding bellies, hearts and minds
Until those needs are resolved, MacDonald and the Friendship Centre do their best to fill in, especially for young people. "They can count on me every day to be sober, present, willing to listen, and willing to respond to whatever is being asked," MacDonald said.
The majority of Dze L' K'ant's supplies budget, about $5,000 annually, plus $15,000 in one-time grants, pays for nutritious food for everyone who uses the centre's programs. The youth program itself costs $100,000 a year, with MacDonald's salary the biggest expense.
Food is one way the centre gets teenagers in the door. The youth program also offers free Internet access, art programs, DJ workshops, skate park monitoring and BMX and skateboard camps. About 15 to 30 regulars come every day after school, mainly indigenous youth, and slightly more boys than girls. For events like DJ workshops, Muchmusic Video Dance Parties, and camps, invitations are extended to youth in nearby towns and reserves, too.
In the spring, MacDonald coaches 160 kids, ages two to 18, from Houston and the surrounding area, in the All Nations soccer league, which helps connect youth in Houston to his program. When the league started two years ago, Dze L' K'ant director Langham said some kids, and their parents, were moved to tears when asked if they wanted to play.
"They'd never had this experience of someone wanting them to belong before," she said. "It was huge: it built physical fitness, it built soccer skills. But the big thing was it created that positive mental health atmosphere for kids and their parents to be able to participate in a real community effort."
Building mental wellness and stability in youth's lives is what the TEAM program is all about, and 18-year-old Jeremy Aksidan attests to its effectiveness.
Aksidan, who is indigenous, started coming to the program when it started, around the time he stopped drinking. "It's changed me a lot. I started planning out what I wanted to do after school, and started doing research about what I want to do," he said.
What Aksidan wants to do is weld, and with help from the centre he recently returned from a two-month stint at Northwest Community College in Terrace, which introduced him to welding, mechanics, and heavy-duty equipment operation. The program also counted towards his high school graduation. Now, MacDonald is helping Aksidan prepare to move to Prince George next fall to start welding training.
Aksidan was doing OK when he started at the youth program, but his enthusiastic involvement, combined with academic success and abstention from drinking, has positioned him as a role model for younger kids in the program.
"The trickle-down for the kids who are 13, 14 has a big time impact," said MacDonald. "They look up to these older kids, and what are these older kids doing? Taking care of themselves."
Federal funds not forthcoming
Houston's Youth Empowerment Program is five-years-old. Run through School District 54's alternative program, it focuses on deterring kids from drug use and crime.
"We look at what kids need to increase their resiliency and become self-sufficient," said Smithers Community Services Association executive director Cathryn Olmstead.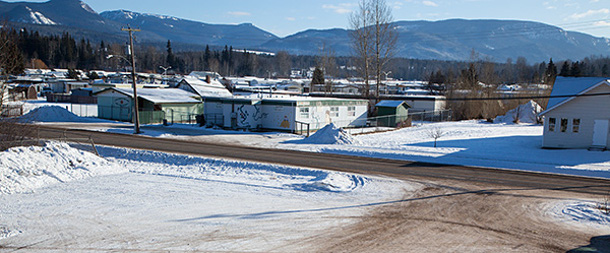 The program's one outreach worker, Amy Sketchley, acts like an extended family member for the 18 kids involved. If they need a driver's license, Sketchley helps them navigate the paperwork; if they need to get to the doctor in Smithers but mom and dad can't afford the gas, she drives them; if they need a parent to volunteer for Dry Grad, she volunteers herself. (Sketchley declined an interview request.)
Sketchley also helps them get elective credits from activities they already do in their spare time, like photography, cadets, piano lessons, or sports, and local teachers said she is often the only person who advocates for these students, both in the school system and the town itself.
But Sketchley might not be around much longer if new funding isn't found for Youth Empowerment, one of many similar programs the National Crime Prevention Centre funded as part of a five-year study to evaluate the effects of different crime prevention strategies for youth.
When funding runs out at the end of June, the Smithers Community Services Association will have until October to submit its final data on the program, after which the NCPC might decide to fund new Youth Empowerment Programs in Canada. But those in Houston, Smithers, and Moricetown, which serve about 50 youth altogether, won't get any new funding.
"They may make a decision federally to do more of this program, but it's never been on the plate that they would refund [it]," said Olmstead.
Olmstead said it costs about $120,000 to run one program in one community per year, about how much it costs to keep a kid in juvenile detention for one year. "Economically it's a good strategy," she said. "If we keep a kid out of jail, it's a savings of $120,000."
TEAM's funding comes from the Canadian Mental Health Association, by way of the Community Actions Initiative. Its two-year grant isn't renewable, and although the Community Actions Initiative has offered networking opportunities for the program to find more funding, Langham said the opportunities are too Lower Mainland-centric to work for Houston.
Efforts to find funding elsewhere have so far been fruitless, and Langham and MacDonald are nervous about what it will mean for youth. "It's actually alarming, I'm quite concerned," MacDonald said.
On the few days the drop-in centre has closed for whatever reason, Langham and MacDonald said they've seen kids walking outside, circling the block, after school. They have nowhere else to go.