[Editor's note: As part of a Tyee Solutions Society inquiry into growing economic inequality in British Columbia -- its causes and costs -- reporter Katie Hyslop and photographer Christopher Grabowski visited the people of Houston, a town emblematic of the province's reliance on boom and bust resource jobs. Their series runs all week.]
Jackie and Justin Bowes weren't at Houston Forest Products the day its owner West Fraser announced they were closing their mill. But no one called Jackie, a stacker operator at the mill, or Justin, a millwright apprentice, to break the news. They had to find out from Facebook.
"Other people [on Facebook] were asking 'is it true?' and we're like, 'No, no, no.' Finding out about your livelihood on Facebook was just the biggest thing ever," said Jackie, talking over a cup of coffee at the Golden Dragon restaurant in Houston, B.C., in early February. "We were pretty skeptical until we heard the next day when we went back to work."
The Bowes' have worked at the mill for over a decade, like their fathers did before them. Jackie's dad operated the first wagner -- a machine with claw-like appendages for picking up and transporting logs -- when he started at the mill in 1979, and Justin's father was an electrician. Both worked at the mill until retirement, inspiring their kids to work there, too, because with four kids and a mortgage they needed the $30 per hour paycheques.
They knew the mill wasn't going to last forever and were taking every education opportunity West Fraser would offer just in case.
"My husband took up the grading [certificate] course, even though he didn't need it, he just did it so he could have the certificate," said Jackie, whose earned her level three First Aid ticket and her grading ticket through the mill. She also sits on the safety committee and a committee with the mill's management, foremen, and safety coordinator to assess and prioritize concerns from the safety committee.
Justin has been offered a position at West Fraser's Pacific Inland Resources Mill in nearby Smithers, 30 to 45 minutes away depending on the season. But Jackie is still looking for work and Justin isn't sure he wants to take the Smithers position -- he's working on his millwright apprenticeship and he wants to work at a mill that's willing to let him continue his training.
Jackie emphasizes West Fraser has been good to the people of Houston, but losing the mill will be devastating.
"It's our livelihood. It's everything. We dedicated our lives to this mill," she said.
"We made ourselves assets and it is a huge shock because my husband and I are in our 40s and six years left on our mortgage and that's when we're planning we're going to go on holidays, we're going to go on trips, we're going to get a whole bunch of these renovations done. And now it's like, 'I guess that's out of the question.'"
Plummeting house values
No matter what happens job-wise, selling their house right now isn't an option. Part of it is sentimental: it's the house where they raised their family; the house they planned on retiring in.
But the bigger reason for not selling their house is money. There's six years left on the Bowes' mortgage, and with the mill closing 30 houses are currently on the market in Houston, causing falling house prices. Plus renovations are needed before selling --renovations they had planned on doing after the mortgage was paid off.
"That's what's holding us back. Otherwise we'd put our house on the market and say 'okay, let's go,'" she said.
West Fraser is offering workers $2,000 for moving to one of their B.C. mills; $4,000 if it's a mill in Alberta or Chetwynd, B.C., which is near the provincial border. That's not enough money for the Bowes' to break even.
"[In other places] the mortgage is skyrocketing compared to what we have here. In order to get a decent house it's $250,000-$300,000. Here you get $250,000-$300,000, it's like a mansion," she said.
Then there's the effect it will have on their kids. Their youngest, 13 years old, just started high school this year. The other three children have already moved out, but they range in age from 19 to 23, and live within three hours of Houston. Plus Jackie expects grandchildren are only a decade away, and they don't want to be far away when that happens.
"We've lived here for 35 plus years, and this is where we planted our roots. Everybody knows everybody. Everybody knows whose dog belongs with who, whose child belongs with who, and you have that sense of security," said Jackie.
"And then I think the most scary thing is moving to another town, you don't know anybody and you gotta start again, getting that security back."
'We used to be Beautiful BC'
If she can't get another mill position, Jackie is going to try going back to school. Perhaps do some human resources training in Smithers. "I'm looking forward to looking like a lady and dressing like one," she said with a laugh.
If she does get on at another mill she worries about the kind of work she'd be forced to do. Currently her job, as she describes it, consists of making proper judgments and pressing a button. Because she's already in her 40s, taking on a job that requires more manual labour could be dangerous.
Jackie also worries about Houston itself. There's a rumour flying around town that Enbridge will buy Houston Forest Products and use it as it's northern interior base --West Fraser denies this, saying they have no plans as of yet to sell the mill. She doesn't support the Northern Gateway Pipeline and wouldn't want to work there. But at the same time, she's not sure there's enough trees left in the area to support another mill, either.
"I just don't know what's going to end up happening because the wood is pretty scarce out there. [The trees are] almost like toothpicks because they're so thin," she said, talking about the wood Houston Forest Products currently brings in.
"Our resources are deteriorating, definitely. You can only take so much, but you just have to wait until you give back. It's always take, take, take, and that's probably how we ended up losing out on our jobs because it's too much."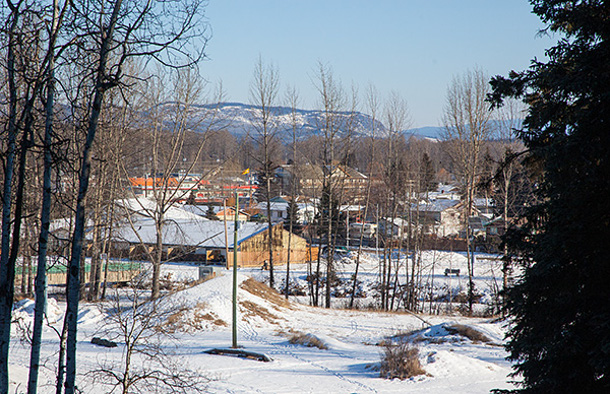 Jackie Bowes is losing faith in government and industry's ability to sustainably harvest the province's resources, adding, "We used to be called Beautiful B.C. -- it's not beautiful anymore. Not with all these pipelines and natural gas. We were always the province of trees."
But at the same time, Houston needs people if it is to survive. And if people leave, Houston's smaller businesses will suffer.
"We don't want any more businesses in town to shut down, otherwise it's going to end up looking like Granisle," she said, referring to a community 40-minutes drive south of Houston, where the local copper mine shut down in 1992.
"It's almost like a ghost town. And we don't want that [for Houston], because like I said, it's our home."
Tomorrow: Houston as the future foretold? More mill closures slated for B.C.'s once thriving timber towns.