[Editor's note: As part of a Tyee Solutions Society inquiry into growing economic inequality in British Columbia -- its causes and costs -- reporter Katie Hyslop and photographer Christopher Grabowski visited the people of Houston, a town emblematic of the province's reliance on boom and bust resource jobs. Their series runs all week.]
Many people were caught by surprise when West Fraser and Canfor announced mill shutdowns in October. But Bob Simpson says they shouldn't be: he warned government this was coming.
The former New Democratic Party-turned-independent MLA showed the B.C. legislature leaked cabinet documents in 2012 that said because of the increase in annual allowable cuts to capture pine beetle-destroyed wood, cut levels would have to be brought back down soon since most of that wood was gone.
With less wood to process, massive mill shutdowns were expected to begin in the province within 18 months. Eighteen months later Canfor and West Fraser announced they were closing their mills in Quesnel and Houston, respectively, and swapping forest licenses to keep remaining mills profitable.
The Quesnel mill closed last month and Houston's last day is May 9. In March The Globe and Mail reported both Canfor and West Fraser had been caught cutting 928,000 cubic metres worth of young trees, unaffected by the pine beetle, in the Morice Timber Supply Area near Houston, which were marked for future harvests, since 2008."
But the corporations weren't fined, and the forest license swap is still under review by the provincial and federal governments.
Forestry Minister Steve Thomson told Tyee Solutions Society via email that he didn't know Houston Forest Products was on the chopping block until West Fraser announced it in October. Simpson says the only surprise for the government should be the choice of which mill to close.
"The government knew we were within the window of mill closures because of the mountain pine beetle issues," said Simpson, who left a job in the forest products industry in 2005 to run for the New Democratic Party in Cariboo North.
Simpson brought this issue to the legislature then, saying they had 10-15 years before mills would start shutting down. But forestry was booming at the time and his calls for government to start community transition planning were ignored.
Nine years later, those transition plans are only now coming together in Houston and Quesnel. Because of changes the government made to the Forest Act in 2003, not only are mills going to close, but B.C. might be on the hook for reimbursing forestry companies for the trees they will be losing.
'We're going to give you more flexibility'
When the Liberals came to power in 2001 they made good on an election promise to reimagine forestry as a resource where industry had the power to make business decisions based on what was efficient and profitable.
At the time government said forestry was stagnating: 27 mills had closed since 1997, taking 13,000 jobs with them; government revenues had dropped by $600 million; and industry was making much less profit in B.C. than they were in other provinces. So in 2003 government brought in broad changes with the Forest Revitalization Plan.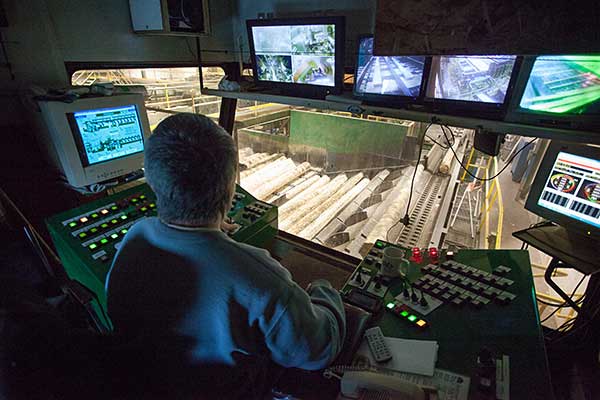 Changes included getting rid of appurtenancy, the requirement that wood belonged to certain mills; ending the practice of punishing companies for closing mills by taking back some of their timber license; and allowing mills to subdivide their timber supply area, trading or selling sections that weren't as profitable for them.
"What the province was trying to do was allow market forces to work more in the sense of how timber was harvested, how it was being used -- the core of the idea was you were going to create a market for timber throughout the province," said Harry Nelson, assistant professor in forest resource management at the University of British Columbia.
But government also made companies give back 20 per cent of their timber rights. Half went to First Nations, community forests and woodlots. The other half went back into the market to encourage more investment and set the "stumpage" fees companies paid to government for the privilege of cutting the public forests. Government compensated any companies that lost timber rights.
"The exchange was 'we are going to take away 20 per cent of your harvesting rights' -- and that's not an easy thing for the government to do -- [for] 'more flexibility,'" said Nelson.
Despite the increased flexibility, mills continued to close in the decade that followed. According to a report from the BC Government Employees Union, between 2001 and 2011 70 mills had closed, taking away 36,000 jobs.
Reasons for the closures might not be so straightforward, however, as removing regulations on industry.
"Generally speaking, those mills that have gone down in the last few years were either ones where people did not invest in the mill or just didn't have a good fiber supply, for whatever reason," said Nelson.
That's why West Fraser says they're closing their mill in Houston. It's been a long time since major upgrades were made at Houston Forest Products and faced with what the company says is a dwindling timber supply, they made the choice to cut their losses by closing the mill and focusing on their 12 other B.C. mills.
"Sawmills wear down over time, and then new technology is made available, but it's expensive. In a sawmill the size of Houston [Forest Products], it can range from $30 million to $55-60 million," said Larry Hughes, chief financial officer for West Fraser.
'These towns disappear on you'
West Fraser and Canfor's timber license swap, which would give Canfor increased timber supply in the Morice Timber Supply Area in exchange for Canfor's forest license in the Quesnel and Lakes Timber Supply Areas, was made possible by the Forest Revitalization Plan.
G. Cornelis van Kooten, an economics professor at the University of Victoria, likes the idea because it keeps the industry efficient and profitable. Yes, jobs will be lost, but they could be partially regained in the expansion of more profitable mills.
"Let's face it, if you don't do that, then you're not competitive with the rest of the world, then you lose those sales anyway and you lose jobs down the road. So it's not like preventing this is going to be a solution," he said.
And the towns that depend on mills for jobs? They would need to find another source of revenue, or people will have to move on.
"What happens on the prairies when you've got farmers amalgamating and becoming larger and then driving to the city? These towns disappear on you. That's what happens and it's a long, slow process and the question is how fast can you depopulate these towns that's economically efficient?" he said.
Simpson agrees keeping inefficient mills open doesn't make good business sense. But he says the industry -- and the government -- owe communities for the use of the forests.
"The premise is that those public forests are supposed to return a public good, and that public good has always been a jobs and community economic benefits," he said.
"If we go down that path where companies can move wood wherever they want to, we end up with two or three super mills and every other community, too bad, so sad. That is a defacto privatization of that public asset with no expectation of return to the public good."
Transition plans adequate?
Simpson's cabinet document revelation in 2012 did spur on government's mid-term timber supply review, with a government committee headed by John Rustad, minister of Aboriginal relations and the MLA for Nechako Lakes -- Houston's electoral district. Rustad said government was very clear during the review, and on the 2013 election campaign trail, that mill closures were inevitable.
"What I said was that there was an estimated drop of about 8 million cubic metres of wood, which would be about the equivalent of 10 reasonably sized mills. And our goal of the committee was to try to find ways to reduce what that impact would be, but we weren't going to be able to get to zero," he said.
In an email, Forest Minister Thomson said government expects to reduce the annual allowable cut by 20 per cent of pre-beetle levels.
"The amount the allowable annual cut will decline in each timber supply area will vary and is dependent on many factors," he wrote. Decisions on the cut levels for Morice and Lakes Timber Supply Areas are expected later this year, next year for Quesnel.
But Simpson says in addition to mills shutting down, government set a legal precedent when it paid forest license holders for taking back 20 per cent of their tenure in 2003. He fears government might have to pay companies for reducing their annual allowable cut, pointing to a recent memo from the deputy minister of forests which also points to possible compensation or litigation from companies. But government must reduce annual allowable cuts to keep forests sustainable.
"And it's a very high level of compensation, so they set a very high benchmark," Simpson said.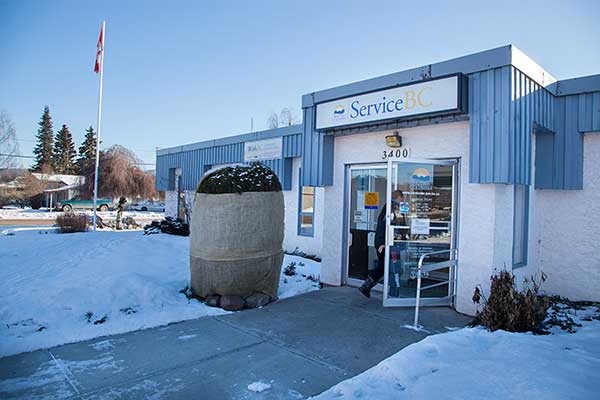 Opposition forestry critic Norm McDonald says the Forest Revitalization Plan paved the way for companies to establish monopolies in certain areas, too. He fears the West Fraser-Canfor license swap is a sure sign this is already happening. Yet reversing the changes would be difficult for any government to do.
"Once the mill's gone in three or four years' time, this is not something that's easily addressed," he said.
Instead, like Simpson, he says government should be focusing on helping communities transition. They should have made plans a decade ago, but now that mill closures are happening they could be doing more than holding community transition meetings with local officials.
Minister Thomson pointed to the $917 million the provincial government has invested since 2001 to mitigate damages the pine beetle has inflicted on the industry. He also pointed to government's community transition teams currently working with the municipalities of Houston and Quesnel to help them survive the mill closures.
But McDonald says this isn't enough.
"Community transition team is so limited in what it's actually attempting to do. Like I say, if you actually look at what's been put into the community, it's the most basic," he said.
Government should be investigating whether it can save the mill, he says, referencing government's help to turn a sawmill in Golden, B.C., into one that produced laminated veneer when McDonald was Golden's mayor in the mid 1990s. And if mills can't be saved, they should be helping workers find jobs in other parts of B.C.
Simpson has similar ideas for transition plans, such as province-wide pension bridging to encourage older mill workers to retire early. Then when mills shut down, mills that are still profitable will have space to hire younger workers who've just lost their mill jobs.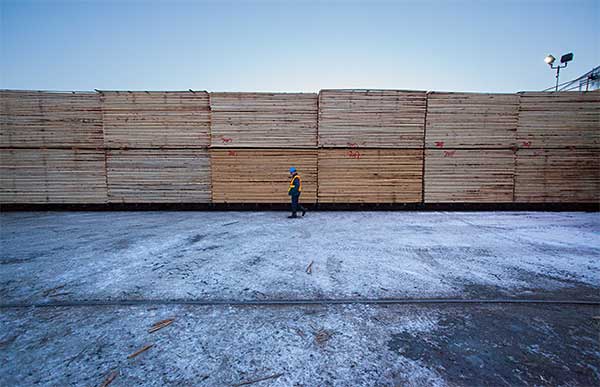 Another possibility is subsidizing mills to draw out closures: topping up workers pay with Employment Insurance for part-time work, enabling them to upgrade their education or training in a different field while still earning money.
"So all of the mills go down to a one-and-a-half shift configuration or four-day week configuration, and you use the EI fund to top up a wage differential," he said.
"You're still going to end up taking mills down because the wood's not there, but there's strategies to mitigate and make adjustments for that workforce."
Rustad is confident in the economic projects B.C. does have -- either currently or planned for the future -- and their ability to buoy up smaller communities like Houston. This includes alternative forms of accessing and using wood, like pellet plants and biomass, as well as liquefied natural gas, which isn't found anywhere near Houston but would have to travel through pipelines constructed close to the community.
Rustad estimated that various resource-related "potential" projects province-wide could add up to $172 billion.
"We are making sure that Houston and the opportunity in Houston is alive in terms of these proponents that are looking to locate in British Columbia and looking to locate projects in British Columbia."
Tomorrow: Meet the Newfoundlanders who, when cod stocks crashed, relocated to Houston believing timber livelihoods were inexhaustible.