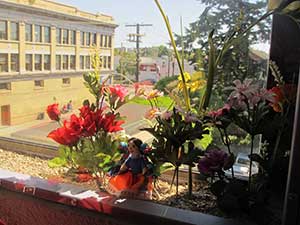 [Editor's note: This is the third in a special Tyee Solutions Society series, running Monday to Thursday this week, that examines the unique housing challenges of refugees who've fled violence in other countries and are now settling in British Columbia. Find the series so far here.]
Amelia's family was large and influential in the West Asian country where she grew up. That brought her the opportunity, rare for a woman in the Arab nation, to study medicine. (Fearing for her safety, she asked not to reveal her real name or home country.) Although not a doctor, she was still the woman whom friends and relatives would call during their final moments of pregnancy. "I helped them give birth," she says. Now 48, she adds, two generations of children "were born in my hands."
Her friendships with women, particularly those who accomplished the extraordinary feat of going to medical school, felt deliciously radical, Amelia recalls. All of her life, both men and women told her she was stupid, shameful and worthless, she says: "The female is not a respected person in our society, even if she is a doctor or a professor."
Brothers and male cousins abused her physically, emotionally and financially for decades, Amelia says. When she went against their wishes, she adds, they would admit her to a psychiatric hospital. There she met other women similarly confined: in one stay, she encountered a gynaecologist whose son had admitted her under similar circumstances.
Amelia's last confinement in a mental institution became the first step in her escape plan. A monthly pension provided her with some cash that her hospitalization allowed her to save, along with the passport she had acquired and hidden from prying family members. She also found help.
"The nurses there, they were feeling sympathy towards me," she says. When her release date arrived, one persuaded a hospital driver not to take her home.
"There is one hotel [in my home city] that allows females to live without [a] divorce," Amelia says. "I told them, take me there."
As soon as she could, Amelia bought a plane ticket and fled her native country. Four months later, she presented herself at the Canadian embassy in Abu Dhabi, a desperate, fuzzy picture of Victoria, B.C. in her mind. She'd visited that far-away place with family in 1997.
Others were there applying for investment visas that would give them permanent residency in Canada. But with only $5,000 to her name, Amelia was eligible only for a visitor's visa that would let her stay in Canada for up to six months. Making a formal refugee claim, she says, didn't enter her mind. "I told them, 'That's okay. I will go.'"
Who's a 'refugee'?
Although Amelia's flight from pervasive physical maltreatment, financial exploitation and incarceration may seem the very definition of a "refugee," in Canadian law and policy the word has a more specific and narrow meaning.
Under the six-decades old U.N. Convention Relating to the Status of Refugees, Canada promises not to send people back to home countries where they may be persecuted on the basis of "race, religion, nationality, membership in a particular social group or political opinion." Gender, however, is not on the list.
Other laws and agreements distinguish "migrants" -- those seeking to enter Canada solely for economic advantage -- from "refugees."
The federal government prefers to determine who meets its test to be considered a refugee before they come to Canada. Those who pass that test arrive as government-assisted refugees entitled to settlement assistance and a small income during their first year in Canada. People who arrive before making a claim, totaling nearly 700 in the first third of this year, are known as "inland" refugees. They receive no assistance and are subject to different rules. Toughened up in 2012, those rules include for many the threat of detention while their claim is assessed.
Amelia's visitor's visa and one-way ticket landed her at Vancouver International Airport on a cold November Saturday in 2012. Borrowing quarters for the payphone in the arrivals terminal, she called the only person she knew in Canada, her uncle in Victoria.
He begrudgingly let her stay at his home. But he made it clear she wasn't welcome. "From the first day I arrived in Canada, they were treating me badly," she says. "I cried." His family members repeatedly threatened to "teach her a lesson," and told her she should feel sorry for leaving the happy life they were convinced she led back home, she recalls.
After putting up with her extended family's hostility and verbal abuse for three months, Amelia found a landlord's name in a magazine, called her, threw her belongings in three garbage bags and left.
The landlord charged $1,000 a month for a one-bedroom apartment. Amelia was still collecting $1,500 a month in a pension from her government, but was left with only $500 for the rest of her monthly living expenses. "Maybe she thought I was a very rich woman. I don't know," she says of the landlord. "She treated me like a bloodsucker."
On Canada Day, Amelia moved again, this time to a suite where, by her account, a neighbour had said she could stay for free. The day she moved in, the neighbour demanded $925 a month in rent. Meanwhile, Amelia's family back home has cut off her pension.
Now running out of money as well as options for a place to live, and with her six-month visitor's visa expired, Amelia is working with a lawyer to make an inland refugee claim.
The most vulnerable renters
For those like Amelia whose status in Canada is uncertain at best, exploitative landlords are a common story. Still reeling from the traumas that forced them to flee their home countries, forced into the legal margins and typically without income, social connections or knowledge of the B.C. laws that might otherwise protect them, they make ripe targets for exploitation.
"Finding housing is very difficult, especially if you are not Canadian," Amelia says. "I've been forced to live in places where I don't feel comfortable.
"I'm new to the culture, environment, community. Everything. I need at least five years in order to [become] familiar. So during these five years, should I have to be a homeless person, or live in a house where I feel not more than 10 per cent comfortable?"
A 2011 Metropolis BC report on Canadian newcomers' housing described Amelia's experience as common among refugees. "There is not space in this report," its authors wrote, "to describe the many abuses residents were forced to put up with."
That certainly rings true for Carlos, 33. He and his wife have moved around Sidney four times since they arrived in B.C. as refugee claimants from Colombia six years ago. Before that, he'd been studying marketing in Connecticut, while she was working as a psychologist with poor children at risk of being recruited into violent gangs.
Then Carlos got an emergency phone call from home. "[Certain] people didn't like my wife's job. She was taking the future workforce out of their [the gangs'] hands," he says. "My wife's work was to give them more choices, help them with education, help them get into trade schools." Gang leaders threatened to kill her.
So she joined Carlos in the United States, and they made their way to Canada and submitted a refugee claim.
They had extended family to stay with at first, but it was important to Carlos that the couple find a space of their own. With so few choices, he remembers living in suites he knew were illegal and for a while was stuck with half an entire home's hydro bill while only occupying the basement.
After a hearing before the Immigration and Refugee Board of Canada, which accepted their refugee claim, Carlos and his wife are landed immigrants now. He's working as a janitor while taking pre-med classes at Camosun College. With her psychologist's training, his wife is having a hard time finding work on Vancouver Island that matches her professional qualifications. She is now following some leads on working with seniors.
Life is stable for Carlos and his wife now, but they are reliving the tensions of being refugee claimants through his parents. Carlos's father worked in human rights in Colombia and fled with Carlos's mother under threats to his life. The older couple is sleeping on their son's couch, preparing for a refugee hearing of their own in late August. (Out of concern not to affect their chances, Carlos also asked that his name be changed for this story.)
"It's scary," Carlos says, of the tense anticipation a claimant feels. "I'm here, but am I going to stay? You're working. You have your apartment, your stuff, your computer, your life. But it's a really sour feeling."
Many unaware of rights
Neither Amelia nor Carlos knew that they have rights under B.C.'s residential tenancy system. That's a common occurrence among new immigrants and other vulnerable groups -- and a weakness that Ready to Rent BC, a two-year-old Victoria-based non-profit, is trying to remedy with information, resources and community connections, to help both singles and families find and keep rental housing.
Kim Shelley, Ready to Rent's acting coordinator, used to facilitate rental workshops at the Victoria Immigrant and Refugee Centre Society. She found that newcomers to Canada in her workshops shared a host of similar challenges. Most faced difficulty communicating with prospective landlords, both in writing and in person. Some weren't even familiar with the words "landlord" or "tenant," let alone ideas like "arbitration" and "dispute resolution." When asked for a credit history, references or a rental history in B.C., most refugees had little to provide.
Ready to Rent provides a 12-hour course, based on one pioneered in Portland, Ore., to educate renters in the Capital Regional District on their rights and responsibilities and arm them with information and a renter's portfolio to take to prospective landlords. "BC Housing takes the certificate from program grads to act as landlord references," Shelley says. "And part of the exercise is to write a letter of explanation for any of the blanks that might be on the application form," including explanations for why a renter might have no credit or rental history in Canada.
Ready to Rent's course might have helped Amelia and Carlos during their first days in B.C., had they known about it. "Every time we talk about a resource," Shelley notes, people say, "'Oh, I wish I knew about that five years ago'. One [need] that stands out for me is how to get the word out before they take their first plunge into the rental market."
Company for shelter seekers
Were there funds, Ready to Rent's coordinator would like to provide one-on-one support workers to accompany vulnerable shelter-seekers in the Victoria region on their search for housing.
In Vancouver, Andrew Kuipers is already providing that rare assistance. The soft-spoken and approachable recent masters in social work graduate is the settlement coordinator at Kinbrace House, a six-unit transitional housing facility for refugee claimants. He's also taken on the mission of personally accompanying clients to apartment viewings.
When their English is limited, he'll phone prospective landlords on their behalf to set up an apartment viewing. He'll drive the renter and family members to the apartment in his small car to walk with them through a suite. He'll coach them on the ins-and-outs of application forms, lease agreements and damage deposits.
Located on Venables Street, off Commercial Drive in East Vancouver, Kinbrace is designed to house refugee claimants for up to three months while they find their footing in Canada, get paperwork together and prepare for their hearings before the Immigration and Refugee Board. The residence charges $375 a month for a room -- keyed to shelter allowance rates for a person on income assistance. Once the three months is up, or they're ready to take a swing at the private rental market, it's one of Kuiper's many responsibilities to help them find permanent housing.
The task is increasingly difficult. "When Kinbrace started in 1998, everybody was sort of moving out to this [nearby] apartment building or that apartment building. It was easy and there were no real problems," Kuipers says.
No more. Rising rents are pricing would-be residents out of the Commercial Drive neighbourhood. "It's way, way, too expensive, especially on income-assistance rates for a single person," Kuipers says. The hunt for affordable housing for his clients is sending him on long drives out from East Vancouver to Surrey, New Westminster and Burnaby.
Kuipers cites two other barriers his refugee clients run up against repeatedly. "The first [challenge] is somehow bringing up [that] whoever it is, is on welfare," he says. "Once the [landlords] hear that, I think they quickly pigeonhole who this person is or what they're about."
The second barrier, Kuipers says, stands in the way of "families with kids. Lots of landlords just don't want kids. Especially a family of five in a two-bedroom. They think that's too many. But that's the money that we have to work with."
The Metropolis BC report on newcomer housing found that newcomers often felt driven to desperate measures to find suitable rental shelter, including lying to landlords and moving frequently. "These buttressing mechanisms tend to be reactive," the report dryly noted, "and, as is the case with living in overcrowded conditions to address affordability issues, do not ultimately lead to improved housing outcomes."
While it paints a bleak picture of newcomers "making do" in a rental market that provides few options, the report describes even those as increasingly precarious. Metro Vancouver's most affordable rental housing stock is shrinking, even as the number of more expensive rentals goes up.
"Although the total stock of rental housing grew by over eight thousand units between 2009 and 2010, most were in the form of investor owned condos and single-family homes," the report reads. "Losses from the rental inventory tend to be at the bottom end of the spectrum, while new additions tend to be in the upper parts; therefore, while the rental inventory may be stable or even growing, it is shrinking at the lower end."
More than a bed
Personal connections and a community were two of the things Amelia longed for most during her first few months in Canada, she confided.
Had she arrived in Vancouver instead of Victoria and promptly made a refugee claim, she might have become acquainted with a supportive network of friends from the weekly community dinners and social events that Kinbrace House hosts. "We try to integrate people into systems and then connect people into meaningful, supportive relationships," Kuipers says.
"This idea of welcoming people and being the first to put out your hand, it's something I hadn't thought about so much before working here," he admits. "But I think a lot of people are looking to be connected. And I think as Canadians, and Vancouverites, sometimes we don't do a really good job of this. It happens in some pockets; the Commercial Drive area is fairly good for that. But that would go a long ways in a lot of different areas."
A few blocks south of Kinbrace House, construction is slated to begin this winter on a new community resource and housing hub for refugee newcomers, at East 11th Avenue and Victoria Drive. The Immigrant Service Society of BC's new Welcome House Centre will be the first of its kind in the world.
Tomorrow: The conclusion to this four-part series explores how a new Welcome House Centre would provide shelter and support for refugees negotiating a landing in Canadian society.