Conservative government cuts to refugee health care have "triggered" opposition from health care workers in an unprecedented fashion, one of Canada's most prominent doctors says.
The president of the influential Canadian Medical Association told The Tyee that Canada is turning its back on some of its most "vulnerable and disenfranchised" residents with upcoming reforms to the Interim Federal Health Program (IFHP).
"IFHP deals with the health needs of people who are vulnerable and disenfranchised, who have just landed on our shores," Dr. John Haggie, a former surgeon, said. "The government has decided to take that away from this rather small and vulnerable group.
"There was never any discussion with health care providers or people who might have been able to shed light on the plight of these individuals. These people have come to Canada, a lot of them in desperation and full of hope but with very little else, and Canada -- once a haven for refugees and a country built on immigration -- now seems to turn our backs on them," said Hagee.
Tomorrow, June 20, is World Refugee Day.
Yesterday health providers across the country rallied in 14 cities, including roughly 250 attending a demonstration in Vancouver outside Citizenship and Immigration Canada (CIC) offices on Hornby St. -- many in turquoise hospital scrubs, white physician lab coats and stethoscopes.
'I was a refugee'
Some of the health workers who addressed the crowd were themselves refugees, and decried cuts to refugee health services which come into effect on Canada Day, which they said would lead to preventable deaths and illnesses.
"Twenty years ago, I was a refugee," said Tara Pedras, originally from Iran, who now works as an interpreter in a local health clinic for refugees. "The refugee life was extremely hard for me. Many people who come here are expecting better treatment. They are expecting humanity. If we open the doors of our country for refugees, we have to treat them humanly, equally and responsibly."
But Minister of Citizenship and Immigration Jason Kenney said the IFHP reforms are necessary to save $100 million -- and make sense when the program offers refugees better health benefits than Canadians, such as dental coverage, prescriptions and eye care.
"We do not want to ask Canadians to pay for benefits for protected persons and refugee claimants that are more generous than what they are entitled to themselves," Kenney said in a statement. "We are also taking away an incentive from people who may be considering filing an unfounded refugee claim in Canada.
"These reforms allow us to protect public health and safety, ensure that tax dollars are spent wisely and defend the integrity of our immigration system all at the same time."
'Only makes sense to set limits': CIC spokesperson
The IFHP changes, which kick in on July 1, include ending pharmacy, eye care, dental and supplemental benefits for refugees. But they also remove many basic coverage services from refugees who are initially unsuccessful in their claims -- and even some who were sponsored by the government itself, critics said.
"It only makes sense to set limits on the coverage provided through this sort of program," said CIC spokesperson Remi Lariviere. "Resettled refugees and successful asylum seekers, for example, become eligible for provincial or territorial health insurance, and unsuccessful refugee claimants are expected to leave Canada."
The changes will have a particular effect on refugee claimants from countries deemed "safe" by the government in Designated Country of Origin changes under the recently passed refugee bill, C-31, which Kenney said will crack down on "bogus" claimants. Bill C-31 came under fire from migrant justice groups, particularly for its provisions to automatically and indefinitely imprison refugees being evaluated for status.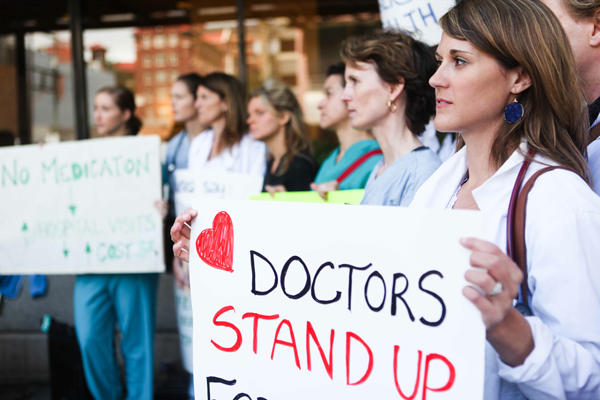 But Lariviere insisted the government will still cover "medical emergency -- an injury or illness that poses an immediate threat to a person's life, limb or function," and that diseases posing a public health risk -- such as tuberculosis -- will also be covered for refugees.
But refugees reacted angrily to the idea that they are filing "unfounded" claims to get free health care.
"It is wrong when Mr. Jason Kenney says we are coming to Canada to abuse the health care system," said Byron Cruz, a Vancouver street nurse who fled to Canada from Guatemala 18 years ago. "When we left our countries, we were coming from refugee camps or from being under very traumatic situations.
"After many years of having some kind of access to health care, we are losing it... For many years we felt welcome. We're not feeling welcome anymore. I don't think that's what most Canadians are -- most Canadians welcome us. It's a sad day for refugees."
Yesterday's protests come just over a month after 90 physicians staged an unprecedented sit-in protest in the Toronto office of MP Joe Oliver on May 11. That action was followed by an open letter calling on the government to reverse its cuts, signed by Haggie as well as the heads of the College of Family Physicians of Canada, the Canadian Nurses Association, the Canadian Dental Association, the Canadian Pharmacists Association, the Royal College of Physicians and Surgeons of Canada, the Canadian Association of Optometrists and the Canadian Association of Social Workers.
"A lot of Canadian physicians feel very strongly about it," Haggie told the Tyee. "In fact, there are members of the medical community who actually were in the position, at one time, of being refugees and using this program.
"It's a groundswell. I can't recall a subject that seems to have triggered physicians' interest and empathy in quite the same way for a long time."