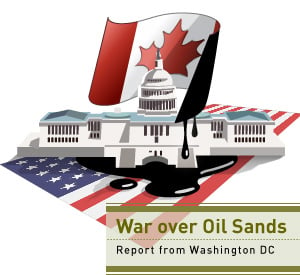 Cindy Schild enjoys living in Washington, D.C. It's got a small, "walkable" downtown, she says, and isn't "sprawling and vanilla" like many other American cities.
Schild does public relations for the American Petroleum Institute (API), considered the top oil and gas lobby group on Capitol Hill. Part of its job is to lead lobbying campaigns that keep the U.S. reliant on high-carbon Alberta crude.
Schild would love to see less gasoline being pumped into people's cars, but let's face it, she says, "We certainly don't have consumers that are willing to conserve."
Renewable energy is a great idea too, she adds, but until you get a jet plane that runs on wind, the United States needs oil. And increasingly -- as her group argues every day to politicians, policymakers and the American public -- that oil needs to come from northern Alberta.
I've met with Schild at API's headquarters in downtown Washington, D.C., to learn how the American oil and gas industry -- whose members spent more than $146 million lobbying Congress last year -- is helping fight Washington's war over oil sands.
The answer to that question is important, because API members -- such as Exxon Mobil and Chevron -- are among the wealthiest corporations on Earth.
So when a big group of them band together, and then begin working quietly with the Alberta and Canadian governments to fight American climate change laws, they stand a good chance of winning.
Playing the China card
Riding the elevator all the way up to API's Washington headquarters, you get the sense you're entering a fortress. Every other floor in the building is reached by pressing the usual numbered buttons. Only the top level has its own special button marked "API".
The elevator doors open to an office lobby with lots of plate glass and a small bowl of sweets on the receptionist's counter. There's nothing too special about API's carpeted hallways and cubicles, yet I feel a bit intimidated.
API, after all, represents more than 460 oil and gas firms, some of them descendants of the most powerful corporations in global history. The industry group itself spent $7.3 million lobbying U.S. congressmen and senators last year (and that's still only seventh highest among major oil and gas players.)
Schild takes pains to put me at ease. She offers me a coffee and makes small talk about Washington, D.C. -- why she's happy she doesn't always need a car here to get around.
A lot of API's work these days goes into building public and policymaker support for Alberta's oil sands, especially a proposed pipeline to Texas, the hotly contested Keystone XL.
I ask Schild what she thinks about the oil sands industry's strip-mined landscapes and soaring greenhouse gas emissions.
In her worldview, oil sands crude will be produced no matter what market craves it -- the global appetite is just too voracious. So it's better, she says, to process and consume that crude in countries as heavily regulated as Canada and the United States.
"If [this debate] is really about the benefit to the environment, do you want that oil to go China?" Schild tells me, "Because it will."
'Tooth and nail'
That's a position API and its members are willing to defend with some of the biggest lobby budgets in the United States. Just one of them, ConocoPhillips, spent nearly $20 million lobbying Congress last year.
"Anything that's done on Capitol Hill with regards to energy or climate change [the oil and gas industry] will fight tooth nail. And they're willing to spend as much as possible," one congressional aide told me.
As previous reporting in this series explained, API began collaborating with the Canadian embassy and Alberta's Washington office in early 2008 to battle a clean energy provision -- Section 526 -- targeting Alberta's oil sands.
In addition to spending at least $4.8 million in lobbying cash that year, API helped found a powerful lobby group named the Center for North American Energy Security (which the Tyee spoke with earlier in this series).
This pro-oil sands alliance launched a four-front offensive against Section 526. Canadian and Alberta government officials worked the diplomatic channels, meeting with top U.S. military officials.
The Center for North American Energy Security built momentum in congress to repeal the provision. API helped coordinate an industry response. And oil and gas firms targeted Section 526 as part of their $134 million in congressional lobbying that year.
The clean energy law still stands, though an ongoing lawsuit pitting API and other industry groups against the Sierra Club may yet decide its fate.
Lobbying without end
Look for future lobbying assaults too, says Schild, should American politicians ever propose like-minded legislation.
"We certainly don't want to see any policies like Section 526 added to the books and we'd certainly fight any legislative proposals that are similar," she tells me.
From an environmentalist's perspective, the pro-oil sands lobby can look pretty daunting.
"If it was just Canada and Alberta, I wouldn't be too worried," Natural Resources Defense Council's Susan Casey-Lefkowitz told the Tyee last summer. "But it's Canada, Alberta and all of the major oil companies -- and that is very worrisome."
That alliance between Canadian government officials and America's oil and gas industry appears to have only deepened since it formed in early 2008.
As previous reporting explained, the Center for North American Energy Security -- of which API is a founding member -- orchestrated successful lobby campaigns throughout 2009 to block or delete any attempt to enact a national low carbon fuel standard.
(Those standards, if ever passed into law, could be equivalent to taking 30 million cars off the road by 2020, according to research once cited by Barack Obama).
Canadian officials, as the center's executive director Tom Corcoran told me, "were aware of what we were doing and supportive of it."
When I ask Schild directly about API's relationship with Alberta officials and the federal Canadian government, she describes them as "allies".
"We certainly have worked with Alberta as well as the embassy," she tells me.
Funding rallies and candidates
In 2009, the API also worked behind the scenes to organize public opposition to a wide-ranging climate change bill about to be debated in the U.S. Senate.
API held 21 rallies in key states across America that August, contracting experienced event planners and urging member companies to send their employees.
The goal was "to put a human face on the impacts of unsound energy policy and to aim a loud message at those states' U.S. Senators," according to an internal API memo obtained by Greenpeace.
"Please treat this information as sensitive and ask those in your company to do so as well," it read. "We don't want critics to know our game plan."
The lobby group's official public line on the Senate climate plan -- which would have established one of the largest cap and trade market for greenhouse gases in the world -- was one of cautious neutrality.
But some observers credited the legislation's collapse last summer in part to API's advocacy.
Most recently, API announced it will start donating directly to U.S. political candidates, bolstering the $27.6 million already given last year by industry executives and employees, mostly to Republicans.
"This is adding one more tool to our toolkit," said the group's executive vice president Martin Durbin at the time.
Glossy ad campaign
And API just rolled out a national ad campaign suggesting Albertan oil can help speed up the economic recovery. Its slogan: "Canadian oil sands, Explore the promise."
For Schild though, the United State burns so many climate-harming fossil fuels -- many of them produced from Alberta's oil sands -- because to a large extent, average people can't stop using them.
"We certainly don't have consumers that are willing to conserve," she tells me. "That doesn't seem to happen."
Tomorrow, the 15-part War over the Oil Sands series wraps up as Steve Kretzmann of Oil Change International tackles the question: Can North America live without the oil sands?