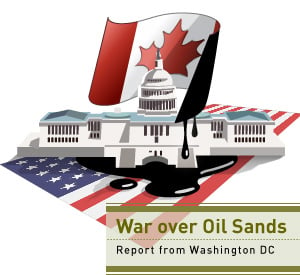 Part of Paul Frazer's job is knowing when to tell the Alberta government to just relax. He's a full-time professional lobbyist with 16 years experience in Washington, D.C. He knows what he's doing.  
For the past two years Frazer's been paid by Alberta taxpayers to help sell their province's oil sands industry to U.S. policymakers. Until 18 months ago, he would have said the environmentalists had the upper hand.
Judging from their attack campaigns, you'd have thought Alberta "was one big bloody strip-mine with no redeeming characteristics," Frazer tells me.
But thanks in part to his efforts, he says, American politicians are more and more seeing an oil patch struggling to be "green," maybe a little bit misunderstood, but trying.
His opponents see lobbyists like him as a big part of the climate change problem -- people who talk environmental progress, but are more concerned with selling oil.
According to Frazer's worldview, there's no issue trying to do both. "Canada can chew gum and walk at the same time," he says.
So when 50 Democrat congressmen wrote to State Secretary Hillary Clinton last summer, urging her to consider the "significant greenhouse gas and climate change implications" of a proposed oil sands pipeline, Frazer told the Alberta government to relax.
"I said, 'Take a breath, this isn't going anywhere,'" he tells me. "'It's not like the sky is falling.'"
Travelling to Washington D.C. at the end of February, I'd wanted to meet directly with lobbyists in the trenches, especially those fighting the war over the oil sands on behalf of the Alberta government.
With Frazer, a former Canadian diplomat with a lucrative practice advising various clients on how to get their way in the U.S. capital, I got my chance. Inside his starkly furnished office in downtown Washington, we discuss why Canada must be "constantly vigilant" about Barack Obama's green agenda, how the Prime Minister's office "is kept well aware" of what's going on here and who's letting Alberta infiltrate state legislatures across the country.
It's one of those oddities of Washington that many of the environmentalists I'd spoken to on my trip had never heard of Paul Frazer. They knew the Canadian and Alberta governments were lobbying vigorously against clean energy laws targeting the oil sands, but their intelligence was mostly anecdotal, and incomplete.
Frazer's office, in fact, is only blocks from the downtown offices of two of the biggest environmental groups in America.
Two lobbyists cost taxpayers a half million dollars
Waiting to meet Paul Frazer in the plain-white front lobby, I thumb through a copy of the latest New Yorker. He bursts into the room with a firm handshake and a smile. "Hello! How are you?"
We walk down the hall to his office and sit at either end of a round table. He parts his hair down the middle and is wearing black and white polka-dot suspenders, a yellow-patterned tie and shoes resplendently shiny.
Our conversation begins slowly and without focus. We discuss the school we both went to -- Ottawa's Carleton University -- and the Eastern-European origins of my last name. Frazer's slow, simple sentences are relaxing to listen to. You can practically hear each period, comma and semi-colon.
"But you didn't come here to talk with me about Poland," he interjects with a smile (and what looks like a half-wink).
Frazer was hired by the Alberta government in the spring of 2009, a time of great uncertainty for the province's oil sands. His contract, along with that of another "high-powered" lobbyist, James Blanchard, totalled $500,000 a year in taxpayer money.
Government officials at the time worried the new President Barack Obama's so-called "green agenda" would dash their oil sands dreams.
They had good reason to. During the run-up to the election, Obama's top energy advisor, Jason Grumet, had made some strong statements about the oil sands industry.
"If the only way to produce those resources would be at a significant penalty to climate change," he said, "then we don't believe those resources are... going to play a growing role in the long term future."
Those kinds of threats made some provincial MLAs long for simpler times.
"Certainly, as long as George Bush was the president, Alberta had a certain umbrella, had a certain protection," said New Democratic Party MLA Brian Mason in the spring of 2009.
Mason added, addressing the Legislative Assembly: "It was clear [then that] the United States was not going to impose any legislative or regulatory changes that would harm our operations and our export of oil from Athabasca tar sands. But that has changed."
An oil sands lobbyist's to-do list
Alberta sent its newest lobbyist, Paul Frazer, into an uncertain war zone with a long list of duties, according to documents filed with the U.S. government.
He was to monitor Congress, the White House administration and state level governments for "initiatives" (e.g. clean energy legislation) which could impact Alberta's "interests" (e.g. the province's oil sands).
He was to help develop "strategies for such activities" (e.g. targeted lobbying campaigns) and "identify key decision makers/opinion leaders" (e.g. senators and energy officials).
And he was expected to "help Alberta obtain high-level meetings when the premier and/or ministers and/or other senior officials plan to visit Washington D.C. or other key states."
The problem, Frazer tells me, toying with my business card in his right hand, was U.S. policymakers were blithely unaware that their calls for clean energy could actually hurt an important trading partner.
And as a result, he says, "Canada must be constantly vigilant in this town how actions in Congress can sideswipe Canadian interests."
One of those moments, Frazer says, came in late 2007 when congress inserted a clean energy provision called Section 526 into a major energy bill.
The provision, which passed with virtually no scrutiny, forbade the U.S. government from buying high carbon fuels, especially ones produced from Alberta's oil sands.
As previous reporting in this series explained, Canadian embassy officials worked closely with the planet's wealthiest oil companies to weaken the section's language, and in some cases, to repeal the bill entirely.
Frazer entered battle as a scout. One of his main duties -- and one written directly into his contract -- was to keep an eye out for any future Section 526s.
He also worked closely with the Canadian embassy and Alberta's Washington office, crafting lobbying campaigns and helping set up meetings with Senators and their staffs.
Harper and staff 'kept well aware' of lobbying
The official oil sands message, and one Frazer pitches to me several times during our interview, can be paraphrased as follows:
Alberta is a vital source of energy security for the U.S. The oil sands create economic spinoffs and jobs in both countries. There are environmental problems, yes. But those problems are being addressed with some of the most state-of-the-art technology in the world.
That's a different story than the one told not only by environmentalists, but by the United Nations, which named Alberta's oil sands one of 100 global "hotspots" of environmental harm. And when Elizabeth Dowdeswell, former executive director of the UN's Environment Program, was commissioned by Canada's Conservative government to lead a study evaluating the environmental threat posed by the oil sands, she concluded there wasn't proper scientific oversight.
"Do we have a world-class monitoring system in place? In short, no," Dowdeswell said in December, which would seem to contradict Frazer's claim that Canada is applying cutting edge technology to protect the environment around the oil sands.
In our conversation, Frazer never says outright whether he thinks his message is winning. He will say that about a year and a half ago, bolder advocacy from industry and government helped "balance" the debate.
And Prime Minister Stephen Harper was apparently getting updates the whole time.
"The PMO's office is kept well aware of what the embassy is doing," Frazer tells me. "The Prime Minister takes real interest in our relationship to the United States."
Alberta's lobbying pitch was not merely being sold in Washington though. Wherever a clean energy law targeting the oil sands was proposed in states across America, the province's former U.S. representative, Gary Mar, intervened.
He did so with the help of Canadian consulates across the country. Those satellites of northern influence helped him gain access to state legislatures and their representatives, Frazer says.
Mar -- who's now running for Alberta premier -- spoke out against clean energy laws in Wisconsin, Maryland, Pennsylvania and at least nine other states.
"Wherever Alberta's interests can be protected and promoted he's there," Frazer tells me.
Closing our interview, Frazer shakes my hand three different times: first in his office, then in the lobby and finally in the hallway outside. We actually stand there talking for several minutes about whatever topic seems to pop into his head.
At one point he goes to say something more, then cuts himself off with a smile.