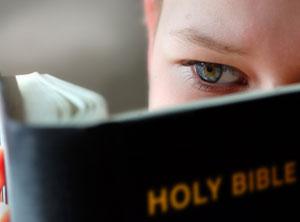 [Editor's note: Yesterday's installment detailed the successful fight led by Murray and Peter Corren to keep gay-friendly books from being banned in B.C.'s schools, a legal battle lost by the conservative political leaders of Surrey, B.C. Today: how that defeat spurred a socially conservative backlash and retreat to private Bible-based schools in B.C. and beyond. One of five excerpts from The Armageddon Factor running this week on The Tyee.]
Jerry Falwell, who helped turn Christian schooling into one of the chief crusades of the religious right, once rhapsodized in a speech to fellow fundamentalists about "a time when, as in the early days of our country, we won't have public schools. The churches will have taken them over again and Christians will be running them."
So explosive was the mood in B.C. after the Corren agreement that Derek Rogusky, the vice-president of Focus on the Family Canada, predicted it would provoke an exodus of evangelicals from the province's public schools. But when the Ministry of Education tallied enrollment, no such mass defection had materialized.
Instead, statistics revealed what some provincial educators regard as a more unsettling trend: a steady two per cent annual increase in the number of B.C. students attending private schools, most of them faith-based, over the past two decades.
BC leads in growth of religious schools
Despite the ministry's determination to ensure diversity in the classroom -- or maybe because of it -- nearly 11 per cent of B.C.'s school-age population now attends private Christian, Jewish, Sikh or Muslim academies, more than twice the ratio in any other province.
Clearly, one reason for that relentless growth is that B.C., along with Alberta, pays up to 50 per cent of the fee for students registered in accredited private schools. But that subsidy also prompted many Christian school boards to fear that the province could pressure them to comply with the Corren agreement. Although the ministry issued a vaguely worded letter assuring them that they had nothing to fear, the controversy revealed an important distinction: not all Christian schools are cut from the same reactionary cloth.
In Surrey, Dennis deGroot, the principal of Fraser Valley Christian High School, shocked some colleagues by offering Social Justice 12 to his students. As he pointed out, the course fits perfectly with the school's mission to produce evangelical graduates inspired to tackle the problems of poverty, inequity and racism -- a mission that includes an annual senior-class trip to an impoverished African village. "If we are not teaching about justice," deGroot wrote in B.C. Christian News, "then who will?"
A Christian curriculum
What does a Bible-based education look like? In Betty-Anne Rozema's Grade 3 class at Knox Christian School in Bowmanville, Ontario, 20 pint-sized tykes sit cross-legged on a carpet beneath a handmade mobile of rocket ships, their tinfoil fuselages sprouting sequined fins and orange tissue-paper flames. Clapping to command attention, Rozema holds up an oversized picture book featuring a gigantic burst of light.
"Many astronomers believe the universe was born from one big explosion called the Big Bang," she says. "It all began with tiny, tiny particles -- that is, matter."
One six-year-old is quick to catch her drift. "It's not true!" he squeals.
"Well, this is what scientists believe," she says patiently. "What do you believe?"
The answer comes back twentyfold, loud and clear: "God made it!"
Rozema doesn't pause to debate the issue, moving on swiftly to describe the solar system and the fragile protection afforded by the earth's atmosphere. "I'm very glad God put us on this planet just the right distance from the sun," she says. "What people have to do is be very careful we look after this atmosphere or we won't have air to breathe." Between that pitch for environmentalism and the school's allegiance to the inerrancy of the Bible, Rozema walks a careful line, well aware that some parents embrace the literal six-day creation story while others prefer a Christian version of the Big Bang in which God choreographed the cosmic fireworks. "I don't tell them which to think -- I leave that up to the parents," she says. "Either way, it makes God sovereign. He initiated it: order came from chaos. God knows what he's doing."
In later grades, these students will hear about evolution or stumble on television shows about the origins of the universe that make no mention of a deity, but that is not a message Rozema conveys to her class. "I would never promote a theory where God is absent -- where it's a fearful thing," she says. "I believe children want to have parameters that can be trusted. If what they're hearing at home and here is consistent, their worldview becomes more solid."
Invisible schools
That deference to both parental and biblical authority is one reason why 134 families pay up to $12,500 a year to send their children to Knox Christian School, one of an estimated 1,500 private evangelical schools across the country. In Ontario, as in other provinces, the precise number defies easy calculation since many Christian schools refuse to register with the assortment of fractious organizations that lobby on their behalf.
"There are some schools that don't want to be recorded," says Adrian Guldemond, executive director of the Ontario Alliance of Christian Schools, who claims 80 members in his association but estimates that as many as 650 such institutions actually exist in the province. "They're what we call invisible schools -- usually in homes or church basements," he explains. "They have a view of the government as being anti-Christian and uncooperative, and they like to stay below the radar."
An increasing number of social conservatives, including many immigrants, are also seeking out Christian schools as a refuge from the alien, anything-goes culture they perceive in the public system, where classes are often twice the size and drug dealers can infiltrate even the most remote rural playgrounds.
Winston Quintal's parents, newly arrived from India, pulled him out of a nearby public school, worried about the rumoured presence of drugs and the preoccupation their son had with wearing the right brand names. "My parents are very attentive about my social life," Quintal says during a seventh-grade break at Knox. "Here, the principal knows every single student and the teachers are much more strict. I had to get used to it. In my old school, all that mattered was if you were cool."
High marks
While Quintal's parents might once have had to trade academic excellence for that tighter rein, Christian schools like Knox no longer qualify as scholastic backwaters. In the basic skills test it administers every two years, students consistently score a grade ahead of their actual status, and on provincial tests, secondary students from the Ontario Alliance of Christian Schools ranked in the eighty-first percentile on all subjects while those in the public system averaged only a median passing grade.
"The reality of a private school is that it's a consumer-driven model," Knox principal George Petrusma says. "If we weren't doing the job, our desks would be empty."
At Knox, every day begins with a prayer and half an hour of devotions, and the curriculum is set out in thick white plastic binders from the Ontario Association of Christian Schools, designed to meet provincial academic requirements while linking each segment to a verse from the Bible. Broaching the subject of aboriginal history, the guide includes a cautionary note: "Not only we, but also God, is offended by stereotyping."
As Grade 8 teacher Stephen Janssen admits, "We march to a different drummer here." The son of a Christian school principal, Janssen concedes that his approach to some subjects is unlikely to resemble that of his public school colleagues. "The Christian conception of history is definitely linear," he points out. "God guides history and there is a culminating moment: Christ's return." A query scrawled at the top of his blackboard provides a reminder of that point: "When Christ returns," it asks, "what will things look like?"
'The messiness of the world'
For students who go on to high school at Knox's sister institution down the road, then graduate to a Christian university or Bible college, it is possible to spend an entire academic lifetime, as Janssen has, inside the cocoon of faith-based institutions. Still, he insists the school is "not about setting up walls and saying, 'We're a fortress of Christian faith.'" He invites students to contemplate what he calls "the messiness of the world," from Afghanistan and the Middle East to the consumer messages that bombard them through the mass media. "By the time a student leaves, we want to make sure that they are equipped to make wise and discerning choices," he says, "that are in agreement with what they believe."
But occasionally, the school's theological principles are also apparent in its omissions. In social studies, there is no mention of newfangled family permutations such as same-sex parents, and although some students are the products of single mothers or divorced parents, their situation is considered such an anomaly that they are offered a special counselling program during lunch hour.
"The definition of family here is one mom, one dad and children," Petrusma says.
Tomorrow: The rise of Christian homeschooling in Canada.