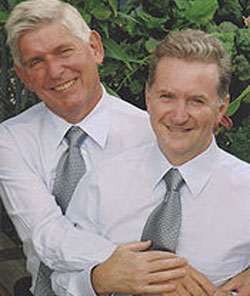 [Editor's note: Today we begin a series, running all this week, excerpted from The Armageddon Factor, Marci McDonald's in-depth look at how the Christian right is building its political power in Canada under the approving eye of Prime Minister Stephen Harper. The five installments are from the book's chapter titled "Raising the Joshua Generation," which traces British Columbia's central role in religious conservatives' drive to raise a next generation well trained in its mission to shift Canada away from secular public culture. One person targeted by this movement as a key adversary and spur to mobilize is an advocate for tolerance in public schools, a gay former teacher from Coquitlam named Murray Corren.]
In the Grade 12 social-studies class at Riverside Secondary School in Port Coquitlam, 25 teenagers turn their attention from text messaging to the well-tailored retiree who is their guest speaker of the week. Immaculate in grey flannels and a buttoned-down shirt, he is far from an imposing figure, easily dwarfed by the tallest girls in the class, but as these students well know, this is no ordinary visitor dropping in on Social Justice 12, the controversial new course designed to combat discrimination in British Columbia schools. Murray Corren is its inspiration and driving force -- one half of the gay couple behind the most provocative revamping of the provincial curriculum since the government first dared to inform students about the verboten subject of sex.
In online Christian chat rooms and the right-wing blogosphere, he and his spouse, Peter Corren, have been called every epithet imaginable since they launched a 1999 human rights complaint against B.C.'s Ministry of Education for "systemic gender discrimination." Seven years later, just as the case was finally scheduled to be heard, the government settled, seizing on the Correns' proposal for an elective course to combat not only homophobia but bigotry of every kind, including biases against the disabled, the homeless and the poor. To thousands of evangelical and Catholic parents, those topics were mere window dressing to mask the true aims of the course: foisting what some like to call a "homosexualist agenda" on impressionable teens.
For two years, they attempted to block both the course and another product of the settlement that caused even greater consternation: a curriculum guide to teaching diversity in select subjects from kindergarten to high school on which the Correns were given an unprecedented advisory role. One evangelical group, the Canadian Alliance for Social Justice and Family Values Association (CASJAFVA), collected 17,000 signatures on a petition condemning the agreement and staged a noisy demonstration outside the provincial legislature, while Vancouver's former Roman Catholic archbishop, Raymond Roussin, warned parents that the proposed guide would infect the classroom with "morally objectionable material."
After the debut of Social Justice 12 in the fall of 2008, its foes stepped up their efforts. A half-dozen organizations, including REAL Women of B.C., formed a coalition called Take Back Our Schools, which blasted the Corren agreement as a blatant attack on parents' rights.
In Abbotsford, the epicentre of the province's Bible belt, the same school board that had once covertly OKed the teaching of creation science refused to offer the course for a year -- its reluctance bolstered by a group called Parents for Democracy in Education, which sounded the equivalent of an Amber Alert. "Government Dictatorship?" its online advertisements screamed. "Are you alarmed about the revised school curriculum? Is it challenging parental rights, cultural values and religious freedom?" The group's website featured a plug from the former Social Credit premier, Bill Vander Zalm, who donated half the profits from his most recent book to the cause and denounced "the growing trend of student indoctrination."
While the outcry over the Corren agreement has become one of the most polarizing skirmishes in the Canadian culture wars, it is only the latest standoff in a half-century struggle to determine which values are taught in the public-school system and who has the final say over what a child learns: parents or the government. Ever since any mention of creationism was banned from biology lessons in the name of science and prayers were pulled out of schools in the name of interfaith harmony, many conservative Christians have come to view state-run education systems with mistrust and outright hostility. As they see it, liberals and secular humanists have conspired with the courts to wipe out all symbols of Christianity from the classroom and impose an alien agenda on their offspring.
Alberta reacts
In Quebec, where the government has orchestrated a decade-long secularization of education, some Catholics and evangelicals have launched lawsuits against the Ministry of Education over a new ecumenical course called Ethics and Religious Culture that has been declared mandatory. Designed to boost cross-cultural understanding in a province where that commodity sometimes appeared to be in short supply, the course has provoked outrage for giving the same weight to Hinduism, Judaism, Islam, aboriginal spirituality and even Wicca as it does to Christianity.
Last year, a Quebec judge dismissed a case filed by two Drummondville families who had charged the ministry with violating their constitutional rights by refusing requests to exempt their children from the course, but, with other cases pending, this is unlikely to be the last word from the courts. [Indeed, in June, Quebec Superior Court Justice Gerard Dugre ruled that Loyola High School, a private Catholic boys' school in Montreal, was not obliged to teach the course, declaring that it breached the Quebec Charter of Human Rights and Freedoms and noting that the Department of Education's attitude on the issue "assumes a totalitarian quality essentially equivalent to the order given to Galileo by the Inquisition to renounce Copernican cosmology." The provincial government is now appealing his controversial decision.]
Meanwhile, the Alberta government found itself under fire for introducing a contentious measure that guarantees parents the very right their Quebec counterparts were refused: the opportunity to yank their children out of any classes dealing explicitly with religion or sexual orientation. Despite objections from the provincial teachers' federation and a warning from the Canadian Civil Liberties Association that the bill would help "promote a regime of religious intolerance," it survived five stormy weeks of debate in the legislature to become law in the spring of 2009, prompting former Conservative senator Ron Ghitter to observe that "we're kind of stepping back into the Middle Ages."
Alberta's move was clearly a pre-emptive strike designed to prevent the Corren precedent from spilling across the border, a fear that conservative Christians have fanned in every province. Still, not all the objections to B.C.'s Social Justice 12 have come from the family-values camp. While the minister of education was hailing it as a global milestone in teaching diversity, some of the loudest objections emerged from the very communities who make up the province's diverse demographic patchwork: Hindu, Sikh and Chinese Canadians who have demonstrated that, on issues like same-sex marriage, they can be as socially conservative as the Christian right.
That realization was not lost on Stephen Harper when he drafted his theo-conservative strategy, nor was it any accident that Harper kicked off his 2008 election campaign clad in a blue sweater, indulging in a round of baby-kissing in the B.C. riding of a three-time candidate named Alice Wong. Now the Conservative member of Parliament for Richmond, Wong had been an enthusiastic speaker and fundraiser for CASJAFVA, the right-wing advocacy group whose mostly Chinese membership had organized the largest protest against the Corren agreement.
But the furor over Social Justice 12 was also fostered by cross-border ministries like Focus on the Family Canada, headquartered on the outskirts of Langley, east of Vancouver. Fresh from his radio campaign against same-sex marriage in this country, its founder, James Dobson, warned the millions of subscribers to his monthly newsletter of yet another threat: a cabal of gay activists had drafted a sinister plot against the continent's schools. In elaborate detail, he spelled out their "audacious attempt to reshape the beliefs of an entire generation, beginning with the youngest and most vulnerable."
Summoning his followers to block any attempts to portray homosexuality as an acceptable lifestyle, Dobson pulled out all the rhetorical stops. "Not since Adolf Hitler prepared a generation of German and Austrian youth for war," he fumed, "has so grand a strategy been attempted."
The making of Murray Corren
Standing before the Social Justice 12 class, Corren looks incapable of provoking such inflammatory prose, but as a veteran of nearly every gay-rights fight in the province, he is clearly the incarnation of James Dobson's worst nightmare -- a symbol of everything the religious right deems wrong with public education.
Murray Corren might have rhymed off statistics to the class: 82 per cent of gay students report being bullied and 48 per cent confess to contemplating suicide. He could have recounted the tragedies of two American adolescents who'd actually been driven to kill themselves, one found hanged by an electrical cord in his closet after being taunted as a "fag" by classmates.
Instead, Corren relates a condensed version of his own biography, growing up as Murray Warren in a bleak Newfoundland mining town where he was mocked at school as a "sissy" and occasionally limped home with a bloody nose. It is a calculated strategy, he admits, to stress the personal, not the political. "All the research shows that if you actually know somebody who is gay," he says, "it's much harder to discriminate."
Coming of age in the 1950s, Corren was haunted by a book he'd found at the local public library, Abnormal Sexuality, which, he says, detailed "this sickness, this mental illness I had." Even when he escaped to Memorial University in St. John's, then to Montreal, where he taught for two years, he lived in terror of revealing his sexuality. That changed when he went to England to complete his M.A. thesis. Helping out at one of London's private gay clubs, he caught sight of a dashing Englishman with piercing blue eyes named Peter Cook, the beginning of a 40-year relationship that lasted until Cook's death in December 2009.
Five years earlier, when they became one of Canada's first same-sex couples to marry -- their garden ceremony featured in the National Film Board documentary Why Thee Wed -- they signalled their status by legally amalgamating their surnames, Cook and Warren, to Corren, a moniker that has become a household word in religious right circles.
Still, they had been together for nearly two decades, running florist businesses in England and South Africa, before it occurred to them to enlist in the movement for gay rights. Moving to Vancouver on the eve of the 1990 Gay Games, they found a city where homosexuals were celebrating a newfound sense of freedom, but at the Coquitlam elementary school where Corren had landed a teaching job, he kept his live-in relationship under wraps. Then, on a trip to San Francisco, watching its notoriously flamboyant Gay Pride parade, he was stunned to see a contingent of gay and lesbian teachers marching under a banner proclaiming their sexual identity.
So moved was Corren by their openness that he jumped out of the crowd to join them, only to have his euphoria shattered by a stinging rebuke from the crowd. "Where were you when I needed you?" a young spectator yelled at the teachers' contingent.
The incident left Corren shaken. "I realized it was a question I had to answer," he tells the class. "Where was I for the students I taught who were wrestling with their sexuality?"
Book banning
Helping to found a support group called the Gay and Lesbian Educators of B.C. (GALE BC), Corren became its public face and a lightning rod for social-conservative fury. When he asked his school board to investigate the plight of gay pupils, he received his first death threats.
Months later, at a tumultuous meeting of the B.C. Teachers' Federation, his resolution calling for an official policy to end homophobia passed by a landslide, but that victory opened the way to a more determined backlash -- one that would galvanize conservative Christians across the country.
In the wake of the federation vote, the school board in Surrey brought in a resolution pointedly banning any resource material recommended by educators who were members of GALE. The move hardly came as a surprise -- among the most outspoken Surrey trustees was Heather Stilwell, a former leader of the Christian Heritage Party -- but GALE set out to test the board's stand.
Weeks later, an openly gay kindergarten teacher named James Chamberlain asked for permission to use three supplementary storybooks depicting same-sex families: Asha's Mums, Belinda's Bouquet and One Dad, Two Dads, Brown Dads, Blue Dads.
As Corren rhymes off the titles, the Riverside students nod in recognition -- for most, the books had been standard primary-school fare -- but the Surrey trustees vetoed all three. Testifying at a crammed board meeting on Chamberlain's behalf, Corren showed up sporting a T-shirt that announced "Bigots Ban Books," only to find himself caught up in a near-riot. As a reporter hustled him to safety in a waiting car, parents in hot pursuit, one bruiser branded him a pervert and pedophile.
The episode steeled his resolve. He and his partner hired the human rights lawyer Joe Arvay, who had defended Vancouver's lesbian bookstore Little Sisters, to mount Chamberlain's constitutional challenge against the Surrey board. Although the Correns were only tangentially involved, they guaranteed Arvay's legal fees, which would eventually exceed $1 million as the case made its way through two appeals to the nation's highest court.
A watershed -- for Christian right, too
Five years later, the Supreme Court ruled that the Surrey board had defied the nature and intent of the B.C. Schools Act by banning the three storybooks.
Writing for the majority, Chief Justice Beverley McLachlin refused to acknowledge the supremacy of parents' rights. "Parental views, however important, cannot override the imperative placed upon the British Columbia public schools to mirror the diversity of the community, and teach tolerance and understanding of difference," she declared.
For many conservative Christians, the decision still stands as a watershed, a legal Waterloo that galvanized them into the sort of grassroots activism that Ralph Reed pioneered in the U.S., taking over local school boards and town councils in the first step toward building a nationwide resistance movement. A social-conservative coalition called the Surrey Electoral Team emerged to control the board and city government for nearly a decade, and one of its leading members, the former school-board chair, Mary Polak, would go on to become a cabinet minister in Gordon Campbell's provincial government.
Tomorrow: The religious right's backlash fuels a fast growing Bible-based schooling movement across Canada.