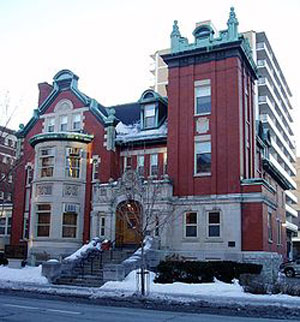 [Editor's note: This is the last of five excerpts from The Armageddon Factor, Marci McDonald's chronicle of the rise of Canada's Christian right. Yesterday's installment related how Trinity Western University in B.C. emulated Patrick Henry College in the U.S. by creating a new finishing school for Christian conservative university students seeking roles in government. It's called The Laurentian Leadership Centre in Ottawa, and this series ends with a look at its ties to Prime Minister Harper, and a glimpse of what goes on inside its walls.]
At 8:20 on a Wednesday morning in October 2007, students litter the magnificent, main-floor salons of the Laurentian Leadership Centre, some sprawled on damask sofas under priceless antique tapestries, others straggling out of the eat-in kitchen, a dazzling mix of marble and stainless steel that could pass for an upscale Italian café. But as the clock strikes the half hour, they scramble up the panelled staircase to an ornate conference room for that day's class on politics and government.
Janet Epp Buckingham, who has replaced Paul Wilson as the centre's executive director, opens with a reading from the book of Joshua, whose hero led the Israelites across the Jordan River to conquer Jericho. "We have an example of some pretty serious leadership here," Buckingham observes. "Joshua is the guy who gets things done. He got a very clear message from God and the Bible says people followed Joshua without hesitation."
As she points out, the same could not be said about the two prime ministers whom her students are profiling that day. Matt Pasiuk, a business major from Abbotsford who has spent his entire academic life in Christian schools, is upbeat about his subject, Brian Mulroney, praising him for the Free Trade Agreement with the U.S. while slamming his imposition of the "horrendous" Goods and Services Tax. But Pasiuk seems hazy on the failed Meech Lake Accord -- "It's a bit over my head," he says -- and he makes no mention of the corruption charges then hanging over Mulroney, a lapse that Buckingham chooses to leave unexplored.
Reporting on Kim Campbell's ill-fated four months in power, Irene Cadrin, a political-science student from northern Alberta, appears to view the country's only female prime minister with undisguised scorn.
"She's very popular among the feminist movement in Canada," Cadrin says in a tone that makes clear this is not a desirable distinction. "She's their poster girl." Cadrin barely mentions Campbell's tenure as justice minister, but notes that when she was in the B.C. legislature, she fought restrictions on abortion and has the most "complicated" marital situation of any prime minister. "She was married once, she was married twice, then she didn't bother to get married again," Cadrin says, making no attempt to mask her disapproval.
Only weeks earlier, the National Post had run a flattering, full-page profile of the Laurentian Leadership Centre, celebrating it as a new haven for the "sharpest edge of intellectual evangelical Christianity," but on the day I visit there is little evidence of that acuity. If this is history filtered through a biblical worldview, it is a version that seems hopelessly skewed by conservative bias and a marked disregard for the facts. When students refer to the Toronto Star as "the Red Star" and deride Canada as a "welfare state," I feel as if I've stumbled into the ornate clubhouse of some fresh-faced relics from the Reagan era.
Photos with the PM
That impression only deepens after a mid-morning break when Buckingham steers the discussion to the Charter of Rights, her own legal specialty. As the former chief counsel of the Evangelical Fellowship, she had been one of the leading advocates for the Christian right and, during the incendiary same-sex marriage debate, she won a reputation as a reasonable and nuanced voice. Today, however, Buckingham makes little attempt to temper the arguments of her students who, almost without exception, slam the Charter as "bad" or "frightening" and a threat to evangelical Christians. Decrying the fact that the courts "have gone too far on social issues," she notes that religion in Canada has been "privatized," as she puts it, which turns out to mean that it has been banished from the public sphere.
Sitting in on the discussion, it seems no wonder that critics see the centre as an elite finishing school for Harper's Conservatives. Every class has been invited to a photo session with the prime minister, and his office has hosted at least one intern each semester. Despite the centre's repeated insistence that it is non-partisan, a seven-year review of its internships shows that, of the fifty-one MPs who employed students, 42 were Conservatives -- most of them evangelicals. It's a critique for which the students themselves are well prepared.
"Sometimes I can see people trying to paint us as a Conservative breeding ground," Matt Pasiuk volunteers, unasked, after class. "But there's a lot of different views here. In the halls or at dinner time, there are some pretty interesting arguments about things like abortion and same-sex marriage."
Pasiuk's internship with his Conservative MP, Ed Fast, whose daughter was a friend back in Abbotsford, convinced him he would never want a career in politics, but for others, the experience has opened coveted doors. Matthew Laine had never set foot in Ottawa before he arrived at the centre, but, interning with the Green Party, he discovered an organization in chaos where he could carve out his own niche. After two weeks helping out in a cliff-hanger of a provincial campaign, he felt "totally empowered. I was calling these bureaucrats all over Ontario on behalf of candidates to get them registered," he says. "It was pretty cool."
Laine snagged a seat on the party's youth council, and months after graduating from Trininty Western, he landed the Greens' nomination in the B.C. riding of Delta-Richmond East, where he racked up 8 per cent of the 2008 vote. A year later, he ran in the provincial election, and he argues that a Green Party candidacy is consistent with his faith. "If you want to be a Christian, you need to be a good steward of the planet," he says.
Still he admits his wariness of hyper-righteous rhetoric. "I say, prove to me you're a Christian," Laine says. "It can't be just a now-and-then thing. That's why the pro-life movement bugs me. It's okay to be pro-life, but I say, 'Be pro all life -- be pro the homeless guy, not just pro-fetus.'"
With those views, Laine admits he was the ideological odd man out at the centre -- "pretty much the token liberal," he says.
Succeeding at their missions
Many Laurentian Leadership Centre alumni have gone on to work for Conservative MPs or cabinet members, and Jared Kuehl, a graduate of the Laurentian Leadership Centre's first class, went straight from university to a job in the issues management branch of Harper's office.
Another graduate, Mark Penninga, has taken another sort of political path. After an internship with Conservative MP Maurice Vellacott, Penninga landed a job as a spokesman for Focus on the Family Canada before founding his own Christian nationalist lobby, the Association for Reformed Political Action (ARPA), backed by the country's Reformed churches. Announcing its arrival on the political scene, he threw a Parliament Hill seminar for MPs co-hosted by Vellacott and the Liberals' leading evangelical, John McKay, which featured a lecture from a respected Christian Reformed theologian entitled "God and Government: A Biblical Perspective on the Role of the State."
While the seminar was an exercise in gentility, ARPA's website is less so. "Canada is perishing -- both physically and spiritually -- because we have turned our back on God," it declares. One of the main objects of its wrath is the Corren agreement, which Penninga paints as a threat to religious freedom. "In the name of tolerance," he argues, "tolerance is being thrown out the window."
Was this then what Don Page envisaged for the country's Joshua generation? Page answers by recounting a moment when, watching the proceedings of a parliamentary committee on television, he noticed three familiar figures in the front row. All were Laurentian Leadership Centre graduates, researching departmental policy papers or speeches for MPs. "Where else do we see another university having such a positive influence?" he beams. "I'm hearing that our students are the people MPs want to hire in their offices."
At least 30 of the centre's young Christian soldiers have won jobs in Ottawa's permanent policy-making apparatus and every semester produces new recruits. That is no mean accomplishment at a time when the federal civil service is facing an imminent labour crisis, aging faster than the general population, with one-third of its members due for retirement within the next decade.
Nor is it a development that Stephen Harper would frown upon. Before he was prime minister, Harper railed against the liberalism of the civil service, and Trinity Western is not alone in attempting to help him reverse that tilt. More than a dozen well-regarded Christian colleges and universities now exist in this country, and the Conservatives are quietly fostering their growth. When economic stimulus funds were being doled out, Harper funneled more than $26 million their way, including $2.6 million to Trinity Western -- a windfall that was announced by Conservative MP Mark Warawa, a TWU alumnus himself.
What effect those graduates will have on Canadian politics remains to be seen, but as Page recalled from his experience with the Public Service Christian Fellowship, it doesn't take huge numbers to get things done on Parliament Hill. He once managed to solve an overseas crisis with phone calls to senior bureaucrats he knew from departmental prayer cells, and he credits the backstage intercessions of a handful of evangelical mandarins with convincing cabinet ministers to take a stand on tobacco advertising.
"In today's society, there are important issues and Christians have a role to play," he says. "I think our students are already influencing the thinking of government."