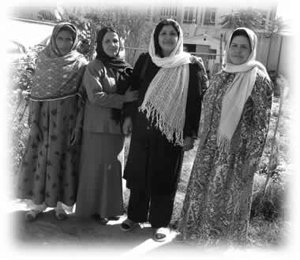 [Editor's note: This is second to last in a series, running Thursdays and Fridays, by Terry Glavin profiling Afghanistan's "unsung heroes," a project supported by the Canada-Afghanistan Solidarity Committee and the Funders Network for Afghan Women.]
Mah Jan is a widow from the Parwani village of Qala-e-Kona. The hardships of her life are written in the lines on her face. She is 37, but she looks about 70. She is beautiful, nonetheless.
Forced to marry a deaf mute who died and left her alone with four children, Mah Jan has spent most of her adult life working as a washerwoman and a farm labourer, weeding fields for 400 grams of beans per jerbil of land, about two hectares to a jerbil. She raised her children in a tent.
But all that is behind her now.
Over cups of strong tea at the Kabul offices of Through the Garden Gate, a project conceived and funded by Canadian Mennonites, Mah Jan explained how it came to pass that the hard life is behind her and she now makes frequent business trips to Kabul to sell vegetables. She has just bought a sheep and a goat, and is saving money to buy a cow.
The story of Mah Jan's success begins with the Mennonite Economic Development Associates, a simple idea, and a careful program of strategic investments involving only small amounts of money -- a few dollars in grant money here, a few more in "microfinance" loans there. The effort is transforming the lives of hundreds of Parwani women, like Mah Jan.
While the rest of the Third World was engaged in the "Green Revolution," much of Afghanistan remained stunted by ancient farming methods. Even so, as recently as the 1970s, Afghanistan was more or less self-sufficient in food production. But three decades of war reduced Afgans to paupers.
In Parwan, farming practices remained an almost wholly subsistence undertaking, nearly unchanged from the early days of the neolithic revolution. The farmers cast seed upon untilled ground. The men farmed the main fields, and the women were confined to household kitchen gardens.
By investing in basic literacy classes and some training in modern horticulture, the Mennonites have helped hundreds of Parwani women increase the yields of their household crops to allow for marketable surpluses. Through composting, irrigation, and other basic but "modern" methods, the effort has extended the growing season for potatoes, beans, carrots, cucumbers, onions, and tomatoes.
With training in efficient storage and marketing, the women reinvested their tiny profits to package and sell their produce in Kabul at times when vegetables are otherwise scarce and expensive. These further earnings have paid the costs of teachers, and now the women of Parwan are slowly emerging into the light of literature and commerce and the life of the world.
Out of the cellars
Nine Parwani villages have reaped the benefits so far, and in Qala-e-Kona, everyone thanks Mah Jan. It was she who stepped forward to serve as the village leader in what was, at the time, uncertain, contentious and experimental enterprise. These days, Mah Jan, formerly a widowed washerwoman and field labourer, can boast that she is routinely invited to weddings and parties.
While Parwani villages remain profoundly conservative places, there is simply no comparison with "the Taliban time." In those days, the women of Parwan were hiding in the cellars.
The Taliban, covetous of Parwan's rich farmlands and orchards, set about to carve up the land and dole it out among their own crowd. They roared across Parwan in heavily-armed armadas of Toyota SUVs, and they drove off the men, butchering the brave ones who stood and fought. The Parwani women would come out at night to kill the Taliban.
"The Taliban burned our lands and tried to force people to move to Jalalabad," Mah Jan recalled. "The men escaped. When the Taliban came with guns, the women would come out to beat them to death with their bare hands."
Marzia passes Through the Garden Gate
Marzia, 35, the mother of eight children, is also a "lead farmer" with the project, in Qala-e- Khona. And like Mah Jan, she too is a widow: "The Taliban killed my first husband. They just killed him without reason. He had a simple life. He was riding a horse. They took him away and they killed him."
After her husband's death, she ended up living with relatives in Iran, working for slave wages in a factory for 12 hours a day. Marzia fled home after the fall of the Taliban, but she was then forced to marry a brother in law, according to a primitive custom distilled from sharia law.
In the end, her second husband abandoned Marzia and her children. On her own again, she survived as best she could as a seamstress, until MEDA's Through The Garden Gate project arrived in the village.
"It is very profitable for us," Marzia said. "We are doing our housework and at the same time we are out working in the kitchen gardens. Now we have a savings box and we are hopeful." Marzia has invested her small profits in a shop for her sons, and intends to expand her small farming business.
Opportunities like that are opening up for women all across Parwan.
"Now the husbands in the villages are giving us chances to take part in decision making," she said.
'We have learned this new system of life'
Mahbooba Hashimi is 38. She's the facilitator of the project in Balaghel. She bore nine children, but her son Abuljamin, a translator, was killed in a suicide bombing in Kabul three years ago. The boy's death was such a blow that Marzia's husband became despondent and could not work. So Mahbooba moved back to her home village of Balaghel, and got involved with Through The Garden Gate."Now, we have learned this new system of life, so things can be better and better," she said.
At first, the men of the village were suspicious of the project. But after seeing the results, even the most conservative men have begun to come around, she said.
Sharifa, 33, village facilitator for the project in the village of Dashto Opyan, told a similar story. "I had to tell the men, 'I am not taking your wives and daughters away. They will be with me,'" she said.
'We are showing women can be independent'
Before she joined Through the Garden Gate, Sharifa's husband wouldn't even allow her out of the house, and she didn't even know where her husband's farm fields were. Nowadaways, her husband supports her work, and she is included in the formerly men-only community development councils. "I am happy, because the men listen to my suggestions now.
"My dreams are coming true. We are going to friends' houses and relatives houses for a party, and to tell what we are doing. We are showing that women can be independent and can have things of our own. Now I can see and I can feel that I am alive and that I have a life. We are working, and we supporting our children and also the husbands are now happy with us."