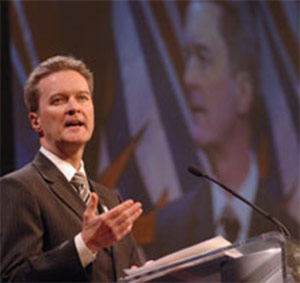 In normally divided British Columbia, politicians in both major parties agree something needs to be done to fix the pension system and better support people who've retired.
The first question, however, is what's to be done. The next is whether their counterparts in other provinces and the federal government can be convinced.
"That's a very active file for us," Finance Minister Colin Hansen told The Tyee in a recent interview. "We're actually leading some of the national discussions on new pension options."
In the past couple years, there have been rumblings about a new provincial plan, perhaps implemented jointly with Alberta. But there are other options on the table, and Hansen said one of them is a solution the Canadian Labour Congress is promoting.
"The details have not been forthcoming," said New Democratic Party finance critic Bruce Ralston, who asked Hansen about pension plans during November's budget debates. "My sense from his comments is they've not made a decision, and I think they sense the difficulty of the endeavour they've started."
BC and Alberta's plan A
As Hansen sees it, it's people with average incomes who are most in need of a fix. "We're actually very good in Canada at providing adequate retirement income for sort of the lowest 20 per cent of income earners and the highest 20 per cent of income earners. Where there's inadequacy is in the middle," he said.
The Canadian Pension Plan is one of the best programs of its kind in the world, he said. Still, it leaves many people short. "It doesn't meet adequate income replacement post-retirement for many Canadians. You could argue in excess of 50 per cent of Canadians."
The desire to improve the incomes of people who've retired goes back at least a couple years in the province. In Oct. 2007, B.C. and Alberta appointed a "joint expert panel on pension standards and recommendations."
A year ago November, the six-person panel released its 241-page report, Getting Our Acts Together: Pension Reform in Alberta and British Columbia. "Just over 20 per cent of private sector workers in the two provinces are enrolled in pension plans," it found.
"We advocate that the governments of British Columbia and Alberta create a new pension plan, to be operated as a non-profit entity at arm's length from government but regulated under the pension standards legislation," the report said. "The plan would be available to any employer, employee or self-employed person at a reasonable cost."
It would be a simple defined contribution plan, and for employees participation would be voluntary. They would be enrolled automatically, but allowed to opt out, the report said. Also, self-employed people would be allowed to opt in.
The government would set up the system, which would be designed to run without ongoing public funding. "Although some start-up costs would likely have to be financed by the governments, the governments would have no ongoing costs or liabilities." Still unclear is exactly how the pool of money would be managed for safe, steady gains, and who would be responsible for overeeing the fund.
As a defined contribution plan, the system would be more subject to the ups and downs of the market than a defined benefits plan -- the kind of pension fund that guarantees a certain payout for every dollar the worker and employer or government entity invests.
A second option being discussed, said Hansen, is a proposal by former CPP/QPP adviser Keith Ambachtscheer to create a new national supplement to the CPP that would increase retirement payments to middle-income Canadians. That, too, would be a defined contribution plan.
Another option, labour endorsed
In the months after the Alberta-B.C. panel released its report, the Canadian Labour Congress released a discussion paper of its own, Security, Adequacy, Fairness: Labour's Proposals for the Future of Canadian Pensions.
The tanking of the global economy had exposed major faults at the heart of the Canadian system, the authors found. With jobs disappearing and investments shrinking, millions of Canadians have been put at financial risk, the 21-page discussion paper said.
"The maximum value of public pensions falls well short of replacing the 50 per cent to 70 per cent of pre-retirement income needed to maintain decent living standards," it said. "Compared to many other advanced industrial countries, our public pension system is very underdeveloped." Nor are private pensions reliable, it said, with just one-in-five covered at all and many worried about what happens when plans get into financial trouble.
"Our priorities for change call for a major shift from private to public pensions, and greater security for members of existing employer pension plans," it said.
They proposed three solutions, starting with doubling the benefits from the Canadian Pension Plan. Over a seven to 10 year period the amount of earnings replaced by the CPP would double from 25 per cent of a person's pre-retirement income to 50 per cent. It would be financed "by a modest increase in worker and employer premiums which would be fair for lower paid workers."
The CLC also proposed increasing the amount of Old Age Security benefits paid to seniors and creating a national system to insure pension plans the federal government regulates to guarantee benefit levels from private plans.
Hansen prefers national plan
Alberta's Finance Minister Iris Evans was recently quoted saying that if a national consensus can't be reached on improving pensions, the west would go it alone.
Hansen echoed Evans' comments. "It would certainly be preferable to have a national plan that all provinces bought into and supported," he said. "We've made it clear that if we can't build national consensus on this we will proceed on a regional basis."
Pensions will be a subject of discussion at the finance ministers' meeting scheduled for Dec. 17 in Whitehorse, he said.
"What I said to my colleagues nationally is 'we're not going to sit around and contemplate on this for 10 years,'" Hansen said. "We think there is a certain urgency to it today and we're not going to spend a lot of time building a national consensus.
"We think that the national approach makes sense, but if we can't achieve it in the near term then British Columbia, Alberta and whichever other provinces want to participate with us will proceed on our own."
Various options are under consideration, including the joint Alberta-B.C. proposal and the CLC's plan, he said. Hansen said his preference is for a national plan that won't impede labour mobility and for one that's as broad as possible.
266,000 seniors in poverty
The NDP's Ralston said optional plans like the one suggested in the B.C.-Alberta review haven't worked as well in the past as universal programs like the CPP.
"The thing about the Canadian Pension Plan, it exists, its portable, it's national, other than Quebec, it's administrative costs are low," he said. "It's kind of the building block for retirement security for just about everybody."
It's also low-cost to administer, especially compared to creating many smaller private plans, each with their own investment manager, he said. "The financial services industry, you know, they have to get paid."
The most important thing for people is that there will be a secure pension available for them when they're done working, he said. "An increase to the benefits under CPP is something I think most people would support."
In a campaign-style speech to the BC NDP convention on the weekend, federal NDP leader Jack Layton called for a doubling of CPP benefits.
"We have an aging population and they've been hit hard," he said. Some 266,000 Canadian seniors live below the poverty line because of the low level of benefits for the elderly, he said.
"In other words, we have a government program that keeps people below the poverty line. And most of these are women. These are the people who raised us. These are the people who fed us, who built our community and built our economy."
For about $700 million, or less than half the corporate tax cut scheduled to take effect Jan. 1, all those seniors could be lifted out of poverty, he said. "We propose we take the Canada Pension Plan as that rock-solid basis for retirement security for seniors and we take the $900 maximum payment which is there now and we move towards doubling it towards $1,800 a month so every senior can live a decent life."
Jack Layton's New Democrats and the B.C. Liberal government don't often agree on matters of policy, but in this case the CLC proposal is nothing B.C. Finance Minister Hansen will say he is against. In fact, despite the significant differences between the Alberta-B.C. plan and what the CLC wants to do, Hansen refuses to take a stand on which he or his government prefers.
Asked how optimistic he is about Canadian politicians agreeing to a national pension fix, B.C.'s Finance Minister Hansen said, "I guess we'll have a better sense of that after the discussions in Whitehorse."