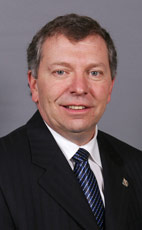 The federal minister responsible for revamping Canada's pension system acknowledges that voluntary plans will miss many workers, but balks at proposals to make new plans mandatory. Nor does he favour a proposal to double the existing Canadian Pension Plan.
"At this point we're not discounting any option," said Ted Menzies, the member of Parliament for the Alberta riding of Macleod and the parliamentary secretary to Finance Minister Jim Flaherty.
Menzies was speaking a week before finance ministers from the provinces and the federal government meet in Whitehorse. Pension reform is on the agenda and observers are hoping for a radical reworking of how the country generates income for retired people. But while there's widespread agreement that something needs to be done, there seems to be little consensus on what that something should be.
The drop in stock values last year threatened both people's personal savings and several large pension plans, highlighting the need to review how Canadians prepare for retirement, Menzies said. "I think it's pretty urgent. I think we want to do this fairly quickly," he said. While he said he couldn't give a date, he said, "I would like to see some changes within the current year."
In Whitehorse, the ministers will discuss a report by University of Calgary policy studies professor Jack Mintz, which has not yet been released to the public. Then they'll go away and think about how they want to proceed, Menzies said. "There'll be lots of options," he said. "The bottom line is to ensure adequate retirement income for those who are retiring."
Voluntary vs. mandatory
One of the biggest questions facing the ministers is whether a new plan should be voluntary or mandatory.
Canadians have long had the option of investing in RRSPs, a voluntary savings plan that gives tax advantages for socking money away. B.C. and Alberta have proposed a supplement to the Canadian Pension Plan that would also be voluntary, allowing employees and employers to opt in or out. Michael Ignatieff's federal Liberals also this week called for a similar voluntary plan to supplement the CPP.
Asked how well it works to make it voluntary to save for retirement, Menzies said, "I'm not sure that it does. We have a voluntary system under the RRSP under its present state." Many, many people don't use it, he said, adding he hopes to gain insight on why that is in the coming weeks.
Noting that the Liberals, B.C. and Alberta are talking about voluntary plans, he said, "Are people going to use it? I'm not sure they are."
That does not, however, mean that he and the Conservative government support a plan like the current CPP where workers and employers have to contribute. "I'm not suggesting mandatory. I'm not sure that's the way either."
What lies in the middle between voluntary and mandatory is yet to be determined, but Menzies suggests a plan that gives people options and provides incentives to use them could work. The Conservative-introduced Tax Free Savings Accounts, which allow investment income to accumulate tax free, have proven popular, he said. Someone who started early using a TFSA could save a lot of money before they retire, he said.
Libs like CPP supplement
The federal Liberals announced this week that they support a voluntary system to supplement the CPP, like the one B.C. and Alberta have proposed. "We're calling on the government to implement a supplementary CPP that would be on a voluntary basis for employees and employers," said Judy Sgro, the party's critic for veterans affairs, seniors and pensions.
Five of the provinces support supplementing the CPP, she said, and it would be good to get all of them on side. "We don't want provinces off doing their own thing."
The federal government needs to be encouraged to help make a national change happen, she said. "I think they still feel the province is responsible for pensions and they have a very small role to play. We're trying to convince them otherwise."
Asked if another voluntary plan would achieve the desired goals, she said, "This is just the beginning from our party's position."
She dismissed, however, the idea of making the new plan mandatory. Nor do the Liberals support the proposal -- endorsed by the Canadian Association of Retired Persons, the Canadian Labour Congress, the federal New Democratic Party -- to double the CPP, at least not soon.
It's a difficult time for many companies and not the time to add expenses for them by requiring them to pay more into the CPP or another plan, Sgro said. "You have to be sensitive to the impact this has on an employer," she said. "At this moment increasing it would be a bad idea."
Nor, she said, would increasing CPP payments be popular. "Many people would consider it a tax on them."
Changing people's minds about it will require a lot of education, she said.
Doubling CPP expensive: Menzies
While Menzies has said every option will be considered at the Whitehorse meeting, he too was critical of the proposal to double the CPP.
"That's a pretty expensive option," he said. To do it would require taking 20 per cent off people's wages, he said.
"That sounds pretty good if you're already retired," he said. "If we've got people who can't afford an RRSP right now, what are they going to say if we say you have to put 20 percent of your income into a mandatory RRSP?"
The CLC calculates that a 2.8 per cent increase in contributions, and matching contributions from the employer that would bring it to under 15 per cent of income would be sufficient to double payments under the CPP. They advocate easing in the change over a seven- to 10-year period.
Menzies also said there is strength in having retirement savings spread out in diverse plans. "I have concerns about putting that many eggs in one basket," he said.
The CPP already sits on large amounts of money and doubling it would make it even more of a "market mover" with the power to make or break stocks with its managers' investment decisions. Plus, he said, the economies of scale savings some have promoted would likely prove elusive. "You couldn't double its fund without increasing its investment costs."
There may be ways to bring the administration costs down on the myriad plans that now exist, he said, adding that's one of the things the finance ministers will look at in Whitehorse. "Canada's cost for administration for a lot of those funds is excessively high."
Political challenge
"I am starting to think there should be mandatory pension coverage," said Harry Satanove, an actuary and pension advisor with Satanove and Flood Consulting Ltd.
"I didn't always have that view, but I've been in this business long enough to see people not taking advantage of the opportunities they have to save for retirement," he said.
Increasing the CPP is worth considering, he said, but added he hasn't seen the reports that give the details.
"It has to be actuarially sound," he said. It could be phased in but it would be unfair to ask current workers to pay for higher pensions for people who've already retired. "We shouldn't be relying on our kids and grandkids to pay for our pensions."
Demographics alone would make that tough, given the increasing number of people over 65 years old, Satanove said. "We shouldn't have our kids having to subsidize us baby boomers. There's not enough of them to support all of us."
Politicians and others who look closely at the issue understand why retirement saving has to be done in some form that's mandatory, he said. It's still politically hard though, he added, saying many will view it as a tax. "People know what needs to be done, but politically it's not always there."
Financial education needed
Over the year he's been working on the pension file, Menzies said, he's learned a lot. Even when opportunities to save are open to people, they often don't take them, he said. "I never realized how little people know about or actually plan for their retirement."
In Whitehorse, the chair of the government's financial literacy task force will give a presentation. Education is a provincial matter, and the federal government can't order provinces to add financial literacy to their school curricula, but it would be nice if they would, he said. "We'd sure like to see some sort of a plan."
When a 22-year-old takes a new job, she or he needs to ask not just when the days off will be, but also if there's a pension plan, Menzies said. If there's not, he added, they should be asking the employer for suggestions on how they might start building retirement savings.
"That young person should not just think about today, they should be thinking about tomorrow and retirement," he said.
The ministers will look at the issues "reasonably and responsibly," he said. Like Hansen, he prefers a national solution, though he admits to having some doubt it will come together soon. "I don't think it's going to be one big change across the country."