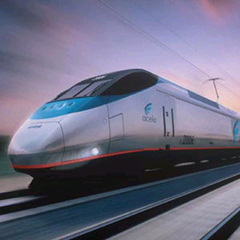 There are no plans to build a high-speed rail line from Seattle to Vancouver.
None.
Never mind that Vancouver Mayor Gregor Robertson is in Seattle and Portland this week, campaigning to bring fast trains to the Terminal City. And pay no attention to the fawning reports about U.S. high-speed rail plans in local newspapers.
The truth is as hard and cold as a steel rail: Neither U.S. President Barack Obama's multi-billion-dollar rail stimulus package nor Washington State's long-range plan to revive passenger rail in the Pacific Northwest envisions the creation of high-speed service to Vancouver.
The B.C. Ministry of Transportation also has no plans for high-speed rail. Instead, as a direct result of years of inaction, Minister Kevin Falcon appears to have helped turn away hundreds of millions of dollars in U.S. stimulus funds that were allotted to improve track conditions north of Seattle.
The Government of Canada has specifically excluded British Columbia from discussions about the creation of high-speed rail lines in Alberta, Ontario and Quebec. And the Harper government is literally barring a Washington State effort to bring a second daily Amtrak train across the border.
The Tyee will examine each of these issues over the next three days. But first, a look at how the myth of high-speed rail became Vancouver's urban legend du jour.
'All aboard for Obama's Cascadia Express'
Vancouver's must-read blogs and must-talk politicians have been buzzing about the prospects for a fast train to Seattle since April, when the U.S. government released a strategic plan for high-speed rail -- along with $8 billion of funding to get things rolling. The plan designates ten "High-Speed Rail Corridors." One of those runs northward from Oregon to the Terminal City.
Veteran city hall reporter Frances Bula kicked off the chattering class on April 20, when she posted a question on her popular blog: "Obama high-speed train link for Vancouver?"
Vancouver Mayor Gregor Robertson hopped aboard just days later.
"We're going to work together on accelerating getting high-speed rail connecting Portland, Seattle and Vancouver," he told The Province in a story published on April 26. "I'm hopeful we can bring it right into the transit hub at Waterfront Station so you can go downtown to downtown."
Non-Partisan Association councilor Suzanne Anton chimed in, "I absolutely think we need to focus on rail."
Not to be outdone, The Vancouver Sun replied the following day with a front-page column by Miro Cernetig.
"All aboard for Obama's Cascadia Express. Its destination is the future," Cernetig gushed.
"We're no longer just talking about slight improvements to this unique Canada-U.S. rail link. The political will now exists in the U.S. for a real push to high-speed train travel in the corridor, much like Amtrak's Acela Express now running between Boston, New York and Washington, D.C."
'Beyond the realm of possibility'
But that's not how it sounds at the Washington State Department of Transportation, which coordinates U.S. efforts to improve passenger rail in the Pacific Northwest.
"Our approach is an incremental approach. To put in Acela-type tracks would be way beyond the realm of possibility," spokesperson Vickie Sheehan told The Tyee.
"We are building conventional inter-city rail," said Sheehan, who works in the State Rail and Marine Office.
"I don't think anyone here envisions going faster than 79 miles per hour any time soon. The corridor is very curvy," she added.
Sheenan was equally blunt when asked whether there is any scenario under which Washington State would consider creating a new high-speed rail corridor like those in Europe and Japan.
"Not at all," she said.
The Tyee put the same questions to the U.S. Department of Transportation in Washington D.C.
"No one should expect Japanese-style bullet trains or French TGV-type trains with this initial investment," replied Federal Railroad Administration spokesman Warren Flatau.
"Rather, we will make incremental improvements to existing service by way of frequencies, improved equipment, and shortened trip times," he said.
No plans for BC at Transport Canada
Transport Canada expressed even less interest in bringing fast trains to Vancouver.
"The Government of Canada right now is not conducting any studies on high-speed rail service between Vancouver and Seattle," spokesperson Ben Stanford told The Tyee.
"There is an all-party parliamentary committee that's looking into high-speed rail. But they're currently studying only the Ontario-Quebec and Calgary-Edmonton options," he added.
B.C. Transportation Minister Kevin Falcon refused The Tyee's request for an interview. Ministry spokesperson Lisanne Bowness e-mailed the following reply: "So far, the ministry has had one technical/information discussion with Washington State regarding high speed rail. We are aware of what's going on south of the line, and we have not taken a position at this point. We are waiting for our new cabinet to be sworn in, and any future policy decisions would be pending that."
Legislation mandates incremental improvements
The seeds for this misunderstanding were sown back in 1992, when the U.S. Federal Railroad Administration (FRA) designated the 750-kilometer long rail corridor from Eugene, Oregon to Vancouver, British Columbia, as one of several "high speed rail corridors."
The hopeful designation was created for one reason, and one reason only: to render the antiquated Pacific Northwest rail lines eligible for future federal funds.
The Washington State legislature has taken in interest in passenger rail the year before, and assigned its transportation department to explore the prospects for high-speed rail.
What the planners found was sobering: The line between Oregon and British Columbia was built in 1872, and last upgraded in 1914. A subsequent Washington State report warned, "...for the most part, the system and infrastructure that we have in place today have been unchanged for 90 years."
As a result of the aging tracks' myriad twists and turns, the average achievable speed between Seattle and Vancouver is barely 80 kilometers per hour.
Upgrading those tracks to accommodate high-speed rail -- which is most often defined as 200 km/h or more -- was determined to be technically impossible. And developing a new rail corridor was deemed both prohibitively expensive and politically dangerous.
So the Washington State Legislature set aside its high-speed rail notions, and in 1993 passed a law directing state transportation officials to develop "high-quality intercity passenger rail service...through incremental upgrading of the existing [Amtrak] service."
Washington's efforts to create a 'rail culture'
The Washington State Legislature believed that this small-steps-first approach would help incubate a "rail culture" in the Pacific Northwest, and might eventually nurture the political will to develop actual high-speed rail -- sometime in the distant future.
As a result, the State Rail and Marine Office is not now -- and has not since 1993 -- studied, planned or prepared for high-speed rail anywhere in the "Pacific Northwest High-Speed Rail Corridor." Indeed, it is prohibited by law from doing so.
Washington State has, however, made remarkable progress within its mandate.
Passenger rail service between Seattle and Portland has been dramatically expanded, and service to Vancouver was restored in 1995. The new service, renamed Amtrak Cascades in 1999, utilizes trains capable of traveling at 175 kilometers per hour -- not quite high speed, but higher -- should funding for track improvements ever materialize.
"We're 10 years into the Amtrak Cascades improvement program," Sheehan said. "We now have about 40 capital rail projects proposed, funded, or underway."
'We are not building high-speed rail'
Washington State's long-range plan calls for four round-trip trains a day between Vancouver and Seattle by 2023. In addition, the plan calls for 13 trains per day between Seattle and Portland.
The proposed combination of track improvements and conventional trainsets that tilt slightly through the curves would reduce the travel time from Vancouver to Seattle from the existing four-hour trip to something closer to two and a half hours.
"We are not building high-speed rail," Sheehan said. "We are laying a foundation for faster passenger rail throughout the Pacific Northwest corridor."
Tomorrow: How B.C. turned away hundreds of millions of dollars in U.S. investment that would have upgraded the Seattle-to-Vancouver rail line.
Related Tyee stories: