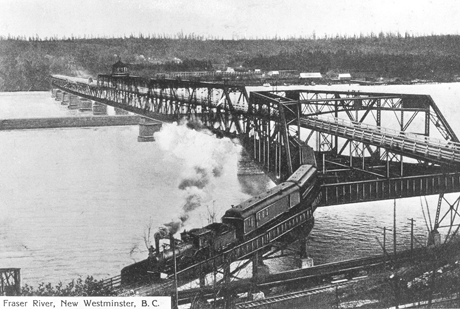 It was a bold idea: Build one bridge to serve two purposes. Automobiles on the upper deck, trains below, and a section that would swing aside so that ships could make their way up the Fraser River.
That was 1904. The Fraser River Swing Bridge provided the first hard link between the fertile farmlands south of the Fraser to the established city of New Westminster and the burgeoning Burrard Inlet railtown that lay beyond.
The lower level remains in daily use, though the upper level was removed in 1937 after the Pattullo Bridge opened. But today, the Fraser River Swing Bridge has become an Achilles heel that limits rail service to Vancouver.
Only one train can cross the antique bridge at a time. The maximum safe speed is 10 miles per hour. The 380-foot swing span must be opened well in advance of approaching ships because the river channel is difficult to navigate near the bridge. And, perversely, passenger trains must yield the right-of-way to slow moving freight trains. As a result, trains back up on both sides of the bridge, waiting to cross. And no passenger railway has been able to meet a timely schedule to or from Vancouver.
The notion that high-speed rail would run across the 105-year-old Fraser River Swing Bridge is laughable. Likewise, even the proposal to reestablish interurban streetcar service to the eastern suburbs is also held back in part by the lack of a workable rail link across the Fraser.
Begging the question
As The Tyee reported last week, no U.S. or Canadian government has any plan to bring high-speed rail to Vancouver. British Columbia's government has discouraged Washington State efforts to establish swifter passenger rail service from Seattle, and the Government of Canada is blocking even the restoration of slow-speed rail across the border.
The most intractable impediment to the improvement of all three forms of passenger rail service is the Fraser River Swing Bridge. One estimate pegged the cost of a replacement at $575 million. But even after throwing all that money at the problem, the twisty and crowded right-of-ways leading to and from the bridge would still require passenger trains to travel at or below highway speeds.
"It begs the question," mused Warren Flatau, a spokesman for the U.S. Federal Railroad Administration in Washington D.C., "If you are going to make expensive improvements to existing freight lines in order to improve existing passenger service, does that wed you over the long term to those older rail lines?"
True high-speed rail demands continuously welded tracks (to reduce vibration), much wider curves (often in excess of a five-kilometre radius), no road crossings (to avoid collisions), fencing (to prevent trespassing by animals or people) and are typically electrified via overhead lines.
On tracks like that, Spain and China are already served by scheduled service of 350 kilometers per hours. Service of 300 km/h is already common to several nations, with dozens more laying plans for similar service.
The French TGV zips from Paris and Lyon in less than two hours, for example. At those now-typical speeds, a train leaving Vancouver would require less than an hour to arrive in Seattle, two hours to Portland, five to San Francisco and eight to Los Angeles.
Flatau said the U.S. will both improve intercity passenger rail now, and develop true high-speed rail in the decades to come.
"One does not necessarily preclude the other," he said. "But," Flatau repeated, when faced with costly decisions about upgrading century-old infrastructure, "it really does beg the question."
A new spine for the Fraser Valley
So let's pose the question: If we were building a new north-south rail line in the 21st century, would we run it along the shore of the Georgia Strait, as was done in the mid-1800s? Would we purchase thousands of hectares of the most expensive waterfront real estate in the Pacific Northwest? Would we wind our new track around rocky outcroppings and bridge it across coastal wetlands?
Or would we look at the less expensive and less environmentally sensitive flatlands to the east? Would we look for a route through Surrey and Langley, perhaps crossing the American border somewhere near Cloverdale?
"That is the obvious alignment," said John Vissers, who speaks for a citizens group called Rail for the Valley. "There aren't all that many possibilities for high-speed or higher-speed rail corridors across the Fraser Valley."
Rail for the Valley is one of several grassroots groups advocating rail service to B.C.'s fastest growing communities. Alongside the Valley Transportation Advisory Committee and South Fraser OnTrax, Rail for the Valley is calling, first and foremost, for the restoration of the Interurban streetcar system, which ran from Vancouver to Abbotsford as recently as 1986. As a secondary objective, many of these rail activists would like to see a "spine" that would provide swift service among valley communities.
"We're talking about a fast train, on a dedicated track, travelling from Vancouver to Surrey, Langley, Abbotsford and back. Probably hourly service, or something like that," Vissers said.
"That has been a long-term vision for some time," he said, adding that "a system like that would be very, very effective" at both relieving the region's legendary highway congestion and at reshaping its development into sustainable pockets of density as a strategy to protect B.C.'s most fertile farmland from continued exurban sprawl.
"I like the Portland model where you have streetcars and then you have the MAX line," agreed Joe Zaccaria of South Fraser OnTrax.
"That's the way I see passenger rail in the valley working. You'd have local streetcar systems, each of which connects to a regional spine," he said. "That regional spine would need only three stops: Abbottsford, Langley, Surrey."
'It might even save money'
Both Vissers and Zaccaria agreed that the "obvious alignment" for a Fraser Valley spine is the same as that for a new high-speed rail corridor from Vancouver to the U.S. border.
"You could buy the land once, and build it all at the same time," Zaccaria suggested. "There could be some sort of double-tracking that facilitated the high-speed alongside the light rail."
"It would make the most sense to plan for one, multi-use alignment," Vissers agreed. "It might even save money in the long term."
The prospect of saving money is based on the relative cost of improving two separate rights of way.
A study of the Interurban line figured the capital cost of establishing basic light rail service from Vancouver to Chilliwack at roughly $1 billion. About half of that would be spent on a replacement for the Fraser River Swing Bridge.
Likewise, the cost of upgrading the century-old tracks from Vancouver to the U.S. border has also been estimated at about $1 billion. And about half of that was allotted to the Fraser River Swing Bridge.
All of which begs yet another question: Since the bridge is common to each project, could both be completed for $1.5 billion?
"It would make so much more sense to build a system that would serve more needs, than to pour new money into old tracks in a piecemeal fashion," Vissers said. "There's no question about that."
Zaccaria added, "The regional spine would pay for itself regardless of whether or not it also serves as a new route for intercity rail to Seattle."
Spine excluded from BC study?
B.C.'s Ministry of Transportation and Infrastructure last fall launched a study called the Strategic Review of Transit in the Fraser Valley. The study promises to "identify and assess options for transit services within the Fraser Valley and how to best provide transit service between the Fraser Valley and Metro Vancouver."
But the $400,000 project appears to have been designed to exclude direct consideration of the "obvious alignment." This is because the study's geographic scope is tightly defined to include only communities within the boundary of the Fraser Valley Regional District -- that's Mission, Abbotsford, Chilliwack, Kent, Harrison Hot Springs and Hope.
Langley and Surrey aren't on the list, suggesting that any serious consideration of a "spine" is, by definition, not something to be considered by the Fraser Valley Transit Study.
Minister of Transportation Kevin Falcon refused to be interviewed for this series.
Ministry spokesman Jeff Knight did not specifically reply to The Tyee's question about whether or not the study would encompass a north-south alignment through Surrey and Langley, but wrote in an e-mail, "The study will look at all major corridors, not just the Southern Rail Corridor."
Zaccaria urged the province to rethink the Fraser Valley study in the wake of both the U.S. decision to invest billions in high-speed rail, as well as Parliament's recent committee hearings into the subject.
"We need a study that looks for solutions," he said, "rather than another paper that lists well-known problems," such as the Fraser River bridge.
"We need a comprehensive study that says, 'This is our goal. And this is how we can get there,'" Zaccaria continued, "If we had a study like that, then that's something that Washington State would listen to. Because that's what they do. They don't just look at the problems. They look at the opportunities. And they ask themselves, 'How do we make this work?'"
Start by protecting corridors
"The corridors are what's really important," said Vissers, who serves on one of the study's several committees.
"We absolutely have to protect possible rail corridors. We have to protect them through zoning and through land acquisition," he continued. "The longer we wait the more difficult it is going to get."
Zaccaria said the challenge lies in persuading 21st-century leaders to think as multi-modally as the builders of the Fraser River Swing Bridge did.
"I think the province could be sold on the economic benefit of Vancouver-to-Seattle rail, whether that be high speed or higher speed. I think they see the economic benefit of that," he said.
"I don't think the federal government is at all with it when it comes to looking at these issues in the West. It seems like everything is Toronto-focused, with Toronto getting millions of dollar for upgrades to rail," he continued.
"I really think the biggest issue is political will," Zaccaria said. "If we had the political will, all of the obstacles would fall away and we would be building passenger rail like crazy."
Related Tyee stories: