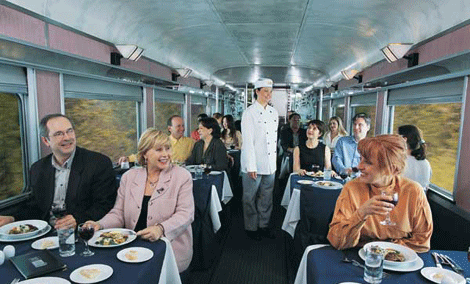 Not long ago, my wife and I went from Vancouver to Ottawa on Via Rail. The three-day first stage of our journey was on Via's Silver and Blue service: individual roomettes, superb food, and endless hours in a dome car. The second stage, from Toronto to Ottawa, was on a regular train taking four hours.
I'd taken short train trips before -- in Canada, the U.S., and China -- but nothing this long. Yes, the romance of the rails was a factor: the last spike, Gordon Lightfoot, even Murder on the Orient Express. How many British films and TV shows take place on trains? How many of our ancestors rode swaying across the Prairies to take possession of their own quarter section?
Compounding that romantic feeling was an anxious sense that flying can't last. A generation has grown up accustomed to cheap airfares and frequent flights. But our sudden understanding of global warming has made us more than nervous. Jet after jet dumps greenhouse gases at 38,000 feet -- the equivalent of what each passenger might emit in a year of routine highway driving.
George Monbiot, in his book Heat, confesses he can find no solution for air travel as a contributor to global warming. Other transportation systems can reduce their emissions, but airliners are locked into burning kerosene at high altitudes. At least one airline, Ryanair, reports a slowdown in ticket sales thanks to media condemnation of low-cost air travel as an environmental problem.
Train travel nostalgia trip?
So could we go back to train travel for business trips, tourism, and family reunions? Could we hand air travel over to the minorities: the very rich, the very powerful, and the military?
It wouldn't be easy. According to a StatsCan survey of domestic travel, Canadians made 175.1 million person-trips in 2004. Of those, 160.8 million were by car, 7 million were by plane, 4.6 million were by bus, and only 1.3 million were by train. (Train trips that year jumped by 17 per cent over 2003.)
What's more, government policies since the 1970s have deliberately discouraged train travel. Both Liberal and Conservative governments have cut subsidies for passenger trains. According to Wikipedia, 80 per cent of our current train travel is in the Windsor-Quebec City corridor. Via Rail's #2 train, the one we took, runs just a couple of times a week, carrying no more passengers than an average Air Canada flight from Vancouver to Toronto.
Via's passengers, rich or poor, need patience. You can ride fairly cheaply, and miserably, by sitting up day and night in "comfort class." Or you can sit in an open compartment during the day and sleep in a berth at night. Or, as we did, you can sleep in a fairly comfortable roomette with your own toilet, sink, and door.
Freight trains outrank passengers
Whatever class you travel in, you soon realize that every freight train outranks you. The #2 slows down or stops several times a day to let freights go by. It's exciting, at first, to sit on a siding as the freight cars whiz by just a metre or so away. Then it's just noisy and boring.
Living in a rolling hotel, passengers soon focus on mealtimes, and the meals are very good. But depending on when you're booked for a sitting, you may eat lunch at 11:00 or dinner at 8:00. Once fed, the berth passengers retreat to their seats for naps; the Silver and Blue passengers go to the dome or back to their roomettes. Some people use the activity car to play cards or bingo. On our trip, many of the passengers ignored the scenery and talked about other places they'd traveled.
To run a similar service for double or triple the number of passengers would require an enormous investment in infrastructure: double- and triple-tracking, more trains, more stops, split-second scheduling. Costs would have to come down dramatically, requiring a dramatic boost in subsidies.
Moreover, passengers would have to change their attitudes and expectations. Most of today's train travellers are affluent seniors, in no rush to get anywhere. They travel for pleasure, not for urgent business or family matters.
Most air travelers, by contrast, would go crazy on a long-distance train. They're used to being cramped in an aluminum tube for a few hours, maybe with a video screen on the seat back in front of them. It's not as comfortable as the train, but it's brief. The idea of taking three days and nights just to attend a wedding or graduation, or a business meeting, would seem intolerable by comparison.
An airliner on wheels
The second stage of our trip was sharply different from the #2. The train from Toronto to Ottawa was, in effect, an airliner on rails.
Seats were extremely comfortable, even more than the seats in our roomettes. We could stow our luggage in either a special section at the front of the car, or in an overhead compartment. Snacks and drinks were available from carts pushed down the aisle. We'd brought our own lunch, and used airline-style pull-down tables.
Equally important, this train was fast. We stopped at a few stations along the way, but most of the time we rolled through the Ontario countryside at well over 100 km/h. So I can see why 80 percent of Canada's train traffic is in this Windsor-Quebec City corridor. Destinations are close, and you can generally go from downtown to downtown. It's actually cheaper, in money and time, to take the train than to fight traffic out to an airport, park, get on the plane, and then reverse the process at your destination. The same is almost true of cross-Canada train travel. Maybe you'd save a couple of hundred dollars if you drove, but it would be a costly saving. To drive from Vancouver to Toronto in three days would be impossible. You'd have to stop for meals, for sleep, for gas. Food, fuel and accommodations would all cost plenty. And you'd arrive exhausted and stressed.
When air travel is not an option
It seems likely that at some point air travel will cease to be an option for most of us, unless dirigibles make an unexpected comeback. Whether for long or short trips, we will have to travel by surface transport. Maybe it will be buses, moving in huge convoys down Highway 1. Maybe it will be hybrid cars, with computers keeping them at a safe distance from one another. But it could be trains.
Imagine a train like the Toronto-Ottawa shuttle, but with even better seating -- like that in airline business class, able to stretch into something like a bed. Imagine the train running on a dedicated track from Vancouver to Kelowna to Revelstoke and then to Calgary and points east.
Some trains would make scheduled stops along the way. Others would rocket from Vancouver to Calgary, then to Regina or Saskatoon, then to Winnipeg, and on to Toronto. Long-distance travelers could sleep in their seats, watch video or go online, and enjoy simple but tasty food.
Passengers would need to consider their journey as important as their destination -- an opportunity for fun, relaxation, and socializing. They would certainly be pleasanter than the aluminum tube that brought me home to Vancouver from Ottawa in five cramped hours.
Related Tyee stories: