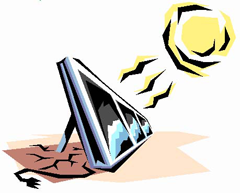 British Columbia's abundant hydropower means our hands stay almost clean of dirty electricity imports. But what most people don't know is that B.C.'s hands are already dirty for another reason: the province still relies heavily on a carbon-emitting fossil fuel for most heating and hot water needs. Every hot shower, load of laundry, dishwasher cycle and notch up on the thermostat requires thermal energy, and here in B.C., most homes use natural gas to supply it.
The provincial government recently invested $25 million in biofuels and bioenergy as alternatives to natural gas, but some experts say the government should be doing more to reduce the demand for thermal energy needs in the first place.
Some advocate using more solar energy. "If we want to be carbon neutral by 2050, it doesn't make sense not to include these systems in all new buildings," says Nitya Harris, executive director of Solar B.C.
In fact, solar hot water is considered low-hanging fruit in terms of energy conservation; it's an inexpensive, easy-to-install and proven technology, with a payoff period of five to seven years.
In Hawaii's wake
Solar B.C. has received $62,000 from the province to develop a solar strategy, and achieve its goal of 100,000 solar roofs in the province by 2020. And there is a grant of up to $1,625 in provincial funds available for homeowners who want to install solar hot-water systems.
However, the Liberals stopped short of making solar heating a requirement in all new buildings, as has been done in places like Spain and Hawaii.
When a draft version of the B.C.'s green building code was outlined in a session at the Union of B.C. Municipalities last September, some councillors and mayors said they were disappointed that the regulations weren't more stringent.
"I wasn't inspired," said David Finnis, district of Summerland councillor, at the time. "I wanted to see regulations that say you must be at least solar-ready when you build a house. We just need to move already."
Millennium leaders
That's not to say that some municipalities, real-estate developers and individuals aren't moving in this direction. The Millennium Water development, home of Vancouver's Olympic village, pushes the envelope of green building in B.C., with solar hot water, sewer heat transfer, water recycling, and radiant ceiling heating and cooling.
So why aren't these technologies more widespread?
Roger Bayley a structural engineer with Merrick architectural firm and the Millennium design manager, says homeowners aren't particularly familiar with what's out there. Why not? "We've all been using gas furnaces for a very long time," he says. And because people don't know about the alternatives and aren't asking for them, developers don't have a broad market incentive to implement them. He also believes there is a misconception on the part of provincial and civic governments that if they do crack down on codes, developers will go elsewhere.
"Often, people are not yet willing at the regulatory level to really recognize that we've got to get tough now," says Bayley.
"If you look at... what we might need to do to meet any of the climate-action plan being discussed over the next 10, 15, 20 years, from my point of view, the green building code hasn't gone far enough."
Dawson Creek, carbon neutral
Although councils can't pass bylaws that supersede the provincial building code, they can make decisions about their own municipal buildings.
The city of Dawson Creek currently spends more than $1 million heating and cooling its municipal buildings.
"With that cost comes a substantial amount of emissions," says Emanuel Machado, director of corporate planning.
Two years ago, Dawson Creek city council began implementing a plan to become carbon neutral by 2012. City hall, the fire station, RCMP detachment, municipal pool, arena, airport and a cultural centre have all been retrofitted with solar heating systems.
"Anywhere we're heating water with natural gas, we preheat with a solar hot-water system," says Machado. "At the very least, it saves about 30 per cent on natural gas and sometimes up to 50 per cent."
Heating buildings with food
To complement its existing solar heating program, the city is also looking for bioenergy options to replace natural gas that its buildings do require, says Machado.
"Stay away from food; stay away from existing industries; stay away from farming-intensive practices. Those were our guidelines based on the advice of a community working-group," says Machado.
A recent study found there was enough agricultural waste in the form of straw waste -- the stems and leaves left in the field after straw is harvested -- to fuel a municipal boiler system, but they are moving slowly says Machado, cautious not to become reliant on an energy feedstock that might become scarce or unsustainable in the future.
These are some of the reasons waste is considered an attractive option for bioenergy, and here in British Columbia, the provincial government is encouraging energy from forest waste -- particularly beetle-killed wood -- as well as agricultural and even human waste.
Granting clean-energy wishes
Last week, the Ministry of Technology, Trades and Economic Development announced the first wave of handouts from its Innovative Clean Energy Fund.
Of the 15 recipients of sums ranging from $3.5 million to $40,000 each, more than half intend to produce bioenergy from forest waste and beetle-killed wood. Seven of the projects will produce bioenergy in the form of heat or fuel.
However, waste-to-energy conversion isn't itself a no-waste, zero-emission solution.
Take anaerobic digestion, for example. It's technology that has been around for three decades in many European countries, but there are only 15 digesters in all of Canada -- and none in British Columbia yet.
Organic solutions
It works by decomposing manure and other organic waste. In the absence of oxygen, the waste releases methane gas which is converted to energy using one, or a combination, of three different methods; it can be burned to produce heat, the gas can be captured to power an electric generator, or it can be cleaned and used wherever natural gas would be.
Gustav Rogstrand, waste management engineer for the Ministry of Agriculture, says this last method is likely the most financially feasible for B.C. farmers interested in the technology -- but it requires another source of organic waste, such as that from food processing plants.
"For the anaerobic digester facility owner, the upside it that (a) you get a tipping fee, and (b) you get more gas produced per unit volume of material that you're digesting... off-farm material, fats, oils and greases, potentially food waste, is much better at producing gas than dairy manure is, for example," says Rogstrand.
Clean law breaking
The implications of bringing in off-farm waste have their own set of issues, however. For one, it's illegal in B.C. right now, and for another, it would add more nutrients like nitrogen, into the already overloaded Fraser Valley.
"It's touted as a waste management strategy, but it isn't," says John Paul, a soil microbiologist and the president of Transform Compost Systems.
"It doesn't change the volume of manure or the amount of nutrients in it... two major waste management problems."
Energy from forestry waste has its own set of emissions issues.
"It's about carbon, carbon, carbon," says Dave Neads, a longtime independent forestry consultant.
"If we use that waste material now to build bioenergy plants, long beyond the time when these wasteful logging practices will cease, you've got ingrained in the system carbon-producing infrastructure."
"We always tend to rely on the silver bullet. What we really need is the silver buckshot, we need to do a lot of little things well."
Related Tyee stories: