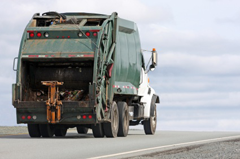 When it comes to trash, some offers to take it out seem too good to be true.
At the GLOBE business and environment convention in Vancouver last March, Rod Bryden, president of Plasco Energy Group, told the mayors and councillors there from across Canada that if they gave Plasco's technology a chance, his company would cover the costs of building and operating a new kind of garbage facility in their community.
Plasco's system converts waste into heat and electricity, instead of just burying or burning it, the two standard current methods in Canada.
It sounds great. But the technology is still in the test phase, and Plasco's ability to measure, mitigate and control emissions isn't known. And there are also questions about whether municipal solid waste should really be considered a renewable energy resource, no matter how clean the process may be. Some experts say we'd be far better off if we increased recycling and composting.
Ottawa 2010
Last month, however, Ottawa's city council unanimously agreed to accept Plasco's offer. A $125 million plasma gasification plant capable of taking 400 tonnes of solid waste per day and converting it to electricity could be up and running by 2010.
Metro Vancouver says the region could support three to six such facilities, and though it hasn't settled on any particular technology, Port Moody city council recently signed a non-binding letter of intent with Plasco authorizing the company to create a proposal for a plant there.
Although Plasco has not settled a contract with BC Hydro, Bryden says he is confident that they would earn back their investment through sales of the electricity produced by the waste, the tipping fees that municipalities pay to landfills that they'd now have to pay to the waste-to-energy plant, and potential carbon credits. What, then, wonder critics, happens to the incentive to minimize waste?
Wrong question?
Paul Connett, a chemist and waste management expert with the American Environmental Health Studies Project, called waste-to-energy "a technological answer to the wrong question."
"We should be talking about resource management, not waste management," he said during a presentation at the Recycling Council of B.C.'s annual conference. By that, he means we shouldn't be looking at how to get rid of the waste that now ends up in landfills, but how to reduce or even eliminate waste before it gets there -- through recycling and composting, and through extended producer responsibility (which means companies that sell products have to take responsibility for the waste produced by their products).
A little more than half of Metro Vancouver's solid waste stream, which altogether totals about three million tonnes per year, is already considered a "resource." Fifty-two per cent is recycled. The remaining half is a mix of wood, paper, organic, plastic and other waste, and goes to one of two landfills or the Burrard waste incinerator.
Diverting ideas
The core of Metro Vancouver's waste management strategy is to reach a 70 per cent diversion rate by 2015. That means that 70 per cent of the region's waste doesn't go to the landfill.
Outlined on its website are the ways it intends to achieve this goal; first by reducing, reusing and recycling as much as possible, then recovering energy from the remaining waste. This is where waste-to-energy technology fits in.
John Ranta, mayor of Cache Creek, said he supports waste diversion through recycling and composting, but thinks whatever is still left (the residuals) would be better left in a landfill -- his landfill.
That's partly because approximately 100 people in Cache Creek have jobs hauling waste from Metro Vancouver's transfer stations back to town, and he doesn't want to see those jobs lost.
Energy to burn
Ranta and council attempted to squeeze even more employment from their garbage resource. Anything that sits in a landfill creates methane, a potent greenhouse gas, so landfills are required to burn the gas. The Cache Creek council tried to find a company to build a greenhouse that would run on heat created by methane gas flaring. But no one was interested.
Ranta believes landfills, particularly those with a source to which they can send waste heat, are more sustainable in the long term than waste-to-energy.
"The advantage lies in landfilling," says Ranta.
"And the reason I say that, is our desire to see a shift in behaviours and a reduction in the amount of waste actually going to landfills... as soon as you build a waste-to-energy facility you have to feed it with waste."
Organic solutions
Marvin Hunt, chair of Metro Vancouver's waste management committee, said the region would have no trouble supplying waste-to-energy plants, even if it achieves its goal of 70 per cent diversion.
He said he doesn't consider waste-to-energy to be part of the diversion strategy, but rather an alternative to land-filling any residual waste that can't be reused or recycled.
The committee is at least a year away from deciding on which waste-to-energy technologies the region should pursue, he says, and right now the priority is getting organics out of garbage bins.
"Our hope is that by next year we will have something to deal with the organics," says Hunt, meaning compost collection.
"That's part of the 70 per cent diversion. Once that's out, we have this residual that's left, that shouldn't have an awful lot of organics in it, that could go to waste-to-energy."
Yet, organic material is one of the best sources of energy in terms of bang for your buck. According to Bryden, if a plasma gasification plant relied solely on organic material, it could produce 800 MW of energy per tonne of waste, instead of the 1.2 MW produced from a tonne of mixed organic and non-organic waste.
However, with its high moisture content, organic material also requires more heat during the gasification process, decreasing overall efficiency of the system, he says.
One stop recycling shops
Bob Parsons, Port Moody's project director, acknowledged concerns about creating a demand for garbage, but Plasco's modular design means it could up and move somewhere else should the garbage supply become insufficient.
"These are the options for communities that need economic development?" asks Hilda Bechler, a sustainable community development consultant.
Instead of waste-to-energy plants or landfills, she believes Metro Vancouver needs a more comprehensive plan for garbage that will help local economies gain the most value from their waste -- like the one-stop recycling shop being marketed by one non-profit in Boulder, Colorado.
It's called Eco-Cycle, and Eric Lombardi is the executive director who is trying to sell communities on the idea of a resource recovery park with traditional recycling (paper, plastic and glass) and non-traditional recycling (building materials, Styrofoam and so on), as well as facilities for building material recovery and composting.
He believes composting is a better option for kitchen and backyard organics than a waste-to-energy facility. Both eliminate methane, but the former is simpler and less expensive.
"It's not new technology, it's all off-the-shelf, it's just a matter of putting it all to one place," says Lombardi.
"We can create a local economy around resource recovery."
Micro-economies
These micro-economies already exist to some extent in British Columbia, from bottle collectors to building material recovery centers.
However, this approach doesn't address the carbon emissions associated with trucking waste from place to place. And the fact that most of the world's recycled material is remanufactured in China is another stumbling block to making waste management practices truly sustainable.
One of the biggest components of sustainable waste management is reducing the amount produced in the first place, says Mairi Welman, deputy executive director of the Recycling Council of B.C..
The Recycling Council of B.C. hasn't yet taken a position on waste-to-energy," she says.
"What we are firmly behind is the extended producer responsibility. It removes the burden of responsibility of cost from the municipality... and when you make the producer responsible, it pushes design for environmental further up the chain."
Hunt says Metro Vancouver supports extended producer responsibility, but the power to enforce it is in the hands of the province.
"We're pushing as hard as we can," he says. "In the meantime, we're trying to be creative on our side of things."
Related Tyee stories