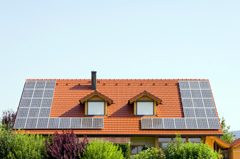 British Columbia has a global reputation for developing cheap, renewable energy, thanks to its dependence on hydroelectricity.
But what about tapping tides, wind and sun to create power? In those areas, say experts, B.C. lags far behind other places in the world because we refuse to pay high enough rates to foster those alternative energy sectors.
Critics say that failure to support a range of renewable energy options is a black mark on the green reputation the province is trying to build.
Germany, for example, has literally hundreds of thousands of roof top photovoltaic systems, generating 2,000 GW hours of solar electricity per year. That's nearly half the generating capacity of BC Hydro's proposed Site C dam.
"Germany is the world leader on solar," says Guy Dauncey, president of the B.C. Renewable Energy Association.
"And we get just as much sunshine as they do."
And in 2006, Germany's wind capacity was an astounding 30,5000 GW hours, six times the amount BC Hydro is targeting in it's most recent call for clean power.
The power of 'feed-in tariff'
So why does B.C. have zero solar capacity? Why are we still the only province in Canada without operating wind turbines?
It comes down to what we consider green, and what we're willing to pay for it.
While it's true that Germany still relies on coal for the majority its energy, the country is turning its energy economy around very quickly, thanks in part to the participation of individuals and communities.
Its success is credited to the creation of a feed-in tariff for renewables. Anyone generating electricity from hydro, solar photovoltaic or wind gets paid four times the market rate, guaranteed, for 20 years. There are similar tariffs in Denmark, Spain, France, Portugal and Japan, mostly targeting solar.
"It's a massive incentive to get a lot of power produced," says Dauncey.
"In the early days, it was mostly corporations doing it, but now, in Denmark for example, 50 per cent of power projects are cooperatively owned."
Tough bidding process
BC Hydro has procured its clean power, as mandated by the provincial government's energy plan, with calls to the private sector. It's a competitive process, with potential producers bidding to supply a fixed amount.
The first, in 2002, yielded 14 run-of-river projects, one landfill gas capture project and one wind project (which was terminated in 2005.)
The second, in 2006, resulted in 29 hydro, three wind, two biomass, two waste heat and two coal/biomass projects.
Right now, there is a call for bioenergy, targeting wood residue from the forest industry, including beetle-killed wood, and a call for clean power targeting 5,000 GW hours of electricity per year.
Steve Davis, president of the Independent Power Producers of B.C., says he's aware of 50 to 100 projects, with a total generating capacity of 20,000 GW, that have bid on this latest clean power call.
"In other words, it's a highly competitive bid situation for companies wishing to sell energy," says Davis.
"Three out of four people are going to be losers. They're all going to have to deal very sharply."
This kind of bidding process may keep prices low, but also keeps small players, and higher-priced technologies, out.
"In a competitive bid process you can spend a tremendous amount of money up front and end up with nothing," says Nicholas Heap, a climate and energy policy analyst with the David Suzuki Foundation.
"If you're a large corporation, that's a calculated risk, but if you're a small co-op or municipality, the risk of putting that much money in to begin with can stop you from even starting."
Revise pricing structure: critics
These were some of the issues the provincial government professed to address with its own version of the feed-in tariff; a standing offer program developed to encourage small renewable projects around the province.
But critics say this program is "weak," and pales in comparison to similar policies in Europe. The problem? It doesn't pay enough, and doesn't differentiate between the varying costs of renewable energy technologies.
The program offers 7.1 to 8.3 cents per kW hour for projects that meet specific criteria: they must use renewable resources, proven technology and be less than 10 MW. The price range is based on region, not technology.
Last summer, BC Hydro held a public consultation process on the design of its standing offer program.
"We intervened early in the process," says Heap.
"We had concerns that there weren't different prices for different technologies. If the point... is to build a renewable energy sector in B.C., that needs to be achieved with different prices to make different technologies viable."
BC's reputation on the line?
Paul Gipe, a renewable energy advocate and one of the principal architects behind Ontario's version of the renewable feed-in tariff, says he was unimpressed by the first drafts of BC Hydro's program.
"What was proposed was pathetic, it was a farce," he says. "They [BC Hydro] were barraged with criticism of the proposal."
Gipe says BC Hydro senior employees consulted him during the development stages.
"[I] laid out a case for how, if B.C. really wanted to stand out with the upcoming Olympics, if the Campbell government and BC Hydro wanted to take a prominent place in North America with renewable energy policy... these are the things they would have to do."
The number one priority, says Gipe, should have been raising the price for renewable energy under the standing offer program.
BC Hydro defends approach
A public affairs officer for BC Hydro said there were some adjustments based on the public feedback process, but no major shifts from the draft version to the one that was officially launched in April.
"The objective of the program is not to subsidize particular forms of renewable energy development," Ministry of Energy, Mines and Petroleum Resources spokesperson Jake Jacobs told The Tyee in an e-mail.
"It is to streamline the process and reduce administrative costs for bringing on new small clean, renewable or high efficiency co-generation projects at a competitive price."
Jacobs also stated that the ministry and BC Hydro are monitoring the program to determine if it's successful in meeting its objectives.
"BC Hydro has the prerogative to say, here's our price point going out, let's see what we get," says Davis.
Davis points out that the price offered in the standing offer contract was based on the average price of the last call for power, issued in 2006.
"Frankly... to issue a standing offer program with a similar price range ignores the fact that since 2006, the cost of building such things has gone up," he says.
"And in the world of natural resources, the cheapest projects are typically built first."
Chasing the sun in Toronto
What are the implications of having a policy that builds the cheapest, most cost-effective projects first?
Some say we're missing out on an important consequence of feed-in tariffs elsewhere: more community, individual and regional participation in power production, using resources that are available locally.
Next Tuesday, we go to Ontario, where that province's feed-in tariff has prompted a group of Toronto homeowners to invest in the sun.