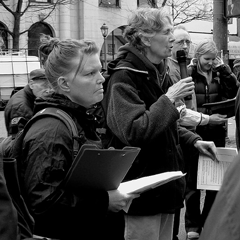 Marion Bennett and Stephen Moore were evicted from their Vancouver apartment last week, along with all of their neighbours. Their landlord, developer Robert Wilson, plans to renovate the Downtown Eastside building and resell the units as condominiums.
Bennett and Moore are but two of an estimated 300 to 400 Downtown Eastside residents to receive similar eviction notices in the past few months. They've fared better than most; with the help of local advocates, Bennett and Moore were able to rent rooms in nearby residential hotels. But in order to secure beds in these single-room occupancy hotels (or SROs), the couple of eight years is now sleeping apart in order to avoid sleeping on the streets.
Real estate investor Robert Wilson has fared well, too. He's sold seven SROs to the province for a total of $27.8 million, which is an estimated $11.7 million more than he paid for them less than two years ago. And he stands to make millions more when he resells his recently vacated apartments as condos.
Together, their stories illustrate the complex web of free-market forces that are driving the cost of rental housing beyond reach of low-income Vancouverites, pushing working-class tenants into substandard housing, and leaving the region's most vulnerable residents -- often the elderly, disabled, or addicted -- in the streets.
These intertwined tales also demonstrate how the province's recent acquisitions of 16 Downtown Eastside residential hotels -- while an essential part of British Columbia's long-term strategy to house the homeless -- has been unable to keep pace with the rapid gentrification of what was once known as Canada's poorest urban postal code.
Strata buildings like 'time bombs'
Bennett and Moore considered themselves lucky when they found an apartment at 334 Carrall St. about a year and a half ago. Though the building's front door was just steps away from Hastings Street, its interior courtyard provided a sunny oasis from the hustle and grind of the drug market that perpetually circles Pigeon Park.
Their studio apartment included a full kitchen, large closets and a North Shore view, all for just $440 a month. Two-bedroom units went for $674. Their neighbours included a dispatcher at a local towing company, a city parking enforcement officer, several janitors and a few security guards.
"Most of us worked long hours," Moore said. He smoked a cigarette while surveying a half-packed heap of possessions. "We'd go to work, come home, have dinner, watch some TV, go to bed, then get up and do it all again."
But with nearby condos fetching $400,000 and up, letting apartments at working-class rents no longer provides a reasonable return on investment. It would take 50 years just to pay off the $400,000 principal at $674 a month. Once interest and expenses are factored into the equation, a landlord would have to wait more than a century to bank the same money he'd get by selling the condo.
Robert Wilson refused to be interviewed for this article. His employee, Guillermo Osornio, did confirm certain facts by e-mail. Osornio wrote: "334 Carrall St. is a legally stratified market condominium building, and we are complying legally within the guidelines of the [Residential Tenancy Act]."
In other words, because the apartment shared by Bennett and Moore was built as a condo in 1983, Wilson does not need the city's permission to resell it now. (Also, due to its Downtown Eastside location, the Carrall Street building is also exempt from a city law aimed at protecting rental buildings from condo conversion.)
"These strata buildings are like time bombs," said lawyer and housing activist David Eby of the non-profit Pivot Legal Society. "This housing can legally be withdrawn from the fast-shrinking rental market at any time an owner chooses."
The run of recent evictions has not been limited to strata buildings, however. The Carrall Street condos are just one of at least five Downtown Eastside properties that have initiated eviction proceedings in the past three months. Others include the Backpackers Inn, the Dominion Hotel, Phoenix Apartments and Marie Gomez Place.
Until recently, these buildings provided more than 200 homes. As was the case with Bennett and Moore, many of those rooms and suites housed two people. The net result is that between 300 and 400 more of Vancouver's lowest-income residents are now searching for a cheap place to live.
'Our rent was going to double'
The province is rapidly becoming the largest low-income landlord in the Downtown Eastside. In an effort to reduce homelessness, BC Housing has purchased 16 Vancouver SROs with a total of 925 rooms. Similar investments have been made in Burnaby, Kamloops, New Westminster and Victoria.
But the experiences of Bennett and Moore suggest that in the short-run at least, many of these rooms are being let not to the homeless on the streets, but to working-class Vancouverites who cannot find any other place to live.
Moore said the couple began looking for a new apartment last year. (Wilson began eviction procedures last summer but was delayed by the municipal strike.) Moore said he'd been laid off his construction job following an injury, and so the two of them were getting by on the $14 an hour Bennett brought home.
"Bachelors' suites like ours were going for $800 bucks, $850 bucks," Moore said. "We saw pretty quick that our rent was going to double. We could probably scrape together the rent. But we don't have the cash to move in."
The couple then lowered their expectations and looked for an SRO room. "We can't find a place for the two of us," Moore said. "So she's got to live in a place by herself. I've got to live in a place by myself."
With help from activists and service workers, Bennett (along with several other former 334 Carrall St. tenants) obtained a room in one of the SROs the province bought last year. With assistance from the local welfare office, Moore was able to rent into a room at a privately owned SRO.
"We got them moved to the top of the list," said Wendy Pedersen, an activist with the Carnegie Community Action Project. "We squeaked them in front of a thousand homeless people in order to prevent them from becoming homeless. I don't feel great about that. But I couldn't just stand by and let these people go straight to the street."
Pedersen pointed out that the couple that until recently had paid their taxes and rented one apartment in the free market, are now receiving public assistance and occupying two homes previously available to Vancouver's most-vulnerable residents. She said situations like this one are now commonplace in the Downtown Eastside.
"[Housing Minster] Rich Coleman said he bought those hotels in order to move homeless people off the street. But that's not what's happening. BC Housing is filling up its hotels with working-class people who can no longer afford to live in Vancouver," Pedersen said. "Meanwhile, the ranks of the homeless just keep growing."
$10 million profit reported
While Bennett and Moore's situation is increasingly common, Wilson's is not.
"Robert Wilson is unique among Downtown Eastside real estate investors," said Eby, who has represented tenants in disputes involving Wilson.
"Wilson was really the only developer buying SROs on a large scale in 2006. He acquired a virtual monopoly on the apartment buildings and hotels available at that time. And when the province finally decided it was interested in buying these sorts of properties, Wilson was able to name his price," Eby said.
The Tyee first reported on Wilson's SRO buying spree in February 2007. Wilson sold two of those buildings just two months later, pocketing an estimated $1.75 million on properties he'd held only a few months. He bought the Walton Hotel (at 261-265 E. Hastings St.) for a reported $1.65 million in February, and sold it for $2.3 million in April, according to figures from BC Housing; likewise he bought Orange Hall (329-241 Gore Ave.) for a reported $3 million, and sold it for $4.1 million.
From May 2007 until late last year, a company with ties to Wilson was hired by BC Housing to manage the buildings. Archer Realty managed nine of the province's first 10 Vancouver SROs. Archer was to receive 7 per cent of all collected rents -- much of which was paid by provincial taxpayers in the form of welfare vouchers -- and management fees totalling 5 per cent of improvements, according to a contract obtained from BC Housing via a Freedom of Information act request.
Wilson does not own Archer Realty, according to Osornio. Provincial records list Laura MacNiel as the firm's principal. But Archer does operate from the same Richards Street office as Wilson's Georgia Laine Developments, and Archer hired Osornio to manage the BC Housing properties.
And just last month, Wilson sold five more Downtown Eastside SROs to the province for a combined total of $21.4 million, according to BC Housing. The 97-unit Gastown Hotel was the largest of those. Wilson purchased the Gastown -- a flophouse that lets rooms by the hour to prostitutes and drug users -- for $3.3 million in 2006. He sold it to the province for $5.2 million. Published reports have estimated that Wilson grossed more than $10 million on last month's resale of these five poverty hotels, raising his gross profit on all seven SROs to an estimated $11.7 million.
Losing traction
If the 330 SRO rooms purchased by the province last month were empty, they would almost provide enough housing to absorb the 300 to 400 low-income residents evicted by Wilson and other landlords in the past few months.
But only about 115 of the new rooms are vacant. So despite the expense of $23.7 million this year -- on top of $37.1 million last year, and tens of millions more for predevelopment of new social housing that will take a decade to complete -- BC Housing has not been able to create new homes in the Downtown Eastside as fast as real estate investors are creating new homeless people.
And Wilson, who has demonstrated a talent for finding buildings that may soon be of interest to the province, now has another $21.4 million worth of tax dollars with which he is free to pursue new investment opportunities.
"What the province is doing with the SROs has become a shell game," Eby said.
"It makes little difference whether SRO tenants are displaced by investors making way for condominiums, or by the province renovating hotel rooms into supportive housing," he added.
"Housing that was formerly available to people on welfare or people with disabilities is now being rented by working tenants. No one begrudges them their homes. But the people who used to crowd into those hotel rooms are now sleeping on the streets."
Eby said that charities are indirectly but increasingly subsidizing rents in the Downtown Eastside.
"When rents rise beyond the $375 a month paid by welfare, people on assistance are forced to use their food money to pay their rent," Eby explained. "Most wind up obtaining groceries at food banks, or eating at soup kitchens. Those charities provide free food to tenants who would otherwise have been able to purchase it. In this way, neighbourhood churches and other charitable organizations wind up subsidizing real estate investors."
Moore said he doesn't begrudge Wilson's "right to make a buck," but wishes his former landlord would share the wealth. Bennett and Moore were among a half-dozen former Carrall Street tenants who joined with the Carnegie project to ask Wilson to return some of his windfall to evicted tenants. Wilson refused. Carnegie picketed the Richards Street offices of his company, Georgia Laine Developments.
"The guy flips a few hotels, makes $10 million," Moore said. "What amazes me is that the city lets this guy get away with it."
Related Tyee stories: