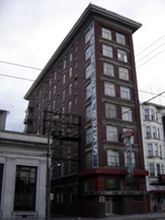 One out of every five cheap rooms in the Downtown Eastside changed ownership in 2006, as rising real estate prices fuelled the sale of aging single-room-accommodation (SRA) hotels in Canada's poorest neighbourhood.
At least 20 SRA hotels were sold between March and October of last year, according to figures provided by the City of Vancouver. Those hotels represent about 1,010 of the estimated 5,000 SRA rooms that remain in the Downtown Eastside. More than a third of those recently transferred rooms are now in the hands of developer Robert Wilson, a relatively unknown player in Vancouver's fastest-changing neighbourhood.
On Tuesday afternoon, Vancouver city council is scheduled to vote on a moratorium that would prohibit the conversion or demolition of SRA units. The emergency measure was proposed last October by Vision Vancouver councillor Tim Stevenson. But the controversial vote has been postponed almost four months by the Non-Partisan Alliance-controlled council.
"We are on red alert in the Downtown Eastside," said Wendy Pedersen, a housing activist at the Carnegie Community Action Project, which requested the SRA sales data from the city. "One-fifth of our low-income housing stock is likely to be lost in the near future. If we lose that housing -- whether through demolition for condos or just through conversion to the more expensive backpacker-style student hotels -- then there are going to be up to a thousand more people living on the Vancouver streets."
Wilson's acquisitions
Developer Robert Wilson has purchased at least six SRA hotels in the Downtown Eastside, according to the city, with an estimated total of 346 rooms.
Wilson's recently acquired holdings include the 90-room Gastown Hotel at 110 Water St., (for which he paid a reported $3.3 million), the 70-unit Arco Hotel at 81 W. Pender, the 56-unit Shaldon Hotel at 52 E. Hastings, the 51-unit Walton Hotel at 261 E. Hastings, the 46-unit Rainier Hotel at 309 Carrall, and the 33-unit Pender Hotel at 31 W. Pender. Wilson also owns the property next door to the Pender Hotel, which has remained shuttered since shortly after a controversial police raid in September 2005.
In addition to these six properties, the sales of which were confirmed late last week, sources within city hall have told The Tyee that Wilson has subsequently purchased or optioned additional Downtown Eastside properties.
Wilson did not return The Tyee's calls seeking comment for this article. When contacted in person late Friday afternoon, Wilson said only that the purchases were his private business, and that he did not presently have time to discuss them.
Guillermo Osornio, who manages Georgia Laine Developments, which operates the Gastown and Pender properties, said only: "The hotels that we have purchased are going to stay as SRAs. So far, the company has no other plans."
Georgia Laine is building a high-end condominium project next door to the Pender Hotel. The project is called "33" and its website states that Wilson "is currently working on properties in North Vancouver, Port Moody, West Broadway and Main Street which are in different stages of predevelopment. Robert's philosophy is to have people living in smaller projects, i.e. 24 to 70 units."
Sources within the city expressed optimism about working with Wilson. In a letter to the Carnegie Community Action Project, Vancouver Housing Planner Ben Johnson wrote: "We have met with Mr. Wilson to discuss his purchases, and it is his intent to operate these buildings as SROs, providing proper management and making improvements where necessary. Staff are also in discussions with Mr. Wilson about opportunities to develop new self-contained social housing for low-income singles."
Millions of dollars in play
Even less is known about the owners of the other 14 hotels, which represent a combined total of 664 rooms in the Downtown Eastside.
The largest among the other buildings is the 167-unit Dunsmuir Hotel at 500 Dunsmuir St., which according to its website is already in the process of converting to a student residence called Dunsmuir International Village. Provincial corporate filings indicated that the Dunsmuir is owned by a company that lists lawyer Robert D. Standerwick as its sole director.
The 98-room West Hotel at 488 Carrall St. sold in June 2006 for a reported $3.7 million. The registered owner is a numbered company listing two directors: Sandeep Singh and Davinder Singh Sanhu, both of Surrey.
The 72-room Pacific Hotel, at 700 Main St., was sold in March 2006 for a reported $1.3 million to Porte Development Ltd, which lists Dale, Daniel, David and Hershey Porte as directors.
The former Strathcona Hotel at 51 W. Hastings was sold to developer Robert Fung's Salient Group, which is reportedly involved in redeveloping five buildings in the Downtown Eastside, including the Flack and Paris buildings on Hastings.
The 43-unit Beacon Hotel, at 7 W. Hastings, and the 19-unit Star Beach Haven, at 658 Alexander St., appear to have been sold to the same group of buyers for a total of $2.3 million, according to provincial filings.
Other 2006 transactions include the 73-room Empress Hotel at 235 E. Hastings, the 45-room Woodbine Hotel at 786 E. Hastings, the 37-unit Wonder Rooms at 52 E Cordova, the 34-unit York Rooms at 261 Powell, the 30-unit Chelsea Inn at 33 W. Hastings, the 21-unit Powell Rooms at 556 Powell, the 18-unit Kenworth Rooms at 313 Alexander, the 8-unit Jay Rooms at 172 Cordova and the unoccupied Creekside Residence at 796 Main.
(Room totals for these SRAs come from a 10-year-old survey by the City of Vancouver, and may be slightly higher or lower than the number of presently occupied units.)
'Talking about people's homes'
Tim Stevenson is the Vision Vancouver councillor who called for the moratorium on SRA conversions back in October. The initial debate at city council took more than six hours, with 38 people speaking in favour of a moratorium.
"This motion would have helped the Downtown Eastside by stabilizing the land speculation that is causing the hotel owners to try and convert the SRAs," Stevenson said at the time. "It is important to remember that when we talk about converting these SRAs, we are talking about people's homes. Many residents have lived there for decades because it is all they can afford."
David Eby is a lead author of a PIVOT report entitled, "Cracks in the Foundation: Solving the Housing Crisis in Canada's Poorest Neighbourhood." The report found that between 2003 and 2005, despite the development of 99 new housing units, Vancouver incurred a net loss of 415 housing units for low-income singles. Based on the number of SRA units sold last year, Eby speculated that the net losses were even higher in 2006.
"The economics are impossible," Eby said. "At the prices these buildings are commanding, there's just no way the new operators could service their debt by charging tenants the $325-a-month housing allowance paid by the province. So we expect that, at a minimum, these new owners will have to raise rates. And that will drive welfare tenants into homelessness."
Fear of raised rents
Eby stressed that even a modest increase in rent would fuel homelessness: "My biggest concern is that these new owners will renovate these places, raise the rents, and fill them up with low-wage workers who can't afford to live anywhere else in Vancouver. And we'll end up with the homeless rate going through the roof for 10 years while we wait for replacement housing to catch up."
Pedersen of the Carnegie Action Project warned that Mayor Sullivan's much-heralded efforts to develop a few hundred units of supportive housing would be overwhelmed by the loss of these free-market units.
"Homelessness is already on track to triple between now and the Olympics," Pedersen said. "That number will grow much larger if the city continues to let private developers take away the little stock that remains."
Pedersen added that the final cost was much higher than a bit of bad press at the Olympics: "If we lose that housing, people will lose their lives."
Related Tyee stories: