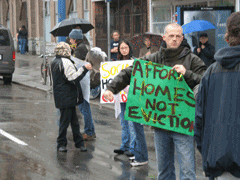 The B.C. government's announcement that it was purchasing 10 residential hotels in Vancouver and one in Victoria caught housing advocates and even provincial insiders off guard, yesterday.
Housing Minister Rich Coleman said the ministry bought the buildings quietly, setting up a numbered company to avoid attracting property owners hoping to sell their buildings to the province at inflated prices.
The City of Vancouver has Canada's fastest-growing homeless population, a trend fuelled in part by a recent buying binge in which real estate developers have been acquiring single-room occupancy (SRO) hotels for conversion to other uses. Housing advocates who spoke to The Tyee yesterday said the newly announced $80 million shopping spree will buy the City of Vancouver a few months of sorely needed breathing room to help cope with the problem.
"It's good that the province purchased these hotels," said Mark Townsend, who directs the Portland Hotel Society, "because it provides some stability, and buys the city some time to work on a comprehensive plan. If these hotels went into the private market, they'd be lost forever."
Townsend, whose organization manages 500 residential units in the Downtown Eastside, said that the success of this initiative would depend on how the province manages the hotels.
"It's depressing if you live in a hotel," Townsend said. "It could be sold at any moment and you could be chucked out. So for the people living in these hotels, this is good news. And hopefully, it means these buildings are going to be better maintained."
Kim Kerr, who directs the Downtown Eastside Residents Association, agreed that the success of these SROs will hinge on good management. He warned that BC Housing might exempt itself from the Residential Tenancy Act, thereby stripping new tenants of these buildings of their rights.
BC Housing, the provincial agency in charge of subsidized housing, will take possession of the buildings in May and June, according to a spokesperson. The agency plans to meet with owners and non-profits during the next month to determine what services can best be provided by what organizations. They also plan to conduct technical inspections to determine what renovations will be required. Current residents will not be evicted during renovations, according to Coleman.
BC Housing said it was too soon to determine whether all these SROs would be able to lower room rental rates to the $375 provided by housing assistance.
The purchase signals a sea change in Victoria's attitude toward homelessness. The B.C. Liberal's longstanding refusal to fund social housing is another often-cited cause of Vancouver current homelessness crisis. It's not shocking then, that the announcement appeared to catch the majority of Vancouver politicians and homelessness activists by surprise.
Even Ken Dobell, a former deputy minister and cabinet secretary to Premier Gordon Campbell who is now serving as a homelessness consultant to the city, was unaware of the details prior to Tuesday's announcement.
"As much as I'd like to take credit for that announcement, I don't think we can. I think that was work that probably was underway," Dobell said.
Dobell's report, which was delivered to Vancouver city council in early March, called for the purchase of 500 residential hotel rooms -- 95 fewer than the province just purchased.
"They've done it," Dobell told The Tyee. "All credit to them. I think that reduces what we need to do now." He added, "This doesn't mean that there wouldn't be opportunities to acquire more later."
In the announcement, the province also promised to develop new supportive housing on three vacant lots in Vancouver, and to redevelop apartment buildings in Victoria and Burnaby into supportive facilities. Supportive housing ranges from apartments in market rental buildings where individuals receive a rent supplement and outreach support, to apartment buildings with on-site staff support in which some or all of the tenants need support.
The City of Vancouver plans to build another 10 to 15 buildings of supportive housing, and to disperse that housing throughout the city. The city is presently conducting a series of community meetings to discuss its supportive housing strategy with residents.
All three of the Vancouver sites announced by the province are located downtown. BC Housing expects to break ground at one of those sites, 1321 Richards St., as soon as next month. Another site, at 980 Main St., is a revival of a project started by the Portland Hotel Society several years ago, then killed by a lack of provincial funding.
Related Tyee Stories