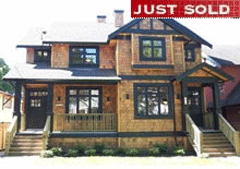 The EcoDensity initiative's primary economic argument is that increased density facilitates the creation of more affordable housing. It is worth quoting the argument here in its entirety:
"Density can contribute to affordability by adding more inherently affordable housing types and tenures (i.e., smaller units, rental units); if demand nonetheless outpaces supply, increasing supply helps to moderate the price increases. Density also has the potential to facilitate more affordable living arrangements (i.e., reduced car ownership, lower energy costs and mortgage helpers such as secondary suites, coach houses).

"In addition, density can help provide deeper affordability through large scale re-zonings that can provide social housing. While increased supply is a necessary foundation to affordability, it cannot replace funding from the Federal and Provincial governments to achieve the most affordable units.

"In a built-up city like Vancouver, affordability is an extremely complex issue, with many factors outside City control. EcoDensity goals suggest balancing the new supply of housing with the retention of existing affordable rentals. One example is the City's recent "rate-of-change" by-law, which protects rental housing in apartment-zoned areas throughout the city where there is a large stock of older, affordable rental housing."
Based on the aforementioned points, one can see that density and affordability have a very tenuous relationship. Although it is true that density can contribute to affordability by adding a variety of denser, more affordable housing types, the issue is interdependent with many other variables -- lands costs, the housing market, construction costs, and house type, to name a few.
What drives up Vancouver prices
From the perspective of construction costs, densification in the form of low/mid-rise house types (such as duplexes, townhouses, three- and four-storey walk-ups) can be very affordable. This is due to the fact that such house types can be built using wood-frame construction and forgo the increased costs of going to reinforced concrete (almost double that of wood frame construction).
That said, in Vancouver, affordability (or lack thereof) is related more to land values than to building costs. As we all know, the densest "developed" cities in the world are also the most expensive places to live -- New York, London, Tokyo. Vancouver is no exception. In my most recent property assessment, land costs were valued at approximately 65 per cent of the overall worth of the property. Given that my home is fairly new relative to the surrounding houses, I imagine that this is within the average range -- if not slightly lower.
Vancouver's affordability slide
Locally, Vancouver has been steadily densifying since the 1970s and this has given the citizens no relief in terms of housing affordability. More affordable housing still lies outside city limits in lower-density neighbourhoods. An increase in land costs has been a large culprit of this trend as positive feedback loops regarding new construction and increased land values have created a city of $600,000 half-duplexes and given us the distinguished title of the "least affordable city in Canada." In this sense, densification seems to have exacerbated the problem of affordable housing.
This is no small deal since the lack of truly affordable housing has had many negative side effects in other cities with similar problems. For example, in Japan, families with children have been effectively forced to flee to the suburbs of Tokyo due to high house prices within the city and a lack of new housing stock that targets this demographic. Sound familiar?
Locally, it was recently released that the elevated cost of living in Vancouver is driving police officers away from the city -- with only 18 per cent living in the city -- and that keeping officers within the Vancouver Police Department is getting increasingly difficult. Not only is this keeping important service people employed in Vancouver a problem in itself, but this also has detrimental environmental effects as more people must travel farther distances into the city for work. I won't even bother mentioning the increasing homelessness problems that have developed over the past decades.
Funding is key to affordability
Historically, federal and provincial government funding has been what governs affordability, with municipal densification and land-use playing subsidiary roles. Governments and non-profit or co-operative societies build non-market dwelling units. Their operation and maintenance are necessarily assisted by government subsidies to ensure a continuing stock of affordable housing. Vancouver's "affordable housing" explosion occurred between 1947 and 1986 when potent government programs encouraged their creation. Funding has since diminished significantly and, consequently, so has the affordable housing.
Efforts by the city have had a negligible effect despite numerous attempts. For example, although the rate-of-change bylaw protects rental housing stock, it doesn't have the capability to prevent landlords from continually raising rents. This has led to a number of superficial upgrades and tenant evictions across the city. Recent issues along Main Street speak to this point.
The issue of laneway homes is frequently cited as affordable housing stock -- important as mortgage helpers and accommodating extended families. And although their usefulness can't be argued, defining these types of units as "affordable" is also troublesome because the costs of renting (or buying) such dwellings is still intrinsically tied to the land value of the lot on which it lies. So -- similar to the situation described above -- if land values continue to rise, so do the costs of rental.
'Outside city control'
As one continues down the passage, there is a diminishing sense of accountability, with the city finally conceding that affordability is ultimately "outside city control." The fact that there are no targets or definitions of "affordability" makes the argument all the more discrediting. Without targets, how can one judge if they have achieved their goals? With this in mind, having increased affordability as one of the main arguments for EcoDensity is truly a stretch and arguably one of the most troubling aspects of the initiative.
I don't think I would be doing the issue of affordability justice if I didn't address the conflict between the city's environmental and "high-quality" design agendas and the economics of lowering costs. I am the first to admit that city's desire to implement stricter energy performance regulations on new buildings is very noble. Not to mention that 'green' designers like myself serve to greatly benefit by getting more work.
But the fact is that higher performance buildings cost more money to both design and build. More specialists are required. Better systems and "eco" products must be purchased -- each at a premium. As the old saying goes, "you can't get something for nothing." Do homes perform better now than they did 50 years ago? Without question. But they are also exponentially more expensive.
Green shade of gentrified?
When dealing with development, it is naive to believe that developers altruistically take an economic loss for implementing these great environmentally-friendly systems: the costs are passed directly to those buying into their projects. This serves to directly increase construction costs -- over and above land costs, development fees, etc. -- and, ultimately, makes them even less affordable.
This is exacerbated by the fact that the regulations and codes that govern residential design and energy-performance as a whole focus exceedingly on purchasing costly mechanical technologies instead of lower cost options -- such as designing homes with windows sized and oriented to capture solar gain and maximize natural light.
This inherent conflict between "green," "high-quality" design and affordability must be carefully considered within the EcoDensity argument and clearly stated to the public. After all, what good is an "eco-city" if nobody can live in it.
Related Tyee stories: