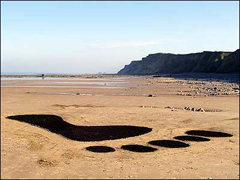 One problem with carbon taxes is they tend to have the least effect on the people who most need to be affected.
Consider that the wealthiest 10 per cent of Canadians have a transportation-related ecological footprint that is nine times greater than the poorest 10 per cent of Canadians.
Roughly translated, that means that the rich spew out a heck of a lot more greenhouse gases than the poor.
Problem is, the rich are also the ones who can most easily afford to pay carbon taxes -- taxes like the ones in Tuesday's budget, which are intended to stop people from spewing out greenhouse gases.
Who pays to fight global warming?
The statistic on the relative spew rates of the rich and poor comes from research done for the Canadian Centre for Policy Alternatives by Hugh Mackenzie and Hans Messinger. Their research is quoted in a CCPA report that raises a question that didn't get asked much in the run-up to the budget.
The report, Searching for the Good Life in a Carbon-Neutral B.C.: Meeting B.C.'s Greenhouse Gas Reduction Targets with Fairness and Equity, looks at the impact that fighting climate change might have on society's most vulnerable.
"Meeting our targets will require major transformations in our economy and daily lives," the report states. "We need to make sure, however, that those transformations do not have unintended consequences -- that some groups in society do not pay an unfair price for our choices.
"We must connect the climate challenge to the other great 'inconvenient truth' of our time -- the growing gap between the wealthy and the rest of us. Many climate-change policies may actually increase inequality, unless this is recognized in policy design."
'A greater sting'
So far, the report says, "B.C.'s climate planning has been an exclusive and secretive process that excludes the perspectives of key groups such as labour unions, anti-poverty groups and others."
The report makes the point that climate change is a social issue as well as an environmental one.
"B.C. is starting from a place where inequality -- in terms of incomes, wealth and carbon footprints -- has grown in recent decades," it says. "Just as poor countries will feel a greater sting from climate change in spite of contributing little to the problem, in B.C. those who have been the largest emitters of GHGs [greenhouse gases] are not necessarily the ones who will pay the greatest costs of adjustment -- unless we ensure otherwise."
Poorer families 'slightly ahead'
Marc Lee, senior economist with the CCPA, said Tuesday the budget seems to have done a reasonably good job of considering economic fairness.
On the face of it, he said, "It looks pretty good."
The budget promises to give back the revenues raised by its new carbon tax by giving tax breaks to businesses and individuals, as well as a one-time $100 payout to everyone in the province.
The plan "pretty much would equalize the situation for lower-income families, if not put them slightly ahead," Lee said. "If you were able to make some purchases that increase your energy efficiency, you could save money on balance."
However, he added, there is not a great deal of detail in the budget documents on how lower-income British Columbians will be affected by the plan down the road.
One potential problem is that the carbon tax is scheduled to increase annually by $5 per tonne of greenhouse gas emissions -- about 1.2 cents on a litre of gas or 1.4 cents on a litre of home heating oil. However, it appears that the offsetting tax credit for lower-income persons will go up only by the rate of inflation, said Lee.
'A very clever budget'
Lee said the budget appears to have been carefully crafted to keep business onside while still putting a price on emissions.
"They were obviously feeling a lot of pressure coming from business in the lead-up to the budget and they've doled out some goodies to basically buy off support.... In terms of striking that balance, I think they've done a very good job. It's a very clever budget."
Lee said he would have preferred a higher carbon tax and fewer breaks for business, but "on balance, it's a pretty good budget as far as these guys go. It's certainly the best budget I've seen coming out of the Liberals."
Related Tyee stories: