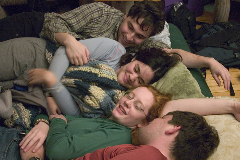 Hasidic Jews are cuddling with gay men on the floor of a local community centre. A bicycle courier just asked a millionaire to rub his feet. A 60-year-old woman is enjoying the non-sexual touches of four different men.
No, this isn't an orgy, nor an elaborately orchestrated slumber party for a 14-year-old and her best gal pals, but a Platonic grouping of consenting adults just looking for some PG-rated "affectionate play."
Spouting dissatisfaction with the superficiality of the bar scene and the remoteness of Internet-based friend sites like MySpace, Friendster and the Facebook, and reacting against the ever-decreasing frequency of meaningful connections with others and increasing taboos on social non-sexual touching, it seems cuddle party fans everywhere want to get down, but not dirty.
Give a little, get a little
So what is it? A cuddle party, in essence, consists of a small group of participants -- over the age of 18 - who pay a fee to cuddle in a controlled environment. Before hunkering down on pillows and blankets in their PJs and sweats, participants undergo a "welcome circle" where trained facilitators offer icebreaking games and exercises and explain the rules of the impending activity. These parties started in New York, but are spreading quickly through the US and Canada.
"We touched a nerve -- pun intended," says Reid Mihalko, who witnessed the cuddle scene described above. He, alongside fellow NYC-based sex and relationship therapist, Marcia Baczynski, created the cuddle party concept.
"What seems pretty obvious is it's not just babies who need to be touched. Our society doesn't really have a place for people to get welcomed attention to touch, unless you're in a relationship."
But, there are rules to cuddling -- strict ones.
Don't cuddle me there
"You have to ask and get a verbal 'yes' before you can touch anybody." Outside the cuddle party environment "some people ask for permission and they don't wait for a yes or no, and it makes people uncomfortable about touch. And it's little things that make people feel like they have no control in their lives," says Mihalko. "This is probably the most important rule."
Participants practice an exercise before the cuddle round begins where they ask their partner if they can kiss them and the partner says no, regardless of whether they want to be kissed or not.
Mihalko is quick to point out that by setting boundaries, participants learn that it's permissible to reject an offer of physical contact and that this rejection won't emotionally injure the other participants.
Participants say before their first party, they often experienced squeamishness, fright, or a general belief that others are ugly - making them hesitant to cuddle. But once they get there, few people even think about keeping their hands to themselves.
Let's cuddle in a pile of maple leafs
Some people say they are powerfully drawn to the events. "I ended up flying to NYC just to go to a party -- which felt a little bit crazy," says Cecilia Moorcroft, a Feng Shui consultant from Toronto.
"My own experience of it, when it got to the day, was that I was terrified. I mean it's pretty strange. I kept thinking 'Who's going to be there? What if nobody wants to cuddle with me?"
But spurred on by the inclusive atmosphere of the welcome circle and the opportunity to talk to others about touch, among other things, Moorcroft says she dove right in.
"It was actually a revolutionary thing for me. I said no to everybody who asked me to cuddle and I only cuddled with people I asked. I found it deeply relaxing; I was completely blissed out, just completely high."
So enamoured was she with the experience, that Moorcroft soon hopped another plane to California and enrolled in the cuddle party certification course. Now, the only "bona fide expert" in cuddle party facilitation in Canada, Moorcroft regularly holds parties for Canadian cuddlers in the Toronto area.
In the event of a sexual emergency
A cuddle party isn't just an excuse for an orgy, they say. No, really.
"Dry humping is crossing the line, we had to draw the line somewhere," says Mihalko. "But we've never had to throw anyone out for dry humping. It's worded that way to make people giggle. We need people to start giggling in order to start talking about sex."
Don't think these cuddlers ignore the notion that the very act of adult cuddling often either precedes or follows the act of sex. No one wearing the cuddle party badge will deny that sexual feelings are an inevitable part of the experience.
But acting on those feelings is not.
"There are so many mixed messages around sex; that touch must lead to sex. We're trying to untangle the message that touch doesn't need to lead to sex. It's ok to be aroused, but we think we're going to lose control. Adults can control themselves."
In the event of a "sexual energy overload," the lifeguards -- a handy name for the event facilitators -- ring a bell, a signal for the participants to find their swim buddy.
"In a sexual energy emergency, you hold your hands above your head and the lifeguard counts hands to make sure nobody has drowned in the sexual energy," says Mihalko.
"But we've never had to ring the bell. It's just never happened."
I've got 105 virtual friends
So, why are the parties gaining converts? While the idea of caressing someone's bunion-encrusted feet doesn't necessarily sound like a source of pleasure to many and most, it's difficult not to categorize the cuddling trend as a reaction to its antithesis: the cold and calculated realm of online dating -- where personalities are trimmed until only the desirable is evident and actual contact is rare. Many participants say they wanted real human beings and real human touch.
Stress relief is another draw. "People want something that makes them feel good, and takes away the pressure of a modern life and gives them the notion of a genuine connection with others," says Ian Pierpoint, senior vice-president of Synovate, head of their youth research division.
"It's very hard to figure out what you're going to do and where you're going to go with the future so uncertain," he says, referring to a major global study of 18 to 25-year-olds that highlighted an overall sentiment of anxiety and constant stress.
"It's better than cutting yourself, hurting yourself. Those sorts of control behaviours are the opposite of a cuddle party," says Pierpoint.
Current youth behaviour suggests they want inclusive relationships, but these are problematic. On websites like MySpace, Facebook and Hi5, users can add countless friends to their lists, whether they have met them or not. The more friends they have, or comments on their spaces, the cooler and more connected they are.
"People have hundreds of friends online, friends they've never met. It's about volume and being able to chat with them whenever you like. This has caused a huge societal problem. Relationships have become more shallow. It's easy to tell someone over text that you don't want to see them anymore. Kids don't like speaking to each other in a verbal way and they don't know how to read body language," says Pierpoint.
After a cuddle, there's coffee
But while the parties are "non-sexual," Mihalko admits about 80 percent of their "guests" are single and looking for a way to connect. He says the parties are effective because "the head games and weirdness of dating outside a cuddle party are taken out of the picture. Single people are feeling really safe coming to cuddle parties and getting their touch needs met."
Mihalko and Moorcroft both point to the immediate creation of a social network alongside the creation of the cuddle party. Even if cuddlers don't end up dating each other, they still might be introduced to their circle of friends.
"Especially living in a big city like New York, LA, or Toronto, it's really hard to connect with people in a genuine fashion. It's hard to talk to people," says Moorcroft.
"It's ok to have an intimate conversation with somebody, without it being at the bar with alcohol or drugs, or really loud."
You'll get a ticket for unofficial cuddling
But when all is said and done, Mihalko isn't about to recommend any amateur cuddling. The unique effectiveness of this activity is a tribute to its rules, welcoming environment and trained facilitators.
"We're not just telling everyone to go throw cuddle parties. You really encounter different sets of problems when you're dealing with the public. To date, we've trained 52 people and18 people have been certified," he says.
In addition to cuddle parties in London and Zurich, the touch fiesta recently went down under, with a party in Australia just three weeks ago. Mihalko says that similar activities are offered all over the globe, but that some are cuddle party rip-offs or don't promote the same openness and discussion of sexual energy.
I'm too old to cuddle him
Standing up from their chairs, eyes red and face tanned from their mammoth monitors, it's unclear whether computer junkies will throw their virtual relationships to the wayside and embrace an all-out touch fest. Or whether that lonely widow will leave her apartment for the first time in three weeks in order to cuddle with that lusty postal worker from down the block.
Hang-ups and squeamishness aside, Mihalko reckons British Columbians would be more open to cuddling outside the box than they would think.
Allison Cross is on staff at The Tyee.