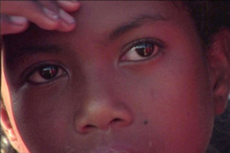 "The cinema is a battleground." Samuel Fuller
Everything I know about Africa, I've learned from movies. Unfortunately, this tends to give me a rather bleak view of the place. In mainstream cinema, Africa is either a terribly awful place where terrible things are always happening, or a terribly beautiful place where terrible things are always happening. Either way, it's usually terrible. If you don't get eaten by a lion or have to battle hungry crocodiles, you might get syphilis from Klaus Maria Brandauer.
For some reason, all this terribleness seems to bring out the horniness in people. Africa has made a pretty backdrop for a whole lot of smooching. Angelina Jolie locked her lips around Clive Owen so hard she made his eyes bug out in Beyond Borders. But this isn't exactly news; ever since Tarzan and his Mate skinny-dipped the Hayes Code into Hollywood, someone has been bushwhacking someone else in the deepest darkest and most tangly of jungles. Even before Meryl Streep got all dewy from the heat of a pre-sagging Robert Redford in Out of Africa, Katie Hepburn and Humpy Bullfrog (as I like to think of him) were in leech love in African Queen. So too, White Mischief, where colonial types practiced polymorphous perversity and a little light murder, a film that featured the immortal line, "Oh God, not another fucking beautiful day."
In addition to being a backdrop for the getting on of various couplings, Africa has also been the sight of adventures aplenty -- from Joseph Conrad to John Houston, from Dirk Pitt to Ralph Fiennes, Jack Nicholson in Antonioni's The Passenger (playing at the Cinematheque 18-21 & 24, 2005) to Nicolas Cage in the Lord of War. It's where you go to confront the almighty darkness, often by shooting something (White Hunter Black Heart, The Ghost and the Darkness, take your pick). Kurtz or king of the jungle, narrative cinema might convince you that the entire continent is knee deep in blood.
Happy docs?
Documentaries aren't much cheerier, as recent films would attest. Hubert Sauper's (Darwin's Nightmare) previous film Kisangani Diary, had the odd coincidence of taking place in the exact same location as Conrad's Heart of Darkness, some 109 years later. Writes Sauper, "Conrad's story threw me back to that stinking, boiling jungle of nightmares and it made me realize how the dark truth never really changes, not in a hundred years."
There are a few more positive examples of everyday life such as Kim Longinotto and Florence Ayisi's Sisters in Law or The Boys of Baraka, but for the most part, it's Shake Hands with the Devil, Congo: White King, Red Rubber, Black Death or the recently screened Rocked: Sum 41 in Congo. Every country in Europe (France, Britain, Italy, Germany, Holland, Belgium, especially Belgium) has been guilty of colonial atrocities, even little old Portugal (The Murmuring Coast). Whether it's colonial exploitation or modern globalization, arms dealers or pharmaceutical companies, does anything actually good happen in Africa?
'New wave of young lions'
You have to wonder what the people who actually live there make of these depictions. The BBC recently ran a contest asking people to write in about their favorite things about Africa and some of the entries were published in the new issue of Harper's magazine. One of the things that sticks out is that Africa, despite the images in the West, inspires love and devotion quite unlike any other place.
Leave it to the filmmakers from Africa to give full voice to this emotion. Africa has produced a fine crop of auteurs including Med Hondo, Raymond Rajaonarivelo (whose film Mahaleo recently screened at the VIFF), Flora Gomes (knighted by the French government with the Chevalier de L'Ordre des Arts et des Lettres), Abderrahmane Sissako (Waiting for Happiness screened at Cannes 2002 and was the winner of the FIPRESCI award for best film in the Un Certain Regard), Djibril Diop Mambéty (whose classic film Touki Bouki is available at Videomatica), and many others, including Cheick Oumar Sissoko (Genesis), Haile Gérima, Gnoan M-Bala, (Adanggaman), Ntshavheni Wa Luruli, (The Wooden Camera selected for a Tiger Award at Rotterdam).
There is also a new wave of young lions such as Khalo Matabane (Conversations of a Sunday Afternoon), Zola Maseko (whose film Drum won the 'Etalon d'Or at the FESPACO Film Festival), Mahamat-Saleh Haroun, (Abouna) and Jean-Pierre Bekolo, (Les Saignantes). International directors such as the UK's director Mark Dornford-May (u-Carmen eKhayelitsha), South African director Gavin Hood (Tsotsi) have also explored contemporary Africa -- a diaspora come full circle.
'Heroisme au quotidien' (daily heroism)
A visit to your local video store won't help much in gaining familiarity with African filmmakers, although with the success of Sembène Ousmane's, Moolaadé, this may change. Sembène is perhaps one of the most well known African filmmakers. Moolaadé, which won the Prix Un Certain Regard at Cannes, is the second part of a trio of films (beginning with Faat-Kiné and ending with The Brotherhood of the Rats) about ordinary heroism, or the much more poetic title of Heroisme au quotidien.
The film's story is both simple and complex: four little girls run away from purification ceremonies and request protection from a woman named Collé Gallo Ardo Sy, who has refused to have her own daughter circumcised. The title refers to the tradition of the strong offering protection to the weak and vulnerable, but it also about the clash between change and history, which more often than not, is acted out on the bodies of women. Of the 54 recognized African states, 38 still practice some form of female circumcision and Ousmane Sembène dedicated his film to "mothers, women who fight for the abolition of this leftover of a time past."
Author/filmmaker Samba Gadjigo who made a documentary about the making of Moolaadé presents Sembène's philosophy, that images of Africa must be created by the people themselves, rather than be imported from outside. "An image is worth dying for -- images are as important as bread and clothing." But making films in Africa comes with its own uniquely difficult set of circumstances, including lack of equipment and crew, brutal conditions, problems with distribution, even a dearth of movie theatres willing to show African films instead of Hollywood, Bollywood or even Nollywood knockoffs.
Nollywood
Digital technology has been both a boon, in that it's cheap and accessible, and a problem, in that it has encouraged an entire film industry devoted to cheap, fast productions. Access to a wider audience still often travels the festival to arthouse circuit. The ZIFF (Zanzibar International Film Festival), the FESPACO Film Festival in Ouagadougou (the oldest film festival in Africa) and the Cape Town World Cinema Festival (CTWCF) often present African films alongside those of their European and International counterparts.
The Cape Town Festival runs November 11-20 and marks 50 years of African cinema as well as the the 10th anniversary of the Sithengi Film & TV Market. The Toronto International Film Festival, which started its Planet African programming initiative in 1995 retired the idea with this year's 2005 festival, not because it wasn't relevant but because the need to promote African films and filmmakers to international audiences had succeeded.
As a means of influencing hearts and minds, there is no other ideological weapon quite as powerful as cinema. Film has often reinforced and even supplied images and stereotypes of colonization, but because images also have such power, in this age of information, the ability of formerly colonized people to take control and create their own films is critical.
Decolonization
Fernando Solanas and Octavio Gettino's manifesto, Towards a Third Cinema states, "Just a short time ago it would have seemed like a Quixotic adventure in the colonized, neocolonialized, or even the imperialist nations themselves to make any attempt to create films of decolonization that turned their back on or actively opposed the System. Until recently, film had been synonymous with show or amusement; in a word it was one more consumer good...it was surplus value cinema."
"Caught up in these conditions, films, the most valuable tool of communication of our times, were destined to satisfy only the ideological and economic interests of the owners of the film industry, the lords of the world film market." The use of cinema as a political and economic tool isn't a new idea; many of the most celebrated African filmmakers, including Sembène began using film in the 60s because it was a means of disseminating ideas in a place where literacy wasn't widespread. The Marxist and Communist doctrine that influenced their early work changed ultimately into a more humanist approach, but the radical edge continues.
It couldn't really have come at more needed moment. As Paris burns, and North African youth are called scum by the French Interior minister Nicolas Sarkoz, movies can at least give people around the world a glimpse into the genuine experience of people who live, work and love their African homeland.
Dorothy Woodend reviews films for The Tyee every Friday.
Thanks to Tides Canada Foundation for sponsoring our Making the Connections series. Tides Canada is a national public foundation that offers professional giving services to donors who share a concern for social justice and environmental issues - locally, nationally and internationally.