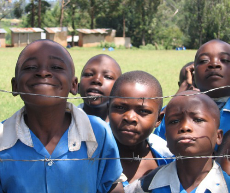 The first postcard arrived when I was seven. The picture on the front was a woolly alpaca and the message on the back came from my aunt. Growing up, I monitored our mailbox for these dispatches from 'Far Far Away' -- from Bolivia, Nigeria and Pakistan. As a child, these magic glimpses into foreign lands were terribly romantic. I dreamt of towering blue mosques that sparkled under the hot sun and elephants that lumbered though traffic-filled streets.
For me, this fascination with people in every nook and cranny of the planet translated into a bachelor's degree in cultural anthropology. I sorted through ideologies and case studies, tucked everything into tidy file folders and labelled them with academic jargon. I learned the sinister history of development projects and I read about well-intentioned initiatives that crippled their supposed "beneficiaries". Despite these complications, I would still come home for Thanksgiving and lecture my parents about how easy it would be to fix the world.
Then things got more complicated.
Presidential mansions and student headaches
Finally, I am living the opportunity I have always sought -- working for a nongovernmental organization (NGO) in a developing country. I am a Canadian International Development Agency (CIDA) intern, living in the western province of Kenya. As a registered nurse, I am helping to improve the health of over a thousand students who attend a network of nine "non-formal education centres." At the airport in Canada, people wished me goodbye and said what a good person I am and how much of a difference I will make. Now in Kenya, I am trying to breath life into the principles and procedures I used to believe were the key to effective development.
It is really, really difficult.
If you think that sorting out your ideas and priorities on development is difficult when you're in Canada, try to figure it out among contradictions of everyday life in the developing world. Try living in my village of Kakamega without losing your optimism, your enthusiasm and your belief in the inherent goodness of people.
When ex-pats here sit around and talk about development, there are often angry words about corruption, bureaucracy, dependence and guilt. And ex-pats aren't the only ones who are disillusioned. Last week, I saw the look on a Kenyan friend's face when he read that his country has slipped a dozen notches on the UN's Human Development Index. Kenyans can't figure it out either -- over endless cups of chai they recite a laundry list of Kenya's assets and shake their heads.
Sparkling clean Land Rovers
These are the dialogues that echo in my thoughts as I fall asleep under the mosquito net at night:
Corruption. Everywhere I look, I see money going to the wrong people or simply disappearing. I read in today's Nation that there is a new house being built for the president at a price of 100 million shillings. I think about how the students at my school complain of headaches. When I ask, they haven't eaten breakfast. Or dinner the night before. Where is their share of the foreign aid that floats Kenya's national budget?
Bureaucracy. Even when money isn't being siphoned off into a politician's pocket, bureaucracy saps the energy and initiative from those people trying to initiate change. A new crop of aid organizations appears every season, each competing for a share of thinly spread resources. I look at the Land Rovers sitting unused in the parking lot of the NGO office next door. They are washed carefully each day -- is this what North Americans thought they were paying for when they pledged money to "the starving children of Africa?"
Culture of dependency. I want Kenyans to believe that they can do this for themselves and that I am here to learn and not just to teach. But I am asked for handouts. I don't even want to think about what percentage of Kenya's budget is aid money. How has development encouraged this passivity, this unwillingness to believe that Kenyans can help themselves?
Inadequacy. In emails home and journal entries, I question what difference I am making. Are my attempts to create change just the imposition of my own culture on people who have their own way of doing things? One of the worst ironies is that when you try to help, you become acutely aware of how big the real problems are. Change comes so painfully slowly; I wonder if I am just imagining it.
But in my late twenties, I am trying to find a place between the stale idealism of youth and the hardened pessimism that dries up so many veteran aid workers. I am not ready to let these narratives of pointlessness become my only words. So I have come up with some personal commandments: Do your research. Think sustainability. Be patient for change. Don't let guilt over not doing enough interfere with doing something.
A new set of postcards
Why is it important to do these things?
Because there are unemployed youths who are not giving up. Just like young people in Canada, they want to contribute something to their society. They bike and walk to village outreach events to sing and perform plays and raise awareness about the disease - HIV/AIDS - that is decimating their peer group.
Because there are mothers walking for three hours up craterous mountain roads to bring their babies to an immunization clinic.
Because at 10 o'clock tea breaks, there are Kenyans discussing politics and democracy with incredible passion, not resignation.
Because there are ex-child soldiers, clad in shiny new Kodak-coloured uniforms, playing soccer instead of killing each other.
Because at HIV training sessions, there are women who stand up from their plastic chairs, swallow the lump in their throat and disclose their HIV status.
Even when corruption, bureaucracy, dependency and inadequacy make it hard to fall asleep, when I do, these are the images I dream of. And these are the images I want to send to friends and family back home. They aren't as picturesque as the postcards of my childhood, but they might help you understand why I remain hopelessly hopeful.
Sarah Jane Crossen is a registered nurse from BC who is an intern working with African Canadian Continuing Education Society, in Kakamega District, Kenya.
Thanks to Tides Canada Foundation for sponsoring our Making the Connections series. Tides Canada is a national public foundation that offers professional giving services to donors who share a concern for social justice and environmental issues - locally, nationally and internationally.