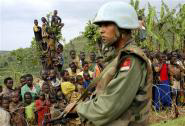 Once upon a time, soldiers were soldiers and they were something quite apart from aid workers.
Not anymore. American officers in Iraq have had to mediate local power struggles and oversee the repair of electricity grids and sewage systems; Canadian soldiers in Afghanistan buttress their peacekeeping with development projects; and aid workers in places like Somalia and Rwanda have been targeted by armed factions. We seem to have entered an era of nation-building at gunpoint.
The shift has been a long time coming, according to Romeo Dallaire, retired Canadian general and recently appointed senator. Dallaire argues that it's not the merging of development and security that's difficult, but the lack of leadership. "We don't have leadership that can comprehend the dimensions of development and the dimensions of security and see how they can be complimentary," Dallaire said. "The leaders just don't know what the others are doing, and in fact, look at each other in the most pejorative of fashions, and often even downplay each other's efforts."
But it is not only the military that needs to change, Dallaire told The Tyee on a recent trip to Vancouver: The aid community must adapt, and nongovernmental organizations (NGOs) need to learn to coordinate with their peacekeeping counterparts in conflict zones.
Dallaire asks aid groups to throw their support behind peacekeepers and give up their attempt to appear neutral. "I think that concept is not of our time," he says.
A happy marriage?
Not surprisingly, many NGOs are disturbed by the thought of cozying up to the military. They argue that when operating in conflict zones, they need to be seen as neutral or they will become targets themselves and endanger the people they are trying to help.
"That's why we recommend that they should stick to their job, which is to keep the peace and to provide securit and let us do our job, which is humanitarian aid," says Gail Neudorf, Emergency Director of CARE Canada.
When the venerable Medecins Sans Frontiers (MSF) pulled out of Afghanistan last year after five members were killed in an attack on their convoy, one of their reasons was "the co-optation of humanitarian aid by the coalition for political and military motives," according to an official release at the time.
In Afghanistan, much of the controversy centred on the development of Provincial Reconstruction Teams (PRTs). Canada's PRT "brings together Canadian military personnel, civilian police, diplomats and aid workers in an integrated effort to reinforce the authority of the Afghan government in and around Kandahar, and to help stabilize the region," according to the Defence Department.
But MSF believes it's dangerous to blur the line between aid and military objectives. "Today's context is rendering independent humanitarian aid for the Afghan people all but impossible," stated the group.
Is neutrality a reality?
Senator Dallaire thinks the PRTs provides a good model for coordinating military and development objectives. "It's debunking the concept of neutrality that the NGO community feels is absolutely essential for them to be able to do their jobs," he says.
Representatives with CARE Canada disagree.
"If there isn't neutrality, if there isn't impartiality, then ultimately we're not fulfilling our own mandate," Neudorf says. "It's the only way you can provide humanitarian aid."
Dallaire argues that neutrality doesn't really exist in conflict zones, a point he illustrates using his experience in Rwanda.
"The NGOs snuck in behind the rebel side," says Dallaire. "The rebels let them in. They came in, they brought all kinds of assets, and the rebels controlled a lot of it. So the rebels used that to aid and abet their campaign."
Meanwhile, the NGOs were not able to safely deliver aid to civilians behind government lines, which caused government forces to accuse the international community of supporting the rebels.
Confusion on the ground
Another example is Somalia, Dallaire says. Aid groups refused protection of UN peacekeepers and ended up paying warlords a percentage of the food, water and other supplies for safe passage.
"To have sold off 30 percent of their assets in order to maintain their neutrality to get 70 percent through, to me, is unethical."
The answer, Dallaire suggests, is to develop leaders who understand the complexities of security and development and know how to pursue both in a complementary fashion.
The ex-general has at least one strong ally in the development world: renowned economist Jeffrey Sachs. He agrees that aid and military objectives are too often at odds when the international community intervenes in a conflict zone.
The poverty-instability cycle
"Everything is disconnected," Sachs said. "There's very little coordination on most fronts between peacekeepers and NGOs. There's rivalry among the NGOs - who's going to get the taxpayer dollars? Who's going to get the public contributions? - and the official agencies tend to move slowly. It's not a happy situation."
Sachs and Dallaire also agree that peacekeeping operations will fail without concurrent strategies for nation-building. If that doesn't happen, they say, the roots of the conflict will remain unresolved and security problems will flare up again. "We need to be taking a more holistic view of these crisis countries and simply get out of the idea that peacekeeping - if we have it - plus refugee care is going to address the underlying sources of the instability," says Sachs. "Because the poverty itself will remain and that will provoke the next conflict."
Jared Ferrie is a regular contributor to The Tyee.
Thanks to Tides Canada Foundation for sponsoring our Making the Connections series. Tides Canada is a national public foundation that offers professional giving services to donors who share a concern for social justice and environmental issues - locally, nationally and internationally.