Anne Innis Dagg recently revisited some of the happiest moments of her life, returning to the giraffes in Fleur De Lys, South Africa, six decades after her groundbreaking research there.
And filmmaker Alison Reid was there to capture it.
Innis Dagg made her first trip in 1956, when she was only 23 years old. That trip was also captured on film by Anne and her South African host, farmer Alexander Matthew, using his 16-mm camera. Those scenes, along with loads of letters and photos, are featured in The Woman Who Loves Giraffes, Reid's documentary on her life.
The film has screenings scheduled across the country, including Victoria next week, and the producers hope to have one in Vancouver.
It's easy to underestimate how groundbreaking her mission was. It was almost unheard of for a biologist to study the behaviour of animals in their natural state in the wild, unaware of and undisturbed by human observers.
And the idea of a young woman on a solo research mission to South Africa was equally unprecedented.
This was four years before Jane Goodall began her well-publicized African research, which, Innis Dagg notes, often failed to meet the standards for non-interaction or interference that she set for her own work.
Innis Dagg is one of those lucky people who knew what she wanted to do with her life very early. As a toddler visiting a zoo with her mother, she was captivated by giraffes and set her heart on studying them. And she did just that.
She had great living examples of what a person could accomplish through research: Her mother, Mary Quayle Innis, was an academic who wrote many books, including some that her father Harold Innis used while teaching economic history at the University of Toronto. (Innis is a legendary figure; a college at the university bears his name, and Marshall McLuhan called his own work on media "a mere footnote" to Innis's efforts.)
But Innis Dagg's pioneering work studying the giraffe, which should have launched a successful research career, wasn't recognized. After publishing her studies in the world's most prestigious journals, she was still denied tenure at the University of Guelph in 1972. (One of the members of the tenure panel is interviewed in the film.)
She continued research in her field, but also spent years working to advance the representation of women in university faculties (in addition to having children).
I first met Innis Dagg when she ended up working as a part-time advisor in the Independent Studies program at University of Waterloo. She was always writing one fascinating book after another, as well as performing her advisor duties. Many of these made at least some mention of the time she spent at Fleur de Lys, which she once told me was easily the happiest time in her life.
I sat down with Anne Innis Dagg before the film premiered at the Hot Docs festival last week.
Back from Africa, long-since reconnected with the giraffe specialist community around the world — who still consider her work, The Giraffe, a bible — and increasingly recognized and honoured, Innis Dagg (with some commentary from filmmaker Alison Reid) shared her thoughts. The interview is lightly edited for length and clarity.
---
On renewed attention to her work:
Innis Dagg: It's super! The best part, actually, is knowing maybe 50 people who love giraffes. I can email all of them and they'll all email me back — it's amazing.
On recapturing treasured moments:
Reid: I saw a distinct change in Anne when I interviewed her by Pearson Airport before we left. And then two days later, when we had the pop-top up near giraffes and wind blowing in our hair — I mean, it was a total transformation, she was just glowing. And I was excited, too — it was my first time in Africa so it was just incredible.
On her giraffe hiatus:
Innis Dagg: Well, I was married and had kids — there was little opportunity for a trip like this, really.
That's how I ended up in Independent Studies, because I was trying to get a job at University of Waterloo and they said no. Six women had gotten their PhDs, and to all six the head of the biology department just said 'we don't hire any of you, go home and have children.'
If I had been able to get a job, they [professors] always had four months off every summer — I mean, talk about working so hard. I could have gone off to Africa and used the four months there and done a lot of giraffe research. So it was really cruelty to prevent me doing that. But of course, that didn't bother anyone.
On observing animals in the field without disrupting their behaviour… and Jane Goodall:
Innis Dagg: I don't think a lot of people even thought of it. I didn't think about it when I got there. I remember the very first day: I was near a well and there were giraffes in the distance. I walked slowly toward them, they looked at me and then slowly walked away. That instant, I knew I couldn't get out of the car again. So every day, I was in the car, because if I wasn't there, I was getting false data. A lot of people since don't seem to understand that. I don't know why — it seemed to me quite clear.
If you read all the stuff about Goodall, your hair will be standing on end. It was amazing — she had [the animals] in her tent and they were having a wonderful time. But it wasn't really science, although people assume it is.
Reid: To give Jane her due, I think she's changed her ways. At the Gombe [research centre], they no longer interact with the chimps like that. They understand, I think. I think she would not do that anymore.
Innis Dagg: I think so, too. Although actually, in one of her films, a recent one, she was hugging one of them coming out of a crate. I don't know what the situation was, but really, if you're letting it go free you shouldn't be carrying it and hugging it.
On how the film came together:
Reid: There was a radio documentary made about her on CBC Radio, The Wild Journey — that's the first time I heard Anne's story. It captivated me. I thought it would make a great film, a scripted film. So I met with Anne and told her I wanted to make a film about it. I had read her book by this stage of course — not the bible, but Pursuing Giraffe, the one that talked about Anne's story.
She was game to have a scripted film made about it. I was developing that project when I found out she was going back to Africa for the first time in 50 years. So I decided that we needed to go and film that. So that's how the documentary was formed. But I still want to go back and make the scripted film.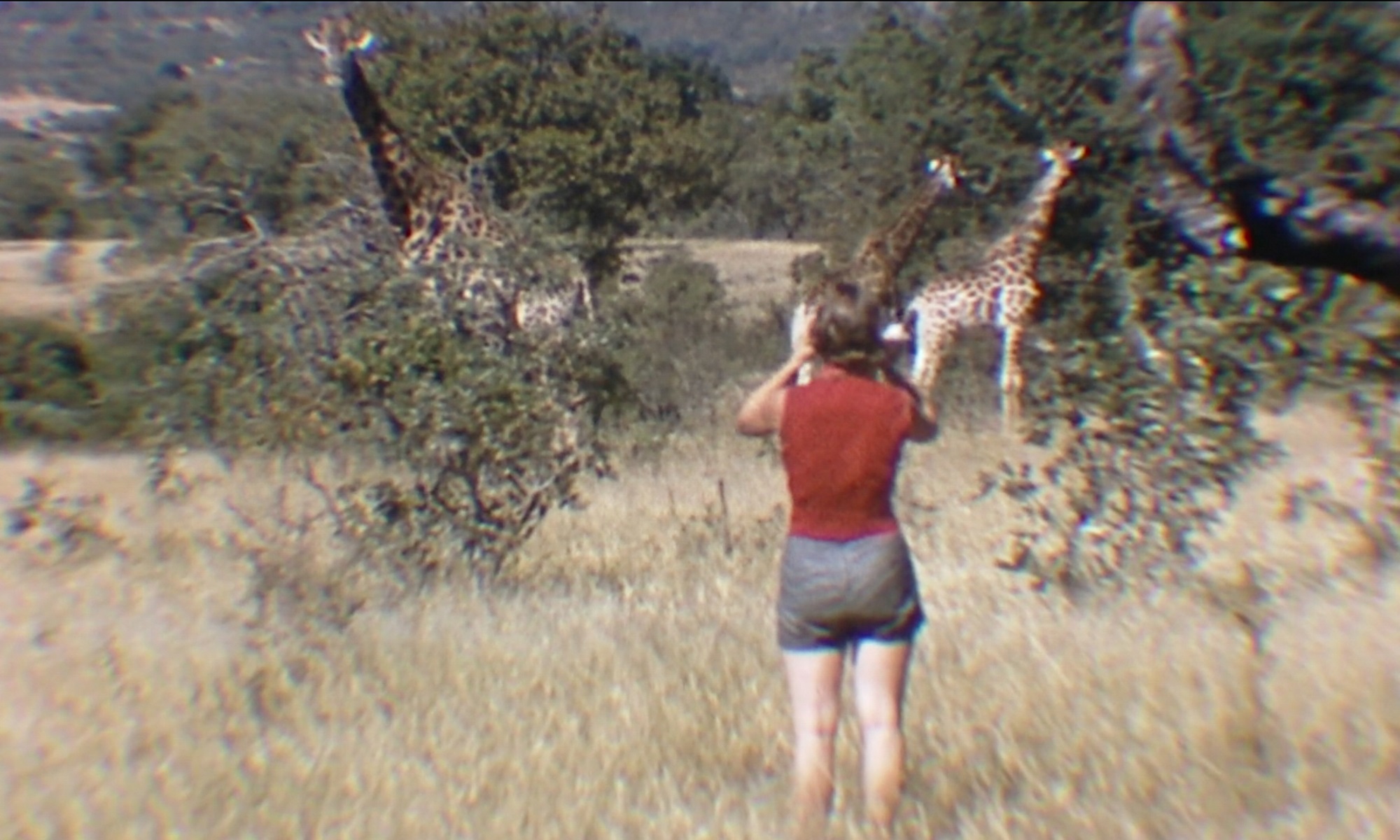 On the substantial archive of movies, letters and materials featured in the film:
Innis Dagg: In my heart I must have known that this would be important — maybe. Mr Matthews [her host] pushed doing the human-interest bits. He must have realized that it could be, too. And here, 50 years later, it became important.
On her mother, economic historian and literary writer Mary Quayle Innis:
Innis Dagg: I've written a book about her and I can't get it published. She wrote a book on economics that was used for 28 years at University of Toronto and across Canada. And she wrote about 100 articles for women and women's magazines. I think she was quite brilliant, really.
But of course, nobody wants to hear about a woman any more than a giraffe. I haven't gotten it published yet but I think I will — especially now with this new information from the movie.
On her other books on the go:
Innis Dagg: Actually I've been writing short books for children. I thought, this won't take too long. Someone had written an elephant book so someone called me and said, why don't you write a giraffe book? The good thing about it was they had a prize for best children's book and I won $10,000. The next one is on the rhino and it will be out in a couple of months.
Reid: Guess what she did with the $10,000?
Innis Dagg: Donated it to Save the Giraffes.
On the Reticulated Giraffe Project (a Kenya-based charity supported by Innis Dagg and shown in the film):
Reid: One of the reasons Anne likes this project is that John Doherty, who runs the project, is very adamant that the local people need to be involved in anything that's happening with giraffes. If they are appreciating the giraffes and being exposed to them, that is the path to success.
On whether she'll ever return to Africa:
If I possibly can, I certainly will.
---
The Woman Who Loves Giraffes will be shown in Victoria on Monday, Nov. 19 at 6:30 p.m. at the Eric Martin Pavilion, 2334 Trent St. It will also be shown Tuesday, Nov. 20, and Wednesday, Nov. 21, at 7 and 8:45 p.m. at Cincenta at the University of Victoria.