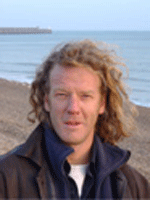 Imagine building your house out of garbage.
American architect Michael Reynolds turns old tires, beer cans and plastic bottles into "earthships."
Oliver Hodge was a movie props maker who helped design and create the stuff you find on spaceships -- including the light sabers for The Phantom Menace. But Hodge left the Oompa Loompas at Charlie's Chocolate Factory and suspended his license to create killer weapons for James Bond to chronicle Reynold's adventures for his first feature film, Garbage Warrior.
Hodge spent three years following Reynolds as he fought to change the laws in New Mexico to create a self-sustaining community and flew into disaster areas to build -- and teach locals to build -- homes that require no heating, no outside sewage or water systems and redefine the meaning and possibilities of "living off the grid."
Garbage Warrior just finished a run at the 2007 Vancouver International Film Festival where it won the inaugural People's Choice Award for the Most Popular International Nonfiction Film. Last week Hodge won the award for Best Debut Director at the British Independent Film Awards. And Dorothy Woodend at The Tyee wrote, "This is perhaps my favorite film in the entire festival, simply because it says, "You want to do something? Okay, do this!""
In the latest "Trees and Us" podcast, Mark Leiren-Young talks trash with Hodge as he explains how to build houses without trees.
Click the Listen to this! to hear Oliver Hodge talk about recycled houses, the stories the movie doesn't tell about visiting the Andaman Islands after a tsunami and making the ultimate light sabre.
Or listen and subscribe to Tyee podcasts on iTunes.
Related Tyee stories: